HCM City authorities will provide land to enterprises to build housing near industrial parks and export processing zones for workers.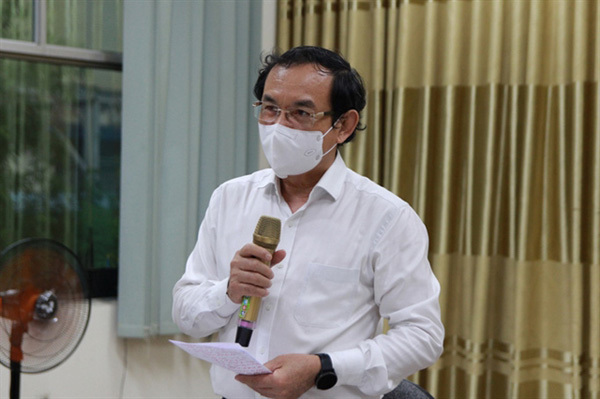 Secretary of the HCM City Party Committee Nguyen Van Nen speaks at a meeting with the HEPZA management board on November 11. Photo courtesy of the HCM City Press Centre
Speaking at a recent meeting with the HCM City Export Processing Zones and Industrial Park (HEPZA), Secretary of the HCM City Party Committee Nguyen Van Nen said the city would provide land to build temporary shelters to keep workers safe and help stabilise production.
In the long run, the municipal administration plans to build social housing for low-income people, according to Nen.
The city recently announced a long-term plan to build one million affordable units to replace aging and low-quality housing for low-income people. 
Thu Duc City last month began a social housing project with 1,000 apartments worth VND1.2 trillion, meeting the living needs of 3,000 people. 
This is one of the projects in the plan to build one million affordable units for workers.
Over the next five years, the city will build more than 18,000 apartments worth more than VND37.6 trillion to meet the needs of workers, according to the Department of Construction.
About 1.3 million workers and labourers in the city need housing. Most of the workers live in rented rooms and have to spend 10-15 per cent of their income to pay for rent, the department said.
The average worker's housing area is 14 square meters, costs VND1.6 million to rent, and is shared by four people.
In 2020, about 70 per cent of new apartment supply in the city was in the high-end segment, with the affordable segment accounting for just 1 per cent, according to the HCM City Real Estate Association.
The fourth wave of the COVID outbreak revealed that most workers have to live in tiny rented rooms.
"Migrant workers play a vital part in the city's socio-economic development. However, the city has failed to take sufficient care of their lives," Nen said.
"The city will have more support policies and benefits for workers," he added.
The city has implemented many projects to build social housing for workers in Linh Trung I, Linh Trung II, and Tan Thuan export processing zones, Tan Tao Industrial Park, and in new industrial zones.
According to statistics from the Department of Construction, since the end of 2019, the city has implemented 15 housing projects for workers, equivalent to an area of 47ha.
However, this number is still too small compared to the housing needs of millions of migrant workers in the city.
The biggest problem in building social housing for workers is the lack of capital and land, according to Nen.
Nen urged the HEPZA management board to strengthen pandemic prevention measures to prevent future outbreaks.
Hua Quoc Hung, head of the Management Board of HEPZA, said that some 1,355 enterprises (or 96 per cent) had resumed operation since the fourth COVID wave. Most businesses were no longer implementing the "3-on-site" model which required workers to eat and stay at the workplace.
The number of employees who have returned to work is 230,528, or 80 per cent of the total number, according to Hung.
The number of workers who have received at least one dose of COVID vaccine has reached 281,312 (out of the total 288,161 employees). Of these, 271,747 have received two doses.
The city has three export processing zones (EPZs) and 14 industrial parks (IZs) with a total area of more than ​​4,000 ha, accounting for nearly 70 per cent of the city's planned area for EPZs and IZs as of 2020.
To date, EPZs and IPs have attracted 1,652 investment projects with a total registered investment of US$11.49 billion, according to Hung.
Source: Vietnam News

Most of the businesses that can maintain production activities during the prolonged strict social distancing mandate in Ho Chi Minh City last time are those that have provided shelters for migrant workers.