The HCM City Department of Construction has suggested that the city offer financial assistance to landlords to help them repair or upgrade their boarding houses where hundreds of thousands of workers live in the city.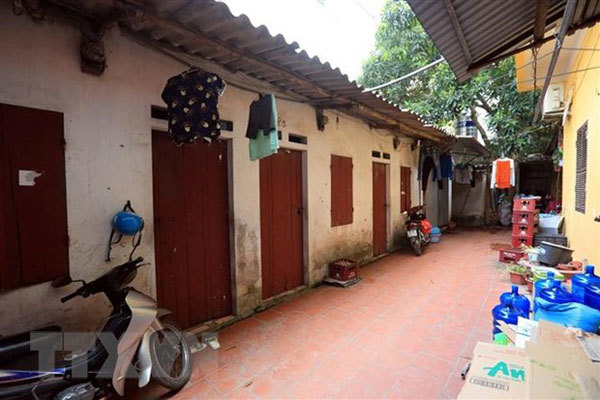 A boarding house for workers in HCM City. Many low-income workers live in low-quality boarding houses and have need for better accommodation. 
HCM City has 22 industrial parks and export processing zones, as well as the Sai Gon High-Tech Park and Quang Trung Software Park, with around 420,000 workers. Most of them are migrants from nearby provinces and require rental housing.
Many low-income workers have to rent cheap rooms built by local households and individuals, with small spaces and poor living conditions.
The department has drawn up a plan to inspect boarding houses in the city. Its working groups will conduct inspections and classify the boarding houses following the standards for boarding houses set by the department in 2020.
The boarding houses must have an average space of at least five square meters per person. They must have doors and windows to maximise ventilation and absorb natural light. If a toilet is inside the room, it must be separated by a partition with a sleeping area.
Based on the actual situation, the groups will propose solutions to improve the quality of boarding houses for workers to rent.
Substandard accommodations will be classified based on the level of violations of construction standards concerning area, structure, natural ventilation, lighting, environment or hygiene.
The city plans to offer bank loans at preferential interest rates for landlords to help them renovate rooms or build new rooms for workers to rent at reasonable prices.
Le Van Thanh, former head of the socio-cultural research department under the city's Development Research Institute, told Tuổi Trẻ (Youth) newspaper that the city needs to help the landlords easily access preferential interest rate loans.
The city in 2011 launched a preferential credit programme for households and individuals to get bank loans to build or repair their boarding houses.
However, only a few landlords have taken part because it is difficult to meet the requirements to get the loans.
Tax breaks and other benefits should be considered, Thanh said.
The city should also call on enterprises to take part in improving housing for workers.
"Enterprises could offer financial support for their workers to help them pay rent. The workers have to commit to renting qualified accommodations and not low-quality ones," he said.
The workers who receive support must register the address of their rental accommodation for monitoring, and if the latter is in violation of standards, the enterprises will cut off support.
Boarding houses that do not meet standards will be not allowed to open. The landlords will be fined if they violate requirements, and could lose their business licence if multiple violations are repeated.
"The city should have a roadmap and steps for the implementation of support policies, starting in areas where a large number of workers live," he said.
In the long run, the city's government must set aside land for accommodations for workers in areas with many factories and large production facilities, he said.
It also needs to simplify administrative procedures related to building accommodations for workers, and offer tax incentives for a certain period of time for enterprises that build accommodations for workers.
Source: Vietnam News

Financial relief packages and free supply of rice and other essential goods are among the many initiatives being taken by the Government and charity organisations to help workers affected by the COVID-19 pandemic.

Landlords in many localities have reduced or exempted rent for tenants who have lost jobs or have suffered financial difficulties due to the COVID-19 pandemic.