HCMC plans to set up separate lanes for buses operating on the District 3 sections of Dien Bien Phu and Vo Thi Sau streets, aiming to shorten the time needed for commuting by bus.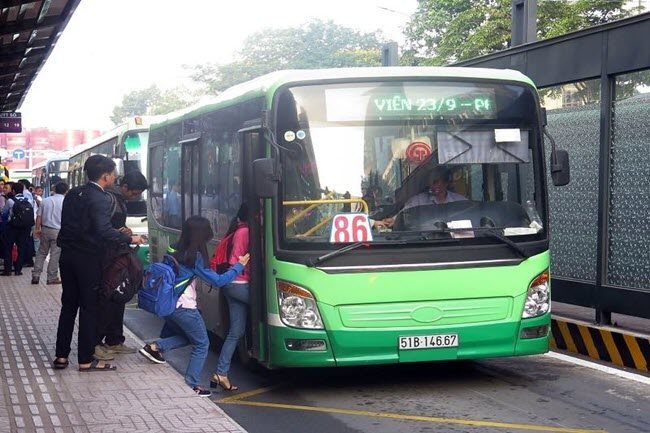 Passengers board a No.86 bus operating in HCMC. The city plans to set up bus-only lanes on the District 3 sections of Dien Bien Phu and Vo Thi Sau streets – PHOTO: VNA
Tran Chi Trung, director of the HCMC Public Passenger Transport Management and Operation Center, was quoted by Tuoi Tre newspaper as saying that the consulting council for HCMC urban transportation has approved a scheme to set up bus lanes on the two streets.
However, the consulting council asked the center to specify the criteria used for choosing appropriate streets to set up bus lanes to avoid traffic congestion and deploy computer-based analytic techniques to determine the pros and cons of the scheme on traffic conditions, Trung said.
Meanwhile, the center continues to invite feedback from experts and scientists to complete the proposal and send it to competent agencies for approval.
The number of local residents using buses for commuting has dropped considerably, which is why the center decided to choose Dien Bien Phu and Vo Thi Sau streets, which are moderately busy and have many bus routes operating on it, to set up the priority lanes, in a bid to improve the speed of bus trips and raise the number of public transport users, instead of choosing other wide roads, such as Hanoi Highway and Pham Van Dong, as suggested by local people, Trung explained.
He added that individual vehicles and motorcycles will not be allowed to travel on bus lanes on these two streets during rush hour.
The scheme is expected to be implemented during the remainder of the year, according to the HCMC Department of Transport.
An earlier proposal had met with objections from local residents who were concerned that bus-only lanes would affect other vehicles and impede traffic flow. SGT