Flood control projects in HCM City will be sped up in preparation for the upcoming rainy season.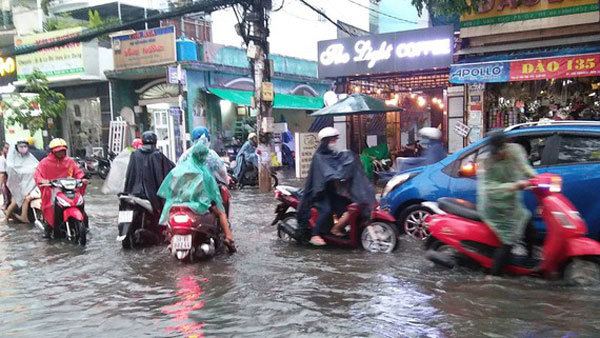 Flooding on Le Duc Tho Street after heavy rains on April 24. Photo: sggp.org.vn
Cong Hoa, Dien Bien Phu and Quoc Huong streets were later flooded after an afternoon rain on April 24. Heavy rains at busy times caused traffic jams and inconvenience for many locals.
Earlier, rain at dawn on April 16 flooded many roads including Kha Van Can, Hiep Binh, and To Ngoc Van in Thu Duc City, Binh Loi in Binh Thanh District, Pham Van Chieu and Nguyen Van Khoi in Go Vap District and Nguyen Van Qua in District 12. To Ngoc Van Street was the most flooded, with half of motorbike tyres covered with fast flowing water. 
Le Thi Xuan Lan, a meteorologist, said the rainy season this year came about a week early, with heavy rainfall. It is forecasted that the rainy season will start in early May, with rains accompanied by thunderstorms. 
Anti-flooding projects
In 2018, HCM City surveyed and planned to build seven regulating lakes underground in many locations to prevent flooding. However, none of these have been completed. 
The drainage system upgrade on Vo Van Ngan Street in Thu Duc City started in October, 2020. The project, covering 2.5km in length, is estimated at VND129 billion in value and expected to be completed in 17 months. However, the project has not seen any progress.
Meanwhile, a flood control project, invested by Trung Nam Group with total capital of nearly VND10,000 billion, including six tidal gates, is expected to be completed in 36 months.
The project kicked off in June 2016, with the aim of controlling flooding in an area of 750 sq km for 6.5 million people on the bank of the Sai Gon River. Even though 90 per cent of the workload has been completed, the project is currently on hold due to complicated contract appendices and additional procedures.
According to the Centre for Technical Infrastructure Management, under the Department of Construction of HCM City, the City spent VND25,998 billion between 2016 and 2020 on flood control.
Of that amount, VND7,047 billion was used for flood control; VND9,927 billion for other related projects; and VND9,024 billion for a water environment improvement project.
HCM City is one of the localities most affected by flooding due to weather and high tides compared to other provinces. 
The city has many high-rise buildings without proper drainage systems, so it is crucial to synchronise planning, speed up the progress of anti-flooding projects, train quality human resources, and pay attention to the connections among all drainage works to achieve high efficiency. 
VNS 

To mitigate the impact of flooding caused by heavy rains and high river tides, HCM City has invested heavily in flood-prevention works, including drainage system improvement, dredging of canals, and wastewater treatment systems.

A total of VND26 trillion ($1.13 billion) has been used for HCM City's anti-flooding projects in the 2016-2020 period, according to the municipal Department of Construction.