The HCMC government is increasingly resorting to cameras to enhance the enforcement of traffic rules and impose fines on traffic violators, reported Thanh Nien newspaper.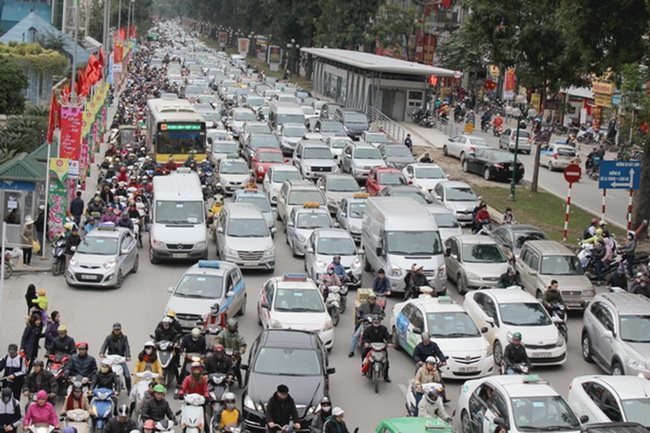 Traffic enforcement cameras are installed along Tran Hung Dao Street in HCMC. The city government is taking steps to enhance the enforcement of traffic rules with cameras – PHOTO: TNO
Tran Quang Lam, director of the HCMC Transport Department, stated at a traffic conference on Saturday that local traffic police have adopted the use of cameras in handling traffic violations.
He highlighted several common violations, including unauthorized parking, running red lights, speeding and driving in the wrong direction.
However, a large number of drivers and vehicle owners have failed to comply with traffic sanctions, resulting in low efficiency. He cited the city's Road and Railway Traffic Police Division as saying that the compliance rate has been only 20%.
Therefore, the city government plans to pilot a traffic enforcement process to punish traffic violators caught through the use of surveillance cameras.
The trial process comprises the following steps: recording images of traffic infringement, extracting them, creating violation records, sending notices to violators, working with them, updating records of violations, updating records on the disciplinary measures meted out and closing the records.
The municipal administration suggested the Ministry of Transport, in collaboration with the Ministry of Public Security, seek approval from the central Government for the city to adopt the pilot traffic enforcement process.
Speaking at the conference, the city's Vice Chairman Vo Van Hoan noted that the local government has made adequate preparations in terms of human resources and technology. The only drawback is the legal framework, which is beyond the city's authority to fix.
"Nothing is clearer than image processing, especially with regard to tackling traffic violations. The current technology is adequate for helping authorities better solve problems, but the existing regulations are outdated and fail to keep up with (these problems)," Hoan said.
Minister of Transport Nguyen Van The spoke highly of the city's proposal. He urged the concerned agencies to review regulations so that the proposal could become a circular or decree, and thus could be widely applied across the country rather than in the city alone.
He added that the image processing approach could be useful to not only traffic management but also urban order and environmental management.
Data from the local transport regulator revealed that as of August 18, there were nearly 7.89 million motor vehicles, including 7.2 million two-wheeled vehicles and more than 734,800 cars, registered in the city. SGT
 

District-level authorities and departments in HCMC will connect surveillance cameras in the city to a centralized monitoring system, in addition to consulting with contractors on the creation of a smart urban monitoring center.

It has been nearly four years since Hanoi first rolled out its experimenting traffic enforcement camera network hoping to levy fines more accurately and effectively.