HCM City district authorities and state offices are setting up hotlines, working extra hours and visiting residents' houses to provide public administrative procedures.
HCM City to rearrange district, commune admin units
HCM City expands online administrative services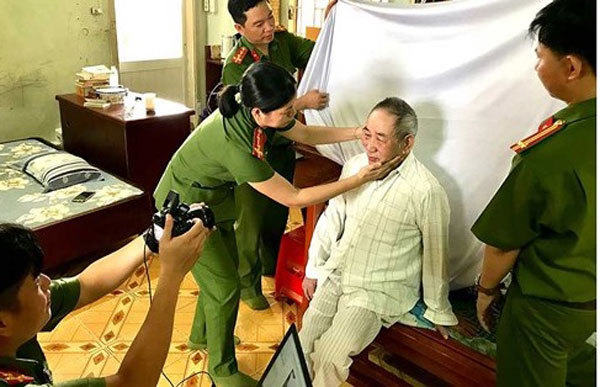 Police in District 9 visit seniors' homes to give them their new plastic identity cards. — VNA/VNS Photo Hoang Tuyet
Since the beginning of the year, police in District 9, for example, have visited seniors' houses to give them a new plastic identity card that replaces their paper ID card.
The new plastic identity card, which was first handed out in 2016 in 16 cities and provinces, will be issued throughout the country by 2020.
Tran Thi Xuan, whose husband suffered from a stroke and could not go to the police, was notified by police. In early March, police visited Xuan to take a photo of her husband, who was asked to fill out an application for the new ID card.
Police in districts 10 and Tan Binh and others have also been visiting the homes of seniors and people with disabilities, and those living alone, to reduce their time and costs for travel.
Lt Col Nguyen Viet Han, deputy head of the police division for management of administration and social order at District 9 Police, said a large number of migrants had caused the high demand for new cards. "They find it difficult to go to the district's centre to change cards," he said.
The district police have delivered new identity cards to 600 people at their homes.
Also, for people who have moved to HCM City from another area, administrative offices now take only one day instead of three to process their household registration books.
Hotlines
Tran Minh Tu, chairman of Hiep Binh Chanh Ward People's Committee in Thu Duc District, said the ward had set up two hotlines managed by its police and committee.
When people call the hotlines, problems are resolved within 10 seconds,Tu said.
"Officials must do this job better so that residents will trust officials."
Residents' feedback helps officials know further about what is happening in the ward, Tu said.
Hotline numbers are widely provided to all residents in the ward, he added.
Many districts have set up their own phone applications to receive residents' complaints and feedback about violations in transport, environment, food safety and other fields.
Do Dinh Thien, vice chairman of Binh Tan District People's Committee, said that software now being used contains detailed information about administrative procedures and applications.
The district has also upgraded its portal to ensure that it can be included on all devices.
Nguyen Thanh Phong, chairman of the city People's Committee, said that customer satisfaction was a measurement of the city's effectiveness in solving administrative procedures.
At a recent meeting, Nguyen Thien Nhan, secretary of the HCM City Party Committee, said that HCM City targets having 80 per cent customer satisfaction by 2020.
However, Phong said the quality of state officials working in administrative areas, as well as the co-operation between departments and agencies in administrative reform, was still weak.
The city has around 13 million people and 300,000 domestic and foreign enterprises. VNS
Hoang Tuyet & Gia Loc