Land along new road projects in HCM City will be reclaimed for auction and resettlement as part of the city's effort to get rid of or reduce the number of oddly-shaped tiny houses that have appeared as a result of road-expansion projects.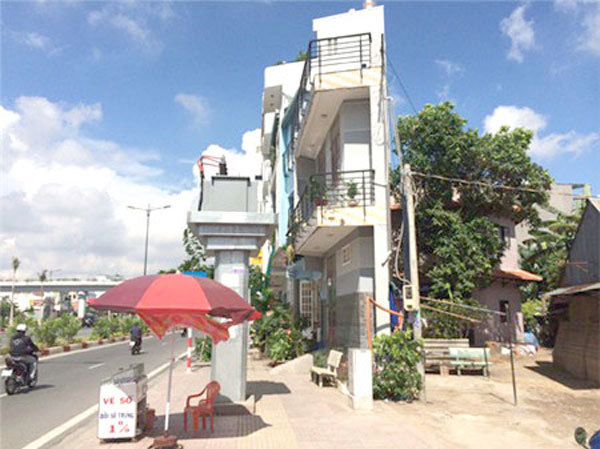 An oddly-shaped tiny house on Pham Van Dong Street in HCM City's Binh Thanh District. The city government has approved a proposal to reclaim land along new road expansion projects as part of its effort to stop the construction of tiny houses. — VNA/VNS Photo Manh Linh
Dealing with super-small and skinny houses has been a problem for years, according to the city Department of Construction. Many houses have been built in tiny or oddly shaped land areas, especially along newly expanded roads, destroying the urban landscape. 
Districts which have seen the construction of many tiny houses include 5, 6, 11, Binh Thanh, Tan Phu and Tan Binh.
Tiny-sized houses can be seen on Tran Hung Dao Street (District 5), Dien Bien Phu Street (Binh Thanh District) and Vo Van Kiet Street (District 5 and District 6). 
More of these tiny houses have been built recently on Tan Hoa – Lo Gom Street (districts 6 and 11 and Tan Phu District) and Pham Van Dong, Bui Dinh Tuy, Nguyen Xi streets (Binh Thanh District).
The city has more than 1,000 oddly shaped tiny houses as result of road expansion projects.
On Cach Mang Thang Tam Street (Tan Binh District) where construction of Metro Line 2 has begun, some 86 houses are sub-standard, accounting for 23 per cent of the total affected houses near the subway line, mostly near the Bay Hien intersection. 
One owner of a tiny house on the street, who did not want to be named, said after site clearance was issued to expand the road, his remaining land was only 12sq.m. But it was street-side, which is considered more valuable, and he is now selling it at VND4.5 billion (nearly US$200,000).
"Despite the tiny area, you can open a take-away coffee shop, lottery ticket agent or just hang up signboards," said the owner, who said the price was still affordable. 
The price of such houses in a nearby area is at least VND300 million per square metre, according to local media reports.
Mai Van Thuan, head of Tan Binh District's Urban Management Division, said the super-thin houses are created as a result of road expansion projects approved without "careful planning". 
For example, after 80 per cent of area of a house is cleared, the remaining 20 per cent is often built with higher floors, making the house look strangely skinny.
District authorities have encouraged house owners to sell the remaining area to the owner of adjacent houses at the market price in order to form a new "normally sized house", according to Thuan. 
Poor management 
Experts attributed the problem to planning management. Planners did not pay adequate attention to remaining areas of many land plots after site clearance, resulting in the creation of many plots that were too small or out of shape. 
Combining the parcels of tiny land with neighbouring plots, however, can be difficult because of challenges in reaching agreement about prices as most tiny houses are street-side with very high prices.
Architect Ngo Viet Nam Son said: "HCM City must address this problem beginning at the planning stage so that there will not be any super-thin houses." 
Residents whose land was taken back in the past have not benefited from these road expansion projects, while those who were not affected by the projects benefited hugely from land price spikes.
To tackle the issue, city authorities have approved a proposal to reclaim land along new road projects in the city for auction and resettlement areas for affected households.
Under the proposal by the city Department of Natural Resources and Environment, people whose land is taken back will be resettled in the same locations but with smaller lots than their own.
The surplus land will be put up for auction to raise capital for the road projects.
The local authorities will negotiate with the affected residents. If two-thirds of the residents agree to the land reclamation plan, it will then be put into force.
Experts have also recommended that land areas ineligible for construction permits must be combined with a neighbouring plot. 
In a related issue, the city said it would establish a "sectoral team" headed by a city leader, a leader of the Department of Finance, and a leader of the Department of Natural Resources and Environment to review the total use of public assets such as public houses and land with a term of five years. 
The People's Committee will report to the People's Council and then to the Prime Minister to help settle the issues.  VNS

Hanoi is experiencing rapid urbanisation with many roads being extended and new roads built. As a result, tiny and strangely-shaped houses have sprouted up on the leftover lands.