The local authorities of HCMC will impose administrative sanctions on people that go out for non-essential reasons from July 9.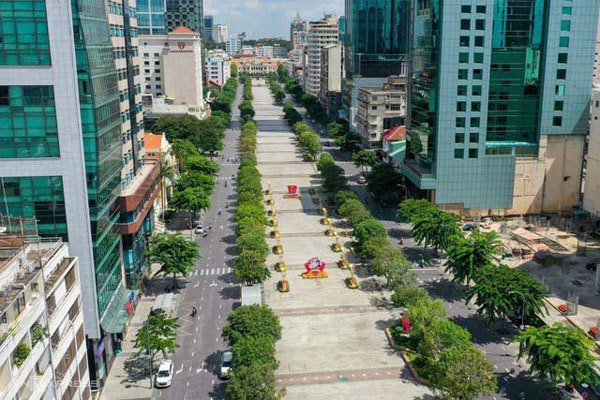 Nguyen Hue Pedestrian Street in District 1, HCMC is deserted due to social distancing measures. People in the city going out for non-essential reasons will be subject to administrative sanctions. – Photo: MINISTRY OF HEALTH
The city's chairman Nguyen Thanh Phong signed an official dispatch today to impose social distancing citywide in line with the prime minister's Directive 16 from midnight, July 9, for 15 days.
During this period, the people must refrain from going out except for necessary purposes such as buying food, medicines and other necessities or working at State-run agencies or diplomatic units, or as armed forces. The citizens are also allowed to leave their home in urgent cases such as emergency, medical checkups, fire, natural disasters and funerals.
When venturing out for urgent purposes, the residents must strictly comply with Covid-19 infection prevention and control measures such as wearing face masks, using hand sanitizers, avoiding gatherings of more than two people outside offices, schools and hospitals and maintaining a safe physical distance of at least two meters from each other.
The governments of the wards, communes and towns have been asked to set up monitoring teams working round the clock to prevent mass gatherings and penalize those violating the above regulations.
Production factories, construction projects, essential goods suppliers, banks, treasuries, cargo transport service operators, import-export service providers and medical checkup and treatment services are allowed to remain operational, but they must strictly comply with Covid-19 safety protocols.
State-owned units or agencies are required to allow their employees to work from home, with a few exceptions such as those on duty or in special circumstances, and to hold online meetings.
The HCMC government stressed that Directive 16 bans contact between families and imposes isolation of communes, wards, towns and districts.
Addressing a meeting of the HCMC steering committee for Covid-19 infection prevention and control on July 7, the city's chairman Nguyen Thanh Phong announced that the city would begin a 15-day citywide social distancing period in line with the prime minister's Directive 16 from July 9.
This is the fourth time that HCMC has extended its social distancing period as the Covid-19 pandemic still develops complicatedly although the city has strengthened Covid-19 containment measures.
Source: SGT

A research group from Ho Chi Minh City-based Fulbright University and Tech4Covid research team forecast that HCM City will be able to control the Covid-19 epidemic by the end of August.