Over 322,120 people in HCMC should be compelled to wear face masks daily to avoid being infected with a new coronavirus, according to the HCMC departments of Industry and Trade and Health.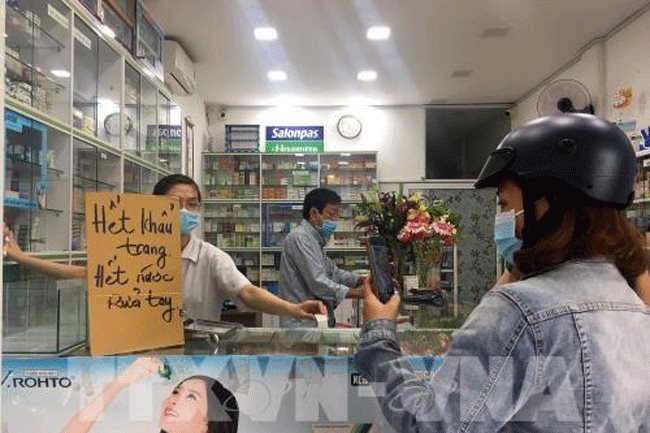 A pharmacy puts up a makeshift sign that reads: "Face masks and hand sanitizers are out of stock." Over 322,120 people in HCMC might be forced to wear face masks daily to avoid contracting a new coronavirus - PHOTO: VNA
The municipal Department of Industry and Trade said on February 5 that it has coordinated with the HCMC Department of Health to classify five groups of people who must wear masks.
The municipal government is considering the proposal.
Public employees, especially those at the departments specializing in the receipt and return of administrative paperwork, would be subject to the proposed mask wearing requirement, Thanh Nien newspaper reported.
The second group are traders, employees and laborers at wet markets, supermarkets, commercial centers and stores. Workers at lodging facilities and hotels in the city form the third group.
Employees working at coach stations, airports, seaports and bus stations are classified as the fourth group, followed by employees of group kitchens.
As each person needs three face masks a day, the five groups will need over 966,000 masks a day to protect themselves from the 2019-nCoV virus, which was first detected in the Chinese city of Wuhan late last year and has since killed more than 560 people and infected over 28,000, most of them in China.
According to the results of a survey by the HCMC Department of Industry and Trade, some 13 face mask manufacturers in HCMC can provide over 1.6 million masks a day, thereby meeting the demand of the priority groups. The remainder will be supplied to residents.
The Department of Industry and Trade proposed the municipal Department of Health inform the five groups of the compulsory daily use of masks.
The HCMC market management agency on February 5 launched an inspection of organizations and individuals who trade and make goods, including medical tools, medicine, face masks and hand sanitizers.
The agency noted that the check was aimed at penalizing those taking advantage of the virus outbreak to overcharge their customers.
Over the past two days, working teams from the municipal market management agency found multiple drugstores and stores selling face masks with unclear origins.
Phung Hoang Drugstore in Ward 10, Go Vap District, had hung up a sign reading, "Face masks are out of stock," but on checking, the working team discovered the drugstore was holding 657 masks of all types. The team seized the entire inventory of face masks. SGT

Tougher measures will be taken to curb the outbreak of the new coronavirus in Hanoi.

Border guards operating in Ho Chi Minh City have taken steps to check the body temperature of all foreign tourists visiting Saigon Port, in addition to providing them with free medical masks.