Students in HCMC will stay out of school until February 16 to help contain the spread of a deadly coronavirus which emerged in the Chinese city of Wuhan late last year.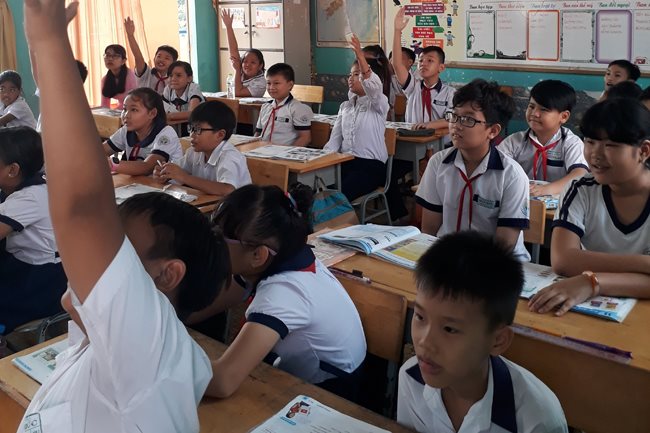 Fifth graders at Quy Duc Primary School in the outlying district of Binh Chanh, HCMC, attend an English class in 2018. Citywide students have another week off amid the coronavirus outbreak
Director of the HCMC Department of Education and Training Le Hong Son signed a decision today, February 6, allowing K-12 students to stay out of school another week, from February 10 to 16.
The decision is meant to safeguard the safety of local students and prevent and control the spread of the new coronavirus.
The department has also asked local schools to clean up their campuses and raise awareness of preventative measures among students and their parents.
As of Wednesday, the death toll from the virus in mainland China jumped by 73 to 563, with more than 28,000 infected there. Nearly 260 cases have been reported in 31 countries and regions outside mainland China, according to a Reuters tally.
So far, Vietnam has seen a total of 10 confirmed cases of the virus, with three having fully recovered and the rest in stable condition. There are three cases in HCMC, namely two Chinese nationals, and a 73-year-old Vietnamese American man. One of the two Chinese, who are father and son, has recovered and been discharged from hospital while the other, the father, is still under treatment due to his pre-existing conditions. SGT
Thanh Thom

HCM City authorities have decided to continue closing all schools next week. Meanwhile, Hanoi and Da Nang are also considering to close schools for one more week.

Teachers at schools, colleges and universities in HCM City are applying a wide range of teaching methods to help their students learn online while the schools are closed until February 9 to prevent the spread of the coronavirus.

An abrupt decision to close all schools in more than two dozen localities to prevent the spread of the new coronavirus has caught parents off guard, forcing many to desperately seek for an alternative to their children's daycare.