The HCMC Department of Information and Communications has proposed the municipal government spend VND1.6 trillion on installing more than 10,000 surveillance cameras over the next five years.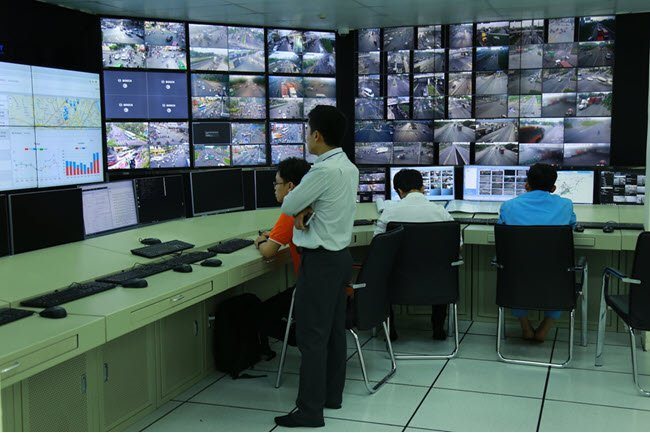 Monitoring staff watch traffic activities on multiple screens, where data are collected from cameras installed on the streets of HCMC - PHOTO: TNO
Under the plan "Building a surveillance camera system in HCMC in the 2019-2025 period," the 10,000 cameras will be installed along streets in the city. Of the total, some 1,000-3,000 cameras will be installed at prime sites and managed by the HCMC Police, news site Motthegioi reported.
For the first phase of the plan, from 2019 to 2021, the city will connect 300 existing cameras and 200 new cameras to the city's centralized monitoring system. It will also integrate some 1,000 cameras of the Department of Transport, the police and the districts with the system.
During the second phase, the number of surveillance cameras connected to the system will be increased to 10,000.
Funding for the plan is expected to be sourced from the city's budget.
Data collected from surveillance cameras will help the competent agencies work out solutions to traffic problems and ensure social order in the city.
Le Quoc Cuong, deputy director of the HCMC Department of Information and Communications, said the city currently has nearly 1,000 cameras in place. The distance between any two cameras is seven kilometers on average, longer than the 900-meter standard in Russia and one kilometer in South Korea.
Surveillance cameras have been installed in HCMC for a long time. However, the number of cameras remains modest and data collected from these cameras have yet to be shared with agencies in need.
Therefore, it is necessary to draw up a comprehensive plan for surveillance cameras in the city, Cuong added. SGT