Surgeons from America, Mexico and Turkey with their Vietnamese counterparts have provided free corrective surgery for 48 patients with ankle and foot deformities in Hanoi and Yen Bai Province since May.
100 patients receive free artificial knee and hip joint replacements
Vietnamese surgeons lengthen leg to 10 cm
Vietnamese doctor develops internationally-acclaimed thyroid surgery technique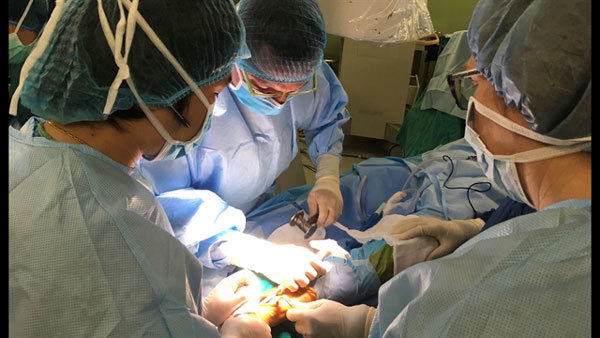 A surgery on a patient of lower deformity in northern Yen Bai Province last week. Photo Thuy Hong
Dr Naomi Shield from the US said it was an important opportunity for both Vietnamese and foreign surgeons to work and discuss advanced operating methods.
She was speaking at a seminar held in Hanoi on Saturday by the American Orthopedic Foot Ankle Society (AOFAS), the Mobility Outreach International (MOI) in co-operation with Viet Duc Hospital.
"There is a young man from Yen Bai whom we met three years ago, at that time he couldn't even walk, he just crawled around with pain and that tortured our heart," she said, "After surgeries to cure his muscles, his hip, his knees and his ankles, now he can stand still and walks properly. Seeing him like that makes us so happy that our efforts aren't wasted".
Dr Nguyen Manh Khanh, head of Viet Duc Hospital's Orthopedic Surgery Department 1 believes it's a valuable opportunity to exchange experiences and learn about advanced techniques of the foot and ankle orthopaedic surgery.
"Foot and ankle are really complicated as they are important joints which help the movement and can be easily vulnerable. So without caution, these parts can get damages during work, playing sport and accidents," he said.
Dr Nguyen Quang Trung, sub-director of the Hanoi Hospital of Orthopedics and Functional Rehabilitation, said: "With a group of doctor from AOFAS, we conducted surgeries at the hospital from May 27-30, including several cases that previous operations had failed to resolve."
"But with the right techniques and expertise, the group did very well and now the rehabilitation outlook for the patients is pretty optimistic," he said.
However, there are still difficulties during operating process due to the lack of resources and communication.
From June 3-13, two remaining groups of surgeons from America, China, Thailand and Vietnam will continue to do surgery for about 50 patients at Vinh orthopaedic and rehabilitation hospital, Hospital of Orthopedics and Functional Rehabilitation in Hanoi's Viet Duc Hospital.
VNS