The Ministry of Health has asked health departments at all localities to enhance measures to prevent Whitmore disease.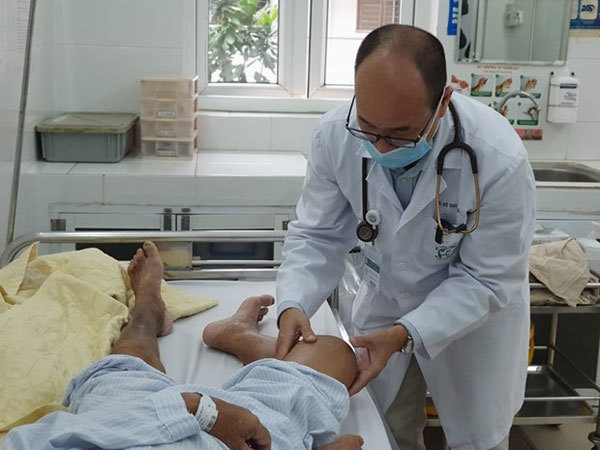 Doctor Do Duy Cuong of Bach Mai Hospital examines a Whitmore patient. — Photo vietnamplus.vn
The move was made following the recent increase in the number of Whitmore patients in the central region.
Central localities are expected to record more Whitmore patients in the future due to poor sanitation conditions caused by recent floods which create ideal conditions for bacteria to develop.
Whitmore disease, also known as Melioidosis, is caused by Burkholderia Pseudomallei bacillus. These bacteria are found in soil, dirty water or in rice fields and stagnant water. They can spread to humans and animals by direct contact with sources of contamination.
According to the ministry, the disease is rare and does not lead to a pandemic but it can cause septic shock leading to failure of major organs and in some cases, death, particularly among vulnerable groups.
The ministry required localities, particularly central Nghe An, Ha Tinh, Quang Binh, Quang Tri, Thua Thien-Hue, Da Nang, Quang Nam, Quang Ngai and Binh Dinh provinces to increase supervision to quickly detect new cases of Whitmore.
Local health departments are instructed to take samples of suspected cases or those at high risks of infecting with the disease for testing to have proper treatment.
They are also asked to actively treat Whitmore patients to minimise the rate of fatality.
The health ministry orders local health departments to increase communication activities to raise public awareness of the disease and preventive measures.
As many as 28 patients with Whitmore's disease have been hospitalised at the Hue Central Hospital from the beginning of October, a sudden increase compared to previous years, according to the local health department.
About 50 per cent of the patients were from Thua Thien-Hue Province while the rest were from other provinces such as Thanh Hoa, Ha Tinh, Quang Binh and Quang Tri.
Many patients arrived at the hospital in late stages of the disease, with sepsis, septic shock or multi-organ failure making treatment difficult and costly, according to the hospital.
Director of Hanoi-based Bach Mai Hospital's Centre for Tropical Diseases Do Duy Cuong told Vietnamplus online newspaper that the centre has treated 30 Whitmore patients since early this year. In early November alone, the centre provided treatment for six patients. Three of them are currently being treated at the centre and they come from northern Son La Province and central Nghe An and Ha Tinh provinces.
Whitmore's disease is mainly caused by bacteria that enters the body through the skin, or people who inhale dust, steam, or drink contaminated water, according to Cuong.
At the site of entry they cause pustules that grow depending on the degree of the case, sometimes a large abscess will develop.
The disease was discovered in Vietnam in the 1950s and is often found in some southern provinces. The peak of the disease is recorded during the flood season, between September and November.
Whitmore's disease is common in people with diabetes, with about 37-60 per cent accounting for the total. The shortest incubation period recorded was one day and the longest was 62 years.
Most patients with Whitmore have diverse, ambiguous and multiorgan clinical symptoms. Diagnosis is easily overlooked and mistaken for other diseases, especially tuberculosis due to its similar symptoms.
To proactively prevent Whitmore's disease, the Ministry of Health suggests people keep up personal hygiene and regularly wash their hands with soap and clean water; eat cooked food; and do not eat sick poultry or animals.
People are encouraged to limit exposure to sources of pollution, wear shoes, sandals and gloves when in contact with soil, dirty water or flood water.
If people have open wounds or sores, it is necessary to avoid contact with heavily polluted soil or flood water.
People with chronic diseases such as diabetes and immunodeficiency need care and protection from damage to prevent infections caused by flood water.  VNS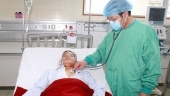 The number of newly reported cases of Whitmore's disease in some central provinces has increased sharply in the context of typhoons and floods severely affecting the region.

Hanoi's Son Tay General Hospital today announced that a woman in Hanoi has been infected with Melioidosis, also known as Whitmore's disease, which is caused by bacterium Burkholderia pseudomalle.