The Ministry of Health submitted a plan on the purchase and use of Covid-19 vaccines in the 2021-2022 period, including the recommendation on offering free Covid-19 vaccines for people until the end of 2022.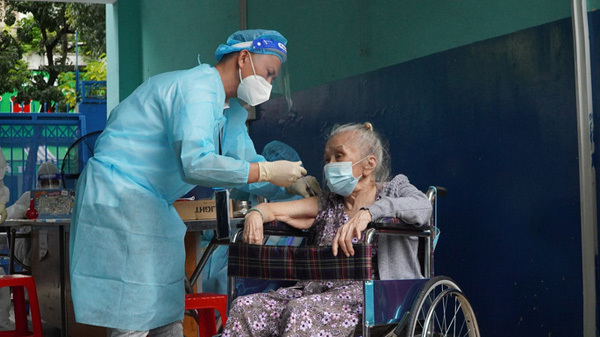 An elderly woman in HCM City is given Covid-19 vaccine.
According to the Ministry of Health, by November 17, more than 102 million Covid-19 vaccine doses had been administered in Vietnam and over 36.8 million people are now fully inoculated. To date, 18 cities and provinces have covered 95 percent of the first shot for people aged from 18. 
At present, 14 million doses of Covid-19 vaccine which have been distributed to localities have not yet been used.

The Ministry of Health has asked localities to speed up the Covid-19 vaccinations to ensure a first jab for all people aged from 18, prioritising people from 50 years old and those with underlying medical conditions. Localities have also been urged to provide a second shot for qualified people.

Cities and provinces also need to revise their Covid-19 vaccine needs and report to the National Institute of Hygiene and Epidemiology and Pasteur Institute. They also have to inform the Ministry of Health about the Covid-19 vaccines they receive from other sources.

The ministry suggested offering free Covid-19 vaccination for people aged from 18 until late 2022. The ministry has announced the list of localities with slow Covid-19 vaccine processes to the mass media.

The ministry has planned to provide a third Covid-19 vaccine shot for people from late this year and early next year.
Source: dtinews

Vietnam might reach the 'finish line' – vaccination and herd immunity – later than Europe and the US by five to six months, but it would prefer to go slowly and carefully.  

Several provinces, enterprises and universities nationwide will provide free COVID-19 vaccinations to their residents, staff and students in order to share the financial burden for pandemic prevention and control.