People poured back into Hanoi on Wednesday after the five-day vacation, causing congestion at many bus stations and on highways into the capital city.
Entrances to city centre gridlocked after New Year holidays
Hanoi adds more coaches for upcoming holidays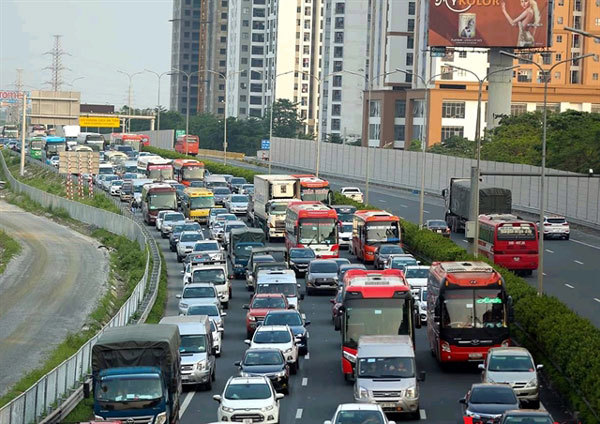 Vehicles flock back into the city centre after the long Reunification Day and Labour Day holiday, causing congestion along the Phap Van-Cau Gie Expressway in Hanoi. — VNS Photo Nam Nguyen
Roads leading into the capital from the south such as the National Highway 1A and Phap Van-Cau Gie Expressway experienced severe slowdowns because of the sudden increase in traffic.
From early afternoon, cars, motorbikes and coaches from Thanh Hoa, Nghe An, Son La and Thai Binh provinces had reached bus stations, causing many main routes such as Giai Phong, Pham Hung and Pham Van Dong and Ngoc Hoi to be overcrowded. Later, coaches from other cities and provinces of Hai Phong, Quang Ninh, Thai Nguyen, Phu Tho, Nam Dinh, Thai Binh and Thanh Hoa flooded the My Dinh and Giap Bat bus stations.
According to the leaders of the stations, the number of passengers travelling through the stations was 100-150 per cent higher on Wednesday than on a normal day. The stations arranged personnel to guide buses to limit congestion. The stations also co-operated with authorities to ensure safety and order around the area, they said.
Meanwhile, in the south, hundreds of thousands of vehicles from the Cuu Long (Mekong) Delta travelling to HCM City after the long public holiday caused traffic jams on sections of National Highways 1A, No 50 and No 60, the HCM City-Trung Luong Expressway, the Rach Mieu and My Thuan bridges and other areas over the last two days.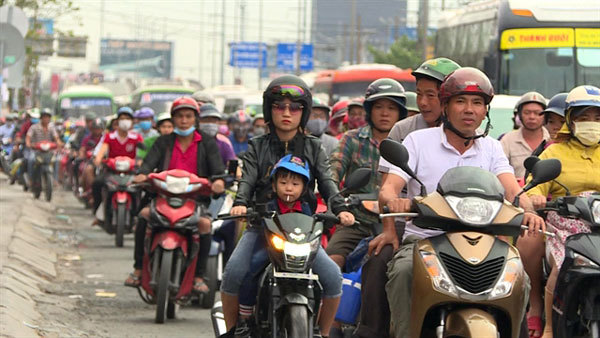 Heavy traffic as residents return to HCM City after a five-day national holiday. — VNS Photo Ngoc Diep
Since most businesses, offices and industrial zones resumed operations on Thursday, many employees from the Delta were travelling back to HCM City and eastern provinces.
On Tuesday afternoon, heavy traffic caused a four-kilometre gridlock on Rach Mieu Bridge (which connects Tien Giang and Ben Tre provinces) for many hours.
National Highway 1A running through Tien Giang Province was also blocked on many sections, especially on small bridges.
Traffic police in Tien Giang and Ben Tre provinces worked together to regulate traffic and handle the serious congestion.
The toll booth at Rach Mieu Bridge shut down for 40 minutes to ease traffic flow.
At about 6pm, the number of vehicles travelling on the highway and Rach Mieu Bridge sharply decreased.
At Mien Tay (Western) Coach Station in HCM City's Binh Tan District, the number of passengers rose on the morning of May 1.
Every five to ten minutes, dozens of coaches dropped off passengers coming from other provinces and returning to HCM City at Mien Dong (Eastern) Coach Station in Binh Thanh District.
Around the coach stations, public buses, taxis and app-based or traditional xe om (motorbike taxi) services expanded their transport capacity to serve high travel demand.
On the afternoon of May 1, an increasing number of vehicles was recorded on National Highways 1A in HCM City's Binh Chanh and Binh Tan districts, and on Nguyen Thi Dinh, Dong Van Cong and Mai Chi Tho streets.
For this holiday period, the HCM City traffic police added more patrols to ease traffic flow and problems at traffic hotpots in the city.
Despite a high density of vehicles in both the city's eastern and western gates, no serious traffic congestion was reported.
Tourist attractions
Thousands of people and vehicles blocked areas around Landmark81 in Binh Thanh District, Thu Thiem Tunnel in District 2, and Dam Sen Cultural Park in District 11 to enjoy the 15-minute firework displays on April 30.
The first HCM City Orchid Festival between April 27 and May 1 in District 1's Tao Dan Park attracted a large number of local and foreign visitors who took photos and bought flowers.
To attract more visitors, District 9's Suoi Tien Theme Park charged the same price as normal days and doubled the number of art performances and entertainment activities.
Every night between April 27 and September 2, Dam Sen Cultural Park is offering free laser shows from 7pm to 9pm and numerous entertainment activities to serve visitors.
During the holidays, Vung Tau Beach, one of the most attractive tourism areas in Ba Ria -Vung Tau Province, welcomed more than 350,000 visitors.
Dai Nam Tourist Park in Binh Duong Province also organised many attractive programmes for the holidays.
During the holiday period, many tourism sites, eco-tourist destinations and beautiful landscapes in Delta provinces saw a large number of visitors.
These included the Happyland Entertainment Complex in Long An, Thoi Son Tourism Site in Tien Giang, Phung (Phoenix) Islet in Ben Tre, Tram Chim Tourism Area and Sa Dec Flower Village in Dong Thap, Tra Su cajuput forest in An Giang, My Khanh Tourism Village in Can Tho, Vinh Sang Eco-Tourism Area in Vinh Long and Phu Quoc Island in Kien Giang.
VNS