Heavy showers with rainfall of up to 70mm per hour is expected to cool the country's northern region between Monday night and Wednesday.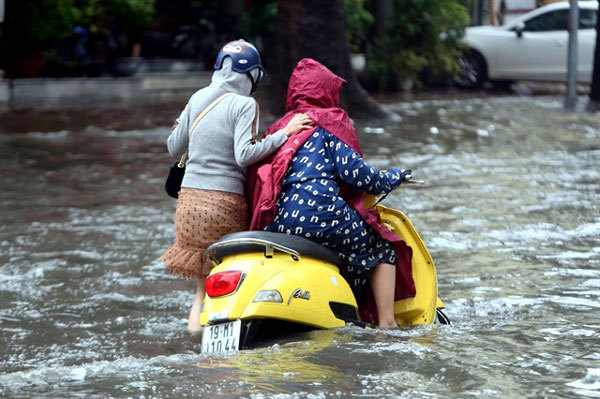 Two women at the intersection of Ly Thuong Kiet and Phan Boi Chau after heavy rain last Thursday in Hanoi. — VNA/VNS Photo Thanh Dat
The showers are expected to end the prolonged hot spell that has scorched the north over the last two weeks with high temperatures of 40 degrees Celsius.
In its latest update, the National Centre for Hydro-meteorological Forecasting also said whirlwinds, hail and strong winds could appear during the heavy rains, with warnings of floods and landslides issued for the northern mountainous localities of Ha Giang, Tuyen Quang, and Lao Cai.
The capital city of Hanoi is also predicted to get heavy rain and strong winds starting Monday night.
The central region should have more pleasant weather starting on Tuesday, according to the centre.
A low-pressure system, with the strongest wind speeds near its eye hitting 50km per hour, formed on Monday morning in the northern part of the East Sea.
The system is forecast to gain in strength and become a tropical low-pressure system by 7am on Tuesday. It will be 380km east of the Truong Sa (Spratly) archipelago by 1pm on Tuesday.
Due to the system, seas have been rough in the northern and central parts of the East Sea.
VNS