Typhoon Wipha has finally left Vietnam, leaving in its wake a trail of death and destruction.
 Death toll rises as floods and landslides ravage northern region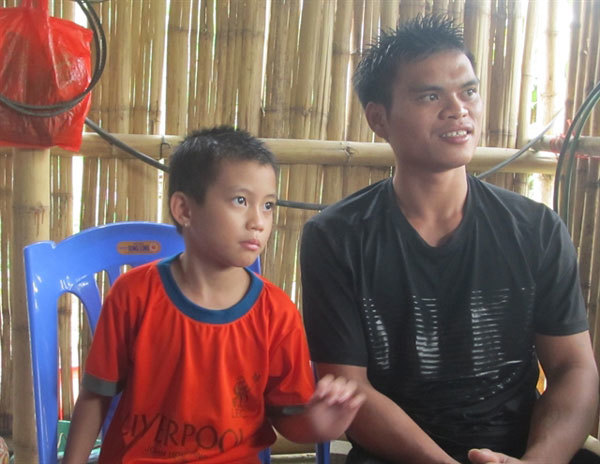 Pham Ba Huy (right) spent two hours in the water on Saturday to save a 52-year-old man who had clung to the top of a tree for 11 hours due to flood in central Thanh Hoa Province. — VNA/VNS Photo
Six people lost their lives, 13 people remain unaccounted for, and homes, businesses and roads have been badly damaged.
But among all the heartache, heroes have risen, like the young man who put his own safety to one side to leap into fast-flowing water to pull a man trapped for 11 hours to safety, or the police officer buried alive as he desperately tried to evacuate an ethnic minority community.
Strong winds and flash floods devastated the country's north and north-central localities over the weekend.
Many families still frantically await news of their missing loved ones.
As the storms passed, stories have emerged of bravery in the face of adversity.
Thao Van Sua, 33, head of Nhi Son Commune's Police Office in the Muong Lat District, north-central province of Thanh Hoa was on duty Saturday night.
As he desperately tried to help others, he was caught in a landslide and buried alive. Minister of Labour, Invalids and Social Affairs Dao Ngoc Dung hailed the father-of-three a martyr.
Pham Ba Huy, 26, of Son Dien Commune, Quan Son District, Thanh Hoa Province put his own life on the line Saturday evening.
The carpenter tied a rope around his body and spent two hours in the water trying to save 52-year-old Luong Van Chon who had clung to the top of a tree for 11 hours.
After helping Chon to safety, carpenter Huy got into difficulties himself after the safety rope he was wearing snapped.
Having been brought up in the area, swimming in the river many times in his life, he eventually managed to reach dry ground.
In Hanoi, one driver of a pick-up truck used his vehicle to clear fallen trees on Nguyen Thai Hoc Street, even though it caused extensive damage to his vehicle.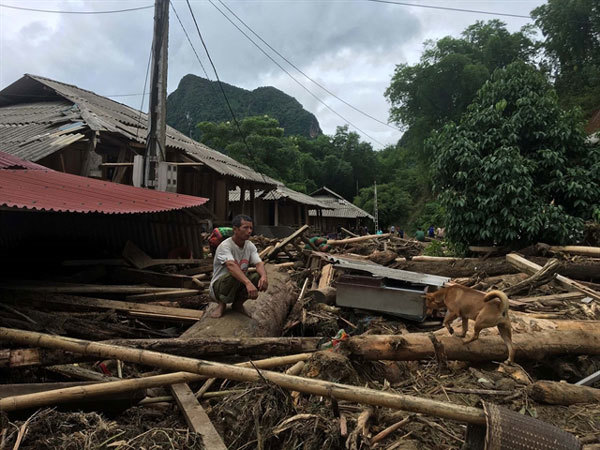 A man surveys the damage after his house was destroyed in Thanh Hoa Province. — VNA/VNS Photo

Typhoon's damage and remedying
The Centre Steering Committee for Natural Disaster Prevention and Control on Sunday revealed that Thanh Hoa Province that was hit the hardest by the storms.
Three people died and 12 are still missing in the province.
Nguyen Xuan Phuong, head of Sa Na Village of Quan Son District, said "It is the first time I have seen large and fast floods like this."
Although local people actively prepared for the typhoon, 24 houses were still destroyed.
Villager Ha Van Mieu, said Son - a local stream, usually docile - raised by up to 10 metres, destroying his home.
Now his family have no choice but to stay with relatives leaving him unsure about how he can rebuild his life.
Vi Thi Cu, another villager, said her house was completely destroyed by the flood.
In total, around 124 houses were wrecked, 907 others badly damaged and a number of roads were blocked in the province as of Sunday morning.
The typhoon also reportedly damaged 113 irrigation reservoirs in the north.
VNS