Ho Chi Minh City on May 5 inaugurated a press centre – the first of its kind nationwide.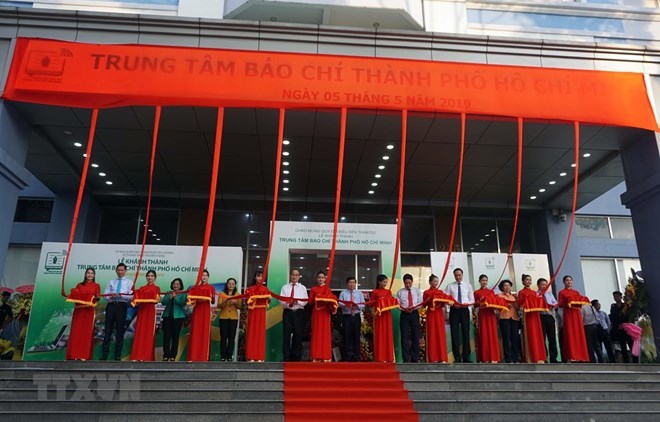 Delegates cut the ribbon to inaugurate the press centre
The centre, headquartered at 255 Tran Hung Dao, District 1, helps city leaders provide information to orient public opinion, collect and handle information from news outlets, organise press briefings, work with domestic and foreign news agencies in journalism and communications, and hold training courses on communications.
With a total area of 1,600sq.m, the centre includes two rooms for press conferences, one meeting room for VIP guests, a reception room for reporters and another for them to work.
It is expected to become a modern and professional multimedia press centre capable of serving important events at national and international level.
Chairman of the municipal People's Committee Nguyen Thanh Phong asked the centre to promote its role as a bridge connecting city leaders and news agencies.
Ho Chi Minh City pledges to stand side by side with news outlets and create the best conditions for reporters to access information accurately and rapidly, he added.
At the inauguration ceremony, deputy head of the municipal Department of Information and Communications Tu Luong was appointed to serve as the centre's Director.-VNA