Tran Thi Hong Hanh, 49, director of HCMC-based realty firm Hoang Kim Land, has been detained for alleged asset misappropriation, reported the local media.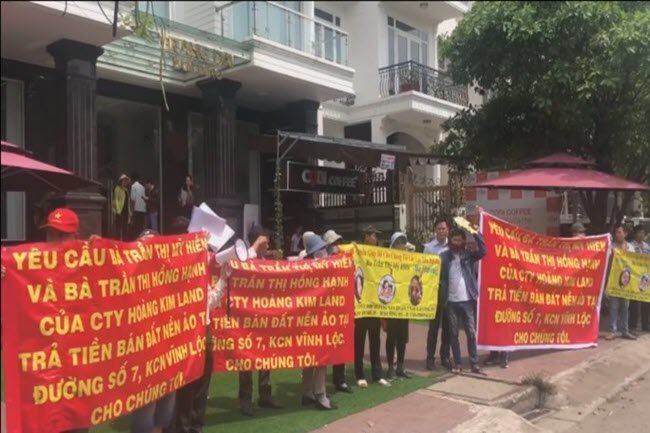 Customers hold banners demanding Hoang Kim Land to pay back their money that the firm allegedly misappropriated through the transfer of fake parcels of land in the HCMC outlying district of Binh Chanh – PHOTO: NGUOI LAO DONG

Investigators from the HCMC Police Department on November 21 told the local media that they had issued decisions to arrest and charge the female head of Hoang Kim Land, fully known as Hoang Kim Land Real Estate Investment Consulting Company.
The police questioned the involved individuals and collected an adequate amount of evidence indicating that Hanh had signed many contracts on the transfer of bogus property projects and misappropriated a large sum of money from customers. Also, Hoang Kim Land was not licensed as an investor.
Besides this, the accused had conducted negotiations on the transfer of four houses in the city's Binh Tan District. Investigations revealed that these houses were not built in line with prevailing regulations.
The police are expanding their probe into seven unlicensed property projects of Hoang Kim Land in the city.
Victims of Hoang Kim Land's real estate scams were asked to report to the city's Investigative Police Division for Corruption, Smuggling and Economic Crimes to have their interests protected, according to the municipal police.SGT