Everybody wants to be paid a fair wage for an honest day's work, but what happens when your employer isn't honest or honourable? Some workers in Vietnam's capital found out recently.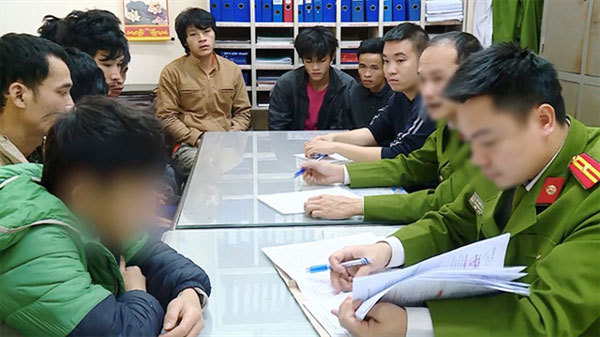 The police take declaration from the workers. — Photo thanhnien.vn
A spokesperson of the Investigation Police Team for Drug-related Crimes under the Thanh Xuan District Police in Hanoi on Monday told the Thanh Niên (Young People) newspaper that they had temporarily detained Le Van Anh, 30 and Dang Quang Huy, 27.
Anh is a security guard whereas Huy is a supervisor of a construction site in Ha Dinh Ward.
Last Friday, police raided to the construction site after a tip-off from local residents. They caught nearly 20 workers in the act of using heroin.
The workers admitted to police that they were from poor remote areas and came to Hanoi to work as builders. However, instead of being paid with money, they were paid with heroin to use together.
Police believe Huy supplied the heroin and Anh delivered it to the workers.
The police said 12 of the workers have been encouraged to go to detoxification centres and the remaining, who have not become addicts yet, would receive administrative fines.
They say don't bite the hand that feeds you, but when that hand is trying to feed you heroin, perhaps biting is the correct response. — VNS

Crimes related to drug dealing and trafficking had been on the rise in HCM City in recent years, said Đinh Thanh Nhàn, deputy head of HCMC Police.

Nearly 53,000 drug users in Vietnam has received Methadone treatment to cure their addiction since the treatment was first piloted in Ho Chi Minh City and Hai Phong in April 2008.

Earlier this year, a 57-year-old man from Tay Ninh Province was desperate to kick his smoking habit after he suffered a stroke.