Hospital infections were becoming a common problem that required more focus from the healthcare sector, Minister of Health Nguyen Thi Kim Tien said.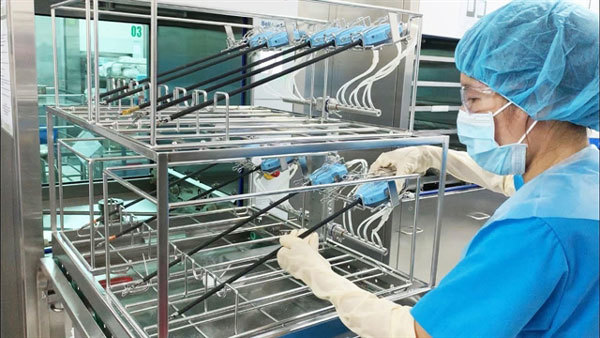 A medical worker disinfects endoscopic instruments at Binh Dan Hospital in HCM City.
Tien was speaking at a conference on Monday about efforts to control infections at healthcare facilities, especially in emergency departments.
Hospital infections were one of the main threats to patient safety, and had contributed to an increase in fatalities, treatment times, the use of antibiotics and costs, she said.
They also caused overloading and reduced the quality and reputations of hospitals. Some complications caused by hospital infections were worse than the original problems that patients were admitted with.
In order to control these infections, the Ministry of Health has taken measures to tighten control at healthcare facilities, including issuing regulations and providing professional supervision.
According to Tien, some controls had already been put in place, including supervision of hand hygiene and infection controls to improve hospital sanitation and proactively prevent epidemics.
However, she admitted it was still a serious problem.
Speaking at the conference, Dr Luong Ngoc Khue, director of the ministry's Medical Examination and Treatment Management Department, said the results of a survey conducted at 558 hospitals this year showed that 53.9 per cent of instruments in anesthesia departments were not being disinfected properly, 31.2 per cent of facilities did not have microbiological monitoring systems.
Meanwhile, 56.1 per cent of instruments in emergency departments were not being disinfected; 21 per cent of hospitals did not have infection control departments; and about 22.6 per cent of sanitation staff had not received training on infection control.
Assessing this situation, the minister said that first of all, some heads of health facilities were not fully aware of the role and importance of infection control.
Moreover, most health staff did not receive training and some departments faced staff shortages.
Hospitals did not have policies to attract and encourage dedicated and professional people to work in infection control, she added.
Some hospitals were unable to provide comprehensive care due to a lack of manpower, so it was down to family members to care for patients, which also led to more infections, according to the minister.
To deal with such situation, Tien has instructed leaders of healthcare facilities to commit to properly and fully implement legal regulations and professional guidance on infection control issued by the Ministry of Health.
Hospitals needed to arrange skilled personnel, upgrade infrastructure and provide the necessary equipment to implement infection control.
At the same time, health facilities needed to enhance checks and supervision of hospital infections, and monitor compliance with infection control practices among health workers, students, patients and family members.
Vietnam has established an infection surveillance system at six hospitals. The ministry plans to pilot the system at 12 other facilities and transfer technology to supervise hospital infections at a further 30 hospitals. VNS