Doctors at Paediatrics Hospital 1 in HCM City have performed open heart surgery on a prematurely born baby weighing only 1,600 grammes.
900g-baby with congenital heart disease survived
6,000 children get free heart surgery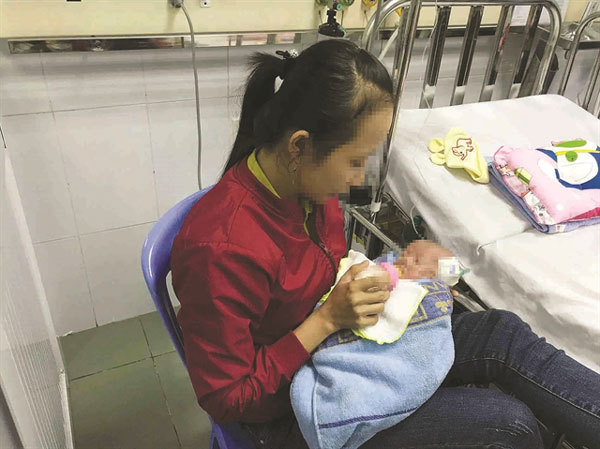 The patient is fed milk at Paediatrics Hospital 1 in HCM City. VNS Photo Gia Loc
"The baby's heart was only as large as an adult's thumb. Her thorax was the same size as my wrist, and her blood vessels were very thin," said Dr Nguyen Duc Tuan, head of the heart surgery unit at the hospital.
"If the anaesthesia and surgery had not been done skillfully, it would have been very dangerous for her," Tuan added.
The baby is the lightest-weight individual ever to receive open-heart surgery at the hospital.
She was delivered after 30 weeks of pregnancy at Tu Du Hospital, weighing 1,000 grammes.
Thirteen days later she was diagnosed with a large ventricular septal defect, a 7-mm hole in the wall separating the two lower chambers of the heart.
She also had an unclosed hole in the aorta, known as patent ductus arteriosus (PDA).
The infant was transferred to the Paediatrics Hospital 1 on May 21 for treatment after she contracted pneumonia and her heart shadow enlarged.
When she was 37 days old, doctors performed surgery to treat the PDA and to enable her to gain enough weight for open heart surgery.
However, her situation did not improve, so open heart surgery was scheduled on June 24.
She is currently recovering from surgery and now weighs 1,700 grammes. She is expected to be discharged from the hospital after one more week.
Dr Nguyen Tri Hao, deputy head of the heart surgery unit, said that a ventricular septal defect is one of a number of common congenital heart defects, which occur in one out of 100 live births.
Ventricular septal defects account for 20 per cent of all congenital heart defects.
Dr Nguyen Quy Hop of the hospital, who took part in the surgery, said that open heart surgeries were more difficult to perform than surgeries to repair defects outside the heart.
"In open heart surgery, the heart has to be stopped. Doctors connect patients to a heart-lung bypass machine which moves blood away from the heart," Hop said.
In the baby girl's case, the surgery was especially difficult because of her low weight and premature birth. Also, her organs' functions were less than optimal.
In the last 15 years, the hospital has performed heart surgeries and interventions on 11,000 children.
VNS