Hundreds of people in Tay Ho district, Hanoi queued in very long line from early morning of September 20, one day before the Full Moon Festival 2021, to buy mooncakes from a famous mooncake brand, ignoring regulations on keeping social distance.
To serve the huge number of customers, this mooncake shop had to sell their cakes at a nearby school - Chu Van An primary school on Thuy Khue street.
Due to the large number of people gathering at the same time, the local authorities had to arrange police officers and militias to ensure pandemic prevention measures at the site.
To ensure safety, the functional forces coordinated with the mooncake producer to erect fences for people to queue. The local government allowed the shop to open when they ensured distance.
An official of Tay Ho District said that the mooncake shop has been a familiar address for Hanoians for many years so the local authorities created favorable conditions for the shop to serve customers as long as it ensured safety.
This mooncake shop is among the most famous brands in Hanoi, which has existed for decades.
The full moon of the lunar month of August has been celebrated for up to 20,000 years across Asia. This specific date is when the moon's orbit is at its lowest angle to the horizon, making the moon appear larger and brighter than at any other time of the year. People gather to watch this auspicious event, and pray that it brings good fortune in its wake.
In Vietnam, mooncakes are a common feature in every household during the Mid-Autumn festival. These cakes are round, dense, and usually feature some detailed pattern on the crust. Typical fillings include meat, eggs, dried fruit, pumpkin's seed, or peanut, and can be sweet or savory. For weeks before the event, mooncake stalls pop up all over towns and cities awaiting patrons who usually buy them in bulk and then give them away as gifts.
However, under the impact of the covid-19 pandemic, sales of mooncakes this year dropped. People did not see mooncake stalls along Hanoi's roads as in previous years.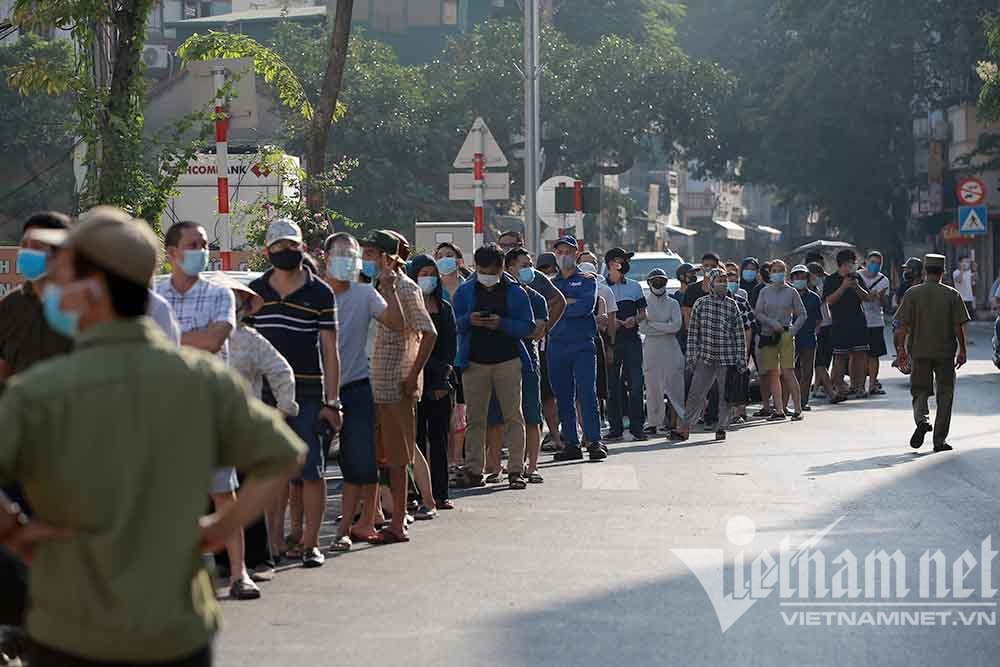 Hundreds of people gathered at the site from early morning to buy mooncakes.
Ky Phuong - Doan Bong

During the Mid-Autumn Festival, mooncakes become the most sought-after product in Vietnam as people enjoy the pleasure of gathering around with their family to drink tea and eat the square pastries. 

Online sales are being implemented by mooncake businesses with a variety of products from the common to the high-end.