The Ministry of Culture, Sports and Tourism stated that it backed decisions made by Ha Giang over a controversial hostel-café built along one of Vietnam's most beautiful mountain passes, just hours after the business was told to shut down.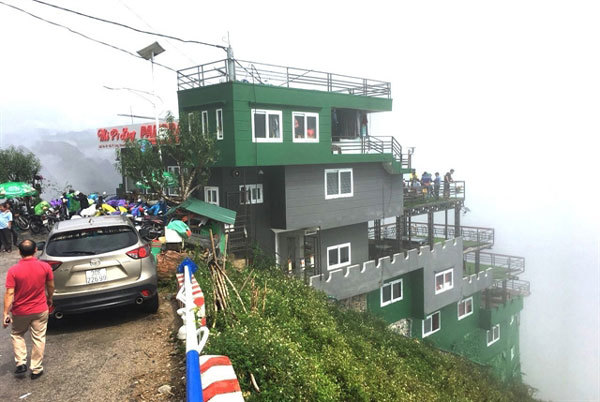 The Panorama Hostel, Restaurant and Cafe on the Ma Pi Leng mountain pass, Meo Vac District, Ha Giang Province. VNA/VNS Photo
In a document signed by Deputy Minister Trinh Thi Thuy, the ministry told the Ha Giang People's Committee that it "agreed with the viewpoint and the solution" of the local authorities regarding the Panorama Hostel, Restaurant and Café situated on Ma Pi Leng pass.
Earlier on Monday morning, Meo Vac District People's Committee demanded the business to temporarily close following intense public pressure that the seven-storey structure ruined the stunning natural landscape of the area. Tourists, however, can still visit the location to enjoy a view of the famous Tu San Canyon.
According to the culture and tourism ministry, the building was located outside the second protection zone of the Ma Pi Leng national scenery heritage, but was still within the UNESCO-recognised Dong Van Karst Plateau Geopark.
Taking that into account, the Panorama failed to comply with Article 36 of the Law on Cultural Heritage, the ministry concluded. The article demanded constructions of structures lying beyond a heritage's protection zone that might damage the natural scenery and the surrounding biological environment to be approved first-hand by relevant authorities.
The appearance of the Panorama hostel-café was also deemed 'not suited to the landscape and the traditional culture of the ethnic minorities in the region', 'blocking view of the visitors', and 'causing harm to the environment'.
The ministry affirmed that the construction of the Panorama was a breach of law and must be strictly handled to avoid negative impacts to the local community and society.
The ministry, however, did not demand the hostel-café be demolished. It instead asked the Ha Giang People's Committee to renovate and turn the building into a stop-over for tourists.

Local authorities on Monday demanded a controversial hotel-café built along a stunning mountain pass in Ha Giang Province be shut down amid public criticism that the structure ruined the natural beauty of the area.

Ha Giang in the mountainous north of Vietnam has become a popular tourist attraction thanks to its majestic scenery and rugged natural beauty.

Hoang A Chinh, director of Ha Giang Province Department of Construction said on October 4 that they would investigate the illegal project on Ma Pi Leng Mountain Pass.
VNS