Although the Thua Thien-Hue Province People's Committee announced it had cracked down on illegal gold mining along the upper part of the Dakrong River in A Luoi District, the river water is still polluted, affecting people living downstream.
 Gold diggers destroy Thua Thien-Hue's district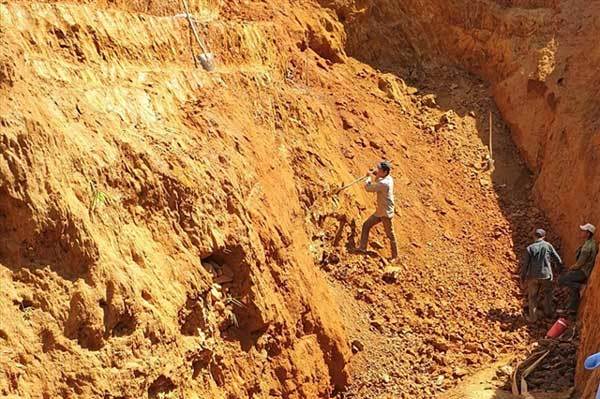 Miners dig for gold in Hamlet 3, Hong Thuy Commune, the central Thua Thien-Hue Province. — Photo laodong.vn
Lao động (Labour) newspaper on Wednesday reported that gold was still being mined illegally in the mountainous district on a much larger scale than reported by local authorities.
One gold mine is in Hamlet 3, Hong Thuy Commune. The area consists of a hill, on which there are holes of depths up to tens of metres. Nearby is a reservoir used for gold panning.
Groups of local residents have been seen digging to find gold ore. They spoke to a reporter from Lao động newspaper, saying that when they found evidence of gold, they would dig a trench, bringing soil to pan at the reservoir or taking it home.
Muddy water from the gold mines flows into streams that run into the Dakrong River.
Over the last two years, thousands of people living downstream in Quang Trị Province have complained about the polluted river water, the newspaper reported earlier.
However, head of A Luoi District's Natural Resources and Environment Department, Ho Dung, told the newspaper that between 2011 and 2017, Dong Truong Son Joint Stock Company was allowed to conduct gold exploration in the area.
When it finished the exploration, it did not carry out post-mining regeneration, he said, adding that some local residents were searching for gold in the area.
Another province official Tran Thi Hoai Tram, Chief secretariat of Thua Thien-Hue Province People's Committee Office said that about 10-15 people were mining gold in the area each day.
Tram said that local authorities including police and border guards were working to stop the illegal gold mining.
VNS