Official agencies and distributors in HCM City have dispatched their quality management teams to major slaughtering facilities and wholesale markets to ensure that 100 per cent of pork coming to the market is of good quality and without diseases, 
especially African swine flu.
Millions of pigs culled as African swine fever spreads
African swine fever continues to spread in Vietnam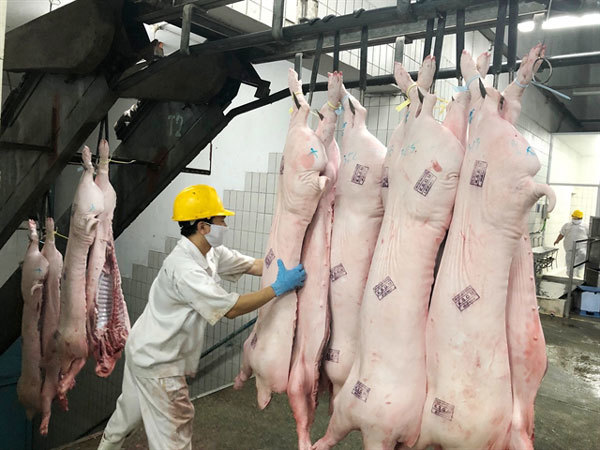 Authorities and meat distributors in HCM City are all keeping a close eye on slaughterhouses and wholesales markets to ensure that pork is free of disease, especially African swine flu. — VNS Photo
Le Viet Bao, head of the city Animal Husbandry and Veterinary sub-Department, said the sub-department took some 60 pork samples from Xuan Thoi Thuong (Hoc Mon District), Xuyên A (Cu Chi) and Vissan (Binh Thanh) slaughterhouses late at night on June 13 for testing.
It also took 15 samples from the Binh Dien wholesale market in District 8 and nine from the Hoc Mon wholesale market.
HCM City, the country's largest pork consumer, requires around 11,000 pigs a day.
The two wholesale markets of Binh Dien and Hoc Mon account for about 7,500 of them.
The city's supply mostly comes from nearby provinces like Dong Nai, Binh Duong, Ba Ria-Vung Tau, Long An, and Ben Tre, mostly in the form of pigs on the hoof, which are slaughtered at city abattoirs, making it easy for authorities to monitor for safety.
Le Thi Thu Thuy, Saigon Co.op's quality management director, said nearly 10 employees of the co-operative were present at 11.15pm at a Vissan slaughterhouse in Binh Thanh District to supervise the closed process from slaughter of pigs to transport by specialised vehicles to its supermarkets.
"Firstly, we must ensure that 100 per cent of pigs before slaughter are healthy with light skin, no disease manifestations and rings that provide full information about their origin.
"Next, the pigs must be slaughtered in a hygienic production line. Then the meat quality is checked again before being chilled, sealed and transported directly to Saigon Co.op's supermarkets."
Pham Trung Kien, deputy general director of Saigon Co.op, said soon after knowing about the disease outbreak measures had been taken to carefully monitor the sources of pork.
Besides increasing the frequency of inspections, the co-operative also conducts surprise checks and tests random samples of pork sold at its supermarkets to ensure only safe meat is sold, according to Kien.
The meat is supplied by leading food companies such as Vissan, Nam Phong, Anh Hoang Thy, and SagriFood, and most of their pork meets VietGAP standards, so customers can consume their pork safely.
Sales at Saigon Co.op's supermarket systems, which include Co.opmart, Co.opXTra and Co.op Food supermarkets, average 40-50 tonnes a day on normal days and slightly more during weekends.
The General Department of Preventive Medicine has said healthy and safe pork will have a natural red colour, white fat, elasticity, and no leaking fluids, while disease-infected meat will be sticky and have abnormal colours such as grey brown or deep red, spots and no elasticity.
As of June 11 African swine flu had occurred in 55 of the country's 63 cities and provinces, including all the major cities. More than 2.4 million pigs have been culled.
African swine fever does not spread to humans or poultry though it can kill pigs quickly and there is no vaccine available.
Deputy Minister of Agriculture and Rural Development Phung Duc Tien said localities should have comprehensive measures in place to combat the disease and establish professional teams to deal with dead animals quickly and sterilise pig farms to avoid the disease's spread and environmental pollution.
VNS