The People's Court of Tay Ninh moved to hand a death sentence to an Indonesian national on March 9 after she had been on trial for illegally transporting 6.7 kilos of methamphetamine through the Moc Bai international border gate located in Tay Ninh.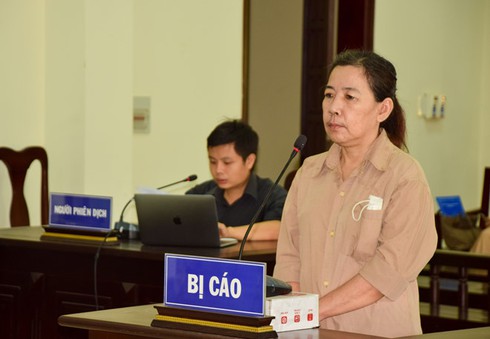 At the court. Photo: Thanh Nien (Youth) newspaper
According to the indictment, the defendant has been named as 54-year old Retty Gunawan and was originally arrested at about 20:00 on July 5, 2019, when she was caught red-handed by customs officials and border guards attempting to carry a suitcase full of drugs through the Moc Bai international border gate.
The drugs had been carefully hidden by layers of clothing, with yellow carton boxes containing drugs stashed underneath.
During questioning, Gunawan informed police about another Indonesian national involved in the plot called Monica, who she had first met in her native country back in 2017.
Their venture into drug smuggling first began when Monica had suggested that Gunawan transport drugs from Cambodia into the Philippines, with the payment set at US$500 for each trip. Traveling expenses and pay will be made after successful transport.
Following this, Monica took Gunawan to the Natam wharf in Indonesia on July 3, 2019, in order to travel to Malaysia before heading to Ho Chi Minh City.
Upon her arrival in Ho Chi Minh City, Gunawan was instructed by Monica to purchase a bus ticket to Cambodia through the Moc Bai international border gate in Tay Ninh province.
It was the evening of July 5, 2019, when Gunawan took a bus to the Moc Bai international border gate in order to complete the procedures to enter Vietnam, she was arrested by customs officials after being discovered illegally transporting drugs. VOV

Drug trafficking around Vietnam's borders has become more complicated as the country has become a transit hub for traffickers.

Deputy Prime Minister of the Government and Chairman of the National Traffic Safety Committee Truong Hoa Binh on Wednesday said alcohol and drugs are to blame for many serious traffic accidents this year.