The People's Court of Phu Tho has sentenced Dang Anh Tuan, former chief inspector of the Ministry of Information and Communications, to 34 months of non-custodial rehabilitation for his involvement in an online gambling ring.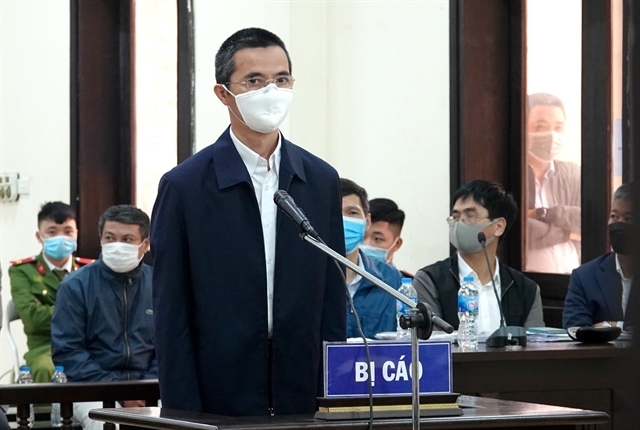 The defendant Đặng Anh Tuấn listens to the proposed sentences at the first-instance trial in northern Phú Thọ Province.
Tuấn, 50, was also prohibited from holding any government position for two years after completing his sentence. The order allows him to remain in the community and report regularly to a probation officer.
As stipulated, one day in detention is equal to three days in non-custodial sentence.
The defendant has been held in detention for nearly a year, since April 25, 2019.
At the first-instance trial held in the provincial People's Court, Tuấn, who has been the ministry's chief inspector since April 2015, was charged with "abusing positions and powers while performing duties."
On Thursday, the procuracy proposed jail sentences ranging from 15 to 18 months for Tuấn.
Tuấn was detained for his involvement in the US$420-million online gambling ring with the participation of high-ranking officials.
Former Minister of Information and Communications Trương Minh Tuấn was summoned to provide testimony. However, he asked to remain absent.
The procuracy said it had received Tuấn's testimony and his absence did not affect the trial.
According to the indictment, an inspection team from the ministry of information and communications had found signs of online gambling being organised back in October 2016.
The team handled three reports, which identified many individuals and businesses providing gambling software involving card games.
Among these were the game portal RikVip.com, led by Phan Sào Nam (former Chairman of the Board of Directors of the VTC Online Telecommunications Co. – VTC Online) and Nguyễn Văn Dương (former Chairman of the Members Council of the Hi-tech Security Development and Investment Co. – CNC).
In the third report, Đinh Tiến Dũng, head of the ministry's inspection team, said some software had changed portal names and continued operating. He also suggested transferring the documents to the police as these online video game products showed criminal signs.
Tuấn, as chief inspector, did not report the findings to higher authorities. He even suggested the then minister Trương Minh Tuấn stop the inspection. This allowed the violations to continue until they were detected by the police.
According to former minister Tuấn's testimony, he did not have any policy to stop the inspection into the gambling ring until receiving the report from his subordinate.
In Tuấn's report sent to the ministry in June 2017, he proposed the inspection last eight months instead of no more than 70 days as stipulated and the inspection team completed its work as the software ended gambling activities.
The procuracy determined that former minister Tuấn's behaviour showed signs of "irresponsibility and causing serious consequences" but had not yet constituted a crime so legal proceedings against him were not commenced.
In March 2018, the Ministry of Public Security announced a crackdown on online gambling rings through betting or card games in the northern Phú Thọ Province.
Among those card games, Rikvip, which was later renamed Tip.club, was organised in a sophisticated manner and on a large scale, attracting millions of gamblers betting trillions of đồng.
Rikvip began operations on April 18, 2015 on the websites rikvip.com and rikvip.vn, featuring 42 games simulating different forms of gambling. It was renamed Tip.club in August 2016 and operated as mobile and computer applications.
To join the games, gamblers created accounts and sent money to buy virtual tokens, called RIK, to those accounts through pre-paid telecom cards (Viettel, Mobifone, Vinaphone), game cards (Zing, Gate, Vcoin, Megacard, GoCoin, Vcard), and bank accounts, or directly buy virtual tokens at Rikvip agencies.
After winning or losing games, gamblers could convert RIK into money by selling the tokens to Rikvip agencies or selling pre-paid telecom card numbers and game card numbers, sending money to telephone accounts, or by using payment gateways.
The investigation found that from April 18, 2015 to August 29, 2017, there were 42,956,715 accounts on the Rikvip/Tip.club system. Each gambler had an average of three accounts, so the total gamblers could number more than 14 million.
As many as 92 defendants were accused of being involved in a ring that organised online gambling through the card games. They included former Director General of the Ministry of Public Security's Police General Department Phan Văn Vĩnh and former Director of the ministry's Hi-tech Crime Police Department Nguyễn Thanh Hóa. — VNS