Health experts discussed measures to control and eliminae thalassemia, an inherited blood disorder, at the South East Asian Thalassemia Forum on Thursday in Hanoi.
Red Journey blood donation campaign to reach 39 localities
Northern VN faces blood shortage after Tet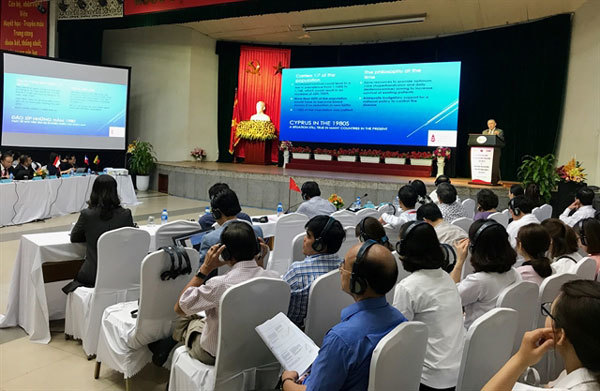 Health experts discuss the control and elimination of thalassemia, an inherited blood disorder, on Thursday in Hanoi. — VNS Photo Thanh Hai
The one-day event is part of series activities held by National Institute of Haematology and Blood Transfusion to mark World Thalassemia Day (May 8, 2019).
Thalassemia is an inherited blood disorder caused when the body doesn't make enough hemoglobin, an important part of red blood cells. The disorder results in excessive destruction of red blood cells, which leads to anemia.
"Thalassemia has become a disease burden for health sector and an economic burden for the whole society in Vietnam," said Deputy Minister of Health Nguyen Viet Tien at the event.
Tien said the health sector faced a lot of difficulties in the control and prevention of thalassemia.
"The solution is not only the diagnosis and treatment but also raising awareness and engagement of the whole society through policies, strategies and national programmes," said Tien.
The health sector said that the average treatment expense for a severe patient from birth to the age of 30 years old, is about VND3 billion (US$130,000). Each year, it is needed more than VND2 trillion for treatment of all Thalassemia patients and about 500,000 units of safe blood.
NIHBT Director Bach Quoc Khanh said prevention was the most effective method to control thalassemia through screening and detection of disease genes during pre-marriage and pre-pregnancy periods.
"An important measure now is the development and implementation of the national thalassemia programme in Vietnam. The programme will help control thalassemia and the development of disease gene sources, minimise newborns with thalassemia and improve the quality of life for patients and improve the quality of Vietnam's population," said Khanh.
During the event, participants will focus discussion on raising awareness of community on thalassemia, increasing thalassemia patient's quality of life and gradually reducing the number of newborns with thethalassemia gene and those affected by thalassemia.
A survey on thalassemia gene status nationwide in 2017 conducted by the National Institute of Haematology and Blood Transfusion (NIHBT) showed there are more than 12 million people carrying the thalassemia gene in Vietnam, 14 per cent of the population.
There are more than 20,000 thalassemia patients who need to be treated for a lifetime. Each year, about 8,000 newborns suffer from thalassemia, of which 2,000 are seriously affected, and about 800 unborn infants die due to hydrops fetalis.
VNS