Tourists visiting Tan Loc Islet on the Mekong Delta's Hau River are always impressed by a volunteer team of 50 road repairers.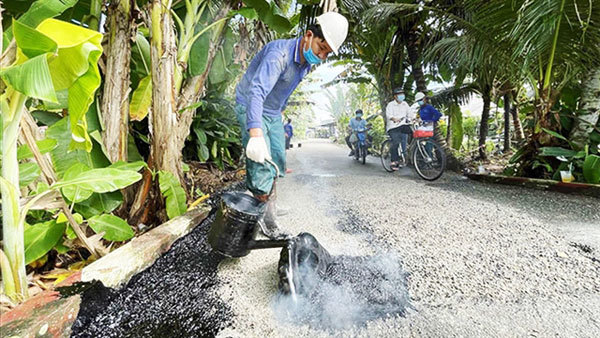 Tran Minh Trung repairs a road on Tan Loc Islet. — Photo nhandan.vn
No matter the weather, the team works non-stop every day to fix local roads.
Tran Minh Trung, the team leader, is called a 'hero' by local people thanks to his voluntary work.
He founded the team in 2012 after seeing an elderly person falling into a hole on the road and suffering serious head injuries.
Trung then spent his own money buying construction materials to repair the road. He also persuaded his mother to sell two cows - the main source of his family's income - in order to afford the materials.
At first he repaired roads by himself, then he called for about 20 more volunteers, many of whom are between 70 or 80.
Trung used to ride his bicycle to every corner of Tan Loc Islet to find potholes or degraded surfaces. Then he invested in an old motorbike.
Trung's mother Phuong told Nhân Dân (People) newspaper: "Rarely does he stay at home. Whenever he has free time, he rides the motorbike to look for potholes. Many local people call him to report the holes."
The materials are funded from the pockets of Trung and other volunteers. He saves almost all of his expenses to spend on the materials.
He also called for donations from local people. Some felt doubtful about his ability as he only finished grade 6. But they eventually donated to help the initiative.
Huynh Van Ba, an experienced builder, said: "Trung has a very high sense of self-study, so he is skilled in basic construction techniques."
Local people volunteer to cook meals and donate water to Trung's team.
Trung is a vegetarian, which he says is a way to save money.
Trung said that thanks to that, he had gained physical strength.
Trung has opened a small confectionary shop to boost his income.
He considers the shop a place where neighbours can meet each other and chat, and especially raise issues about the roads.
The road repair team now has about 30 to 50 volunteers. More local people also take part when needed.
The oldest member is Nguyen Van Nam, 88, and the youngest is Tran Thanh Tho, who is only 17 years old.
Nam, the oldest member, chips in with the heavy work, like from mixing cement, breaking steel, pouring concrete or spreading asphalt.
Nam said: "Although I am almost 90 years old, I still feel excited and healthy when repairing roads."
The team also offers help in two neighbouring provinces of An Giang and Dong Thap.
Their voluntary work has been warmly welcomed by local authorities and people.
The reputation of the team has spread across the Mekong Delta region. Authorities of localities facing difficulties have contacted the team.
Trung has taken into consideration all the proposals and given priority to the localities that need help most.
On Tan Loc Islet, the team also helps local people expand old bridges, or saving to build new ones.
"Our next goal is to repair more roads in other Mekong Delta provinces. This path is still long and challenging, but we believe we can do it," Trung said.
Source: Vietnam News

A teacher in the central province of Quang Nam has just been honoured for his contributions in supporting disadvantaged people in the area over the past 20 years.

More than 350,000 young people and members of the Ho Chi Minh Communist Youth Union are taking part in the 2020 Mua He Xanh (Green Summer), which began on Sunday in HCM City.