The Japanese Embassy in Vietnam has revoked and suspended the rights to apply for visas on behalf of Vietnamese tour groups for eight firms.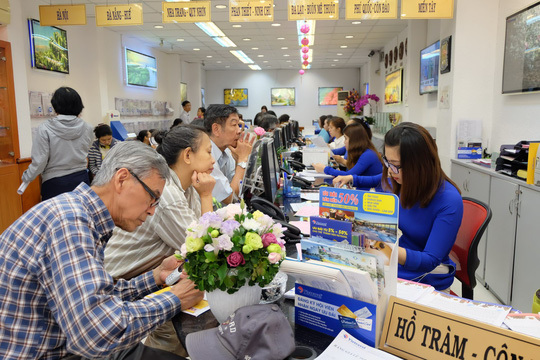 In 2018, Vietravel sent 566 groups with nearly 17,000 tourists to Japan
On July 1, the Japanese Embassy in Vietnam announced seven firms that have completely lost their accreditation including Viet Tourist Trade and Investment JSC, Vietnam Golden Team International Travel JSC, Nam Cuong Tourism Co., Ltd, New Royal Commercial and Services Co., Ltd, International Golden Bridge Co., Ltd, Victoria Investment Trade and Tourism Corporation Co., Ltd, and Hanoi Entertainment Services Corporation.
The Hanoi branch of Vietravel was suspended for six months starting from July 1.
Many Vietnamese visitors have disappeared after arriving in Japan on tourist visas.
On July 2, Vietravel issued an explanation for the suspension. According to the Japanese Embassy in Vietnam, the firms had violated their commitments.
The firms must make sure that all tourists go and return in the registered groups and strictly follow their schedules.
In 2018, Vietravel sent 566 groups with nearly 17,000 tourists to Japan. The Hanoi branch may have failed to report on time which tourists returned late and this could be the reason why the branch was suspended.
According to Vietravel, they have applied more measures to prevent similar situations and haven't registered any violations after sending 11,000 tourists to Japan in the first six months of 2019.
Vietravel said they would work with the Japanese Embassy.
Nguoi Lao Dong/Dtinews

Leading Japanese corporations on July 1 signed Memoranda of Understanding (MoU) with Hanoi to invest a total of close to 4 billion USD in projects in the capital city.

An investment promotion conference was held in Tokyo on July 1 where Prime Minister Nguyen Xuan Phuc said Vietnam will be the "promised land" for Japanese investors.

Vietnam's Ministry of Labour, Invalids and Social Affairs (MOLISA) and four Japanese agencies on July 1 signed a memorandum of cooperation (MoC) on sending specific skilled workers of Vietnam to work in Japan.