The lack of documents in Braille and audio books, as well as few sign language speakers limits blind people's development, according to Pham Viet Thu, President of Việt Nam Blind Association.
Joining Marrakesh Treaty will help the blind: experts
The lack of documents in Braille and audio books, as well as few sign language speakers limits blind people's development, according to Pham Viet Thu, President of Việt Nam Blind Association.
Made-in-Vietnam text-to-speech app reads to the blind
Library offers resources for students without vision
The lack of documents in Braille and audio books, as well as few sign language speakers limits blind people's development, according to Pham Viet Thu, President of Vietnam Blind Association.— Photo thuduc.hochiminhcity.gov.vn

Addressing the workshop 'Developing an advocacy roadmap for the Marrakesh Treaty accession in Vietnam' in Hanoi on Tuesday, Thu said documents and books are very important means for people to access information, practise skills, improve their quality of life and contribute to society.
However, the number of books and newspapers in these formats is still very small compared to the need.
The Marrakesh Treaty paves the way for enabling those who are blind, visually impaired or otherwise print disabled to access published works.
The treaty enables the production, distribution, importation and exportation of accessible format copies without having to ask for right holders' permission. It also provides reassurances for the publishing industry and the author.
Vietnam is not yet a party to the treaty, so people who can't read normal documents have difficulties in accessing literature works that were made public, he said.
According to Catherine Phuong, Assistant Resident Representative of United Nations Development Programme Vietnam, less than 1 per cent of published books in developing countries are accessible to people with print disabilities, a situation often referred to as a "book famine" which causes serious consequences.
The book famine can exclude persons with disabilities from access to education, employment, health care, culture and participation in political, economic and social activities. These factors contribute to the high rate of poverty among them.
The Marrakesh Treaty would help end book famine and realise the principle of "leaving no one behind" of the UN's Sustainable Development Goals, she said.
Improving access to published works in accessible formats would increasingly become a critical issue in Vietnam, said Pham Thi Hai Ha, deputy head of Department of Social Assistance under the Ministry of Labour, Invalids and Social Affairs.
According to the latest census announced by the General Statistics Office of Vietnam, 6.2 million people aged 2 years and above live with disability. Vision disabilities were found to be the most prevalent types of disability, accounting for 1.03 million.
Vietnam's population is ageing very fast, which is likely to increase the number of the elderly with vision impairments and print disabilities.
Improving accessibility for persons with disabilities, including with regards to information and knowledge, is an essential element for disability-inclusive societies and fulfilling the basic rights spelt out in the Convention on the Rights of Persons with Disabilities that Vietnam is a party to, according to Ha.
In addition, improved access to knowledge could reduce the high poverty rate among the 73,000 members of the Vietnam Blind Association, which is almost four times the national poverty rate of 5.8 per cent.
"We believe that the Government of Vietnam is committed to ratifying the Marrakesh Treaty within the next few years. We believe that the Government should put more efforts into discussing with the different ministries on how to push for this process and make sure that it happens as soon as possible," Phuong told Việt Nam News.
Nguyen Thanh Tam, director of Hướng Dương Audio Books for the Blind, said braille books were essential for the blind.
"The implementation of the Marrakesh Treaty doesn't affect the right of authors but helps persons with print disabilities access knowledge and better integrate into the community," he said.
Regarding advantages when the country joined the treaty, Pham Thanh Tung from the Copyright Office of Vietnam said Vietnam's Law on Intellectual Property already provided a specific exception for "transcription" of works into braille.
However, he said, it was necessary to have experience sharing and technical support from foreign experts and organisations to ensure print disabled people could access published works.
Blindness rate drops rapidly in Vietnam
The rate of blindness among people aged 50 and older has dropped rapidly over the past decade, standing at 1.3 per cent in 2018 from 3.1 per cent in 2008, according to a survey conducted in 14 cities and provinces.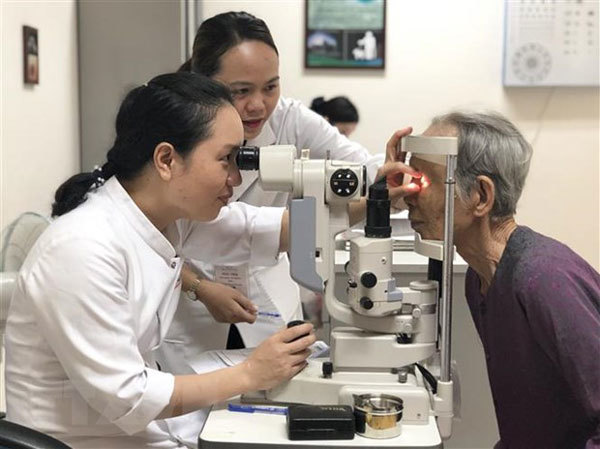 Healthcare staffs give a patient an eye examination. — VNA/VNS Photo

The information was released by Director of the Vietnam National Institute of Ophthalmology (VNIO) Nguyen Xuân Hiep at the 2019 national ophthalmology conference in Vinh in the central province of Nghe An last week.
According to the survey, the estimated number of blind people in Vietnam had decreased from 443,700 in 2000 to 370,640 in 2007 and 269,380 in 2018.
Hiep said the number of people with corneal scars was decreasing, but those with cataracts, refractive errors and diabetic retinopathy was on the rise.
Jointly organized by the Vietnam Ophthalmological Society (VOS) and the VNIO, the event saw the participation of over 2,000 local delegates, 80 experts from France, Italy, Japan, Thailand, Australia, Singapore and the Republic of Korea, and representatives from over 50 pharmaceutical firms.
Addressing the conference, Huynh Phuong Ly, chief representative of Brien Holden Vision Institute in Vietnam, proposed measures to fight blindness, saying that it was necessary to develop satellite hospital networks, promote training and technology transfer, and improve the quality of human resources in the sector.
Attention should be paid to strengthening and consolidating the network of eye care service providers to ensure easy access to services for children, the elderly and the disabled, she said.
Ava Hossain, a representative from the Asia-Pacific Academy of Ophthalmology (APAO), said that Vietnam needed to take the initiative in co-operating with other countries, organizations and individuals in and outside the country in research, training and technical and financial assistance to better the quality of services in the field.
Short-term training courses will be arranged in the framework of the conference, aiming to help doctors learn about new knowledge and technologies.
Ophthalmology-related pharmaceutical and medical equipment companies are exhibiting their products at 52 booths at the event.
The conference is held every year to evaluate the prevention of blindness in the country and serves as a forum for experts to share the latest research.
VNS