The new management board of the Chinese Taiwan-invested footwear manufacturer KaiYang Vietnam Limited Company spoke to thousands of employees on Monday morning, saying the firm would restart its work on Tuesday
 after its doors were shut last week following the abrupt departure of the company's director last week.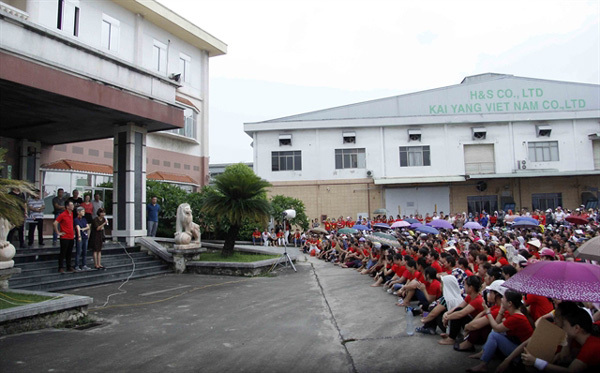 The new management board of footwear manufacturer KaiYang Vietnam Limited Company addresses thousands of workers in a meeting on Monday morning. — VNA/VNS Photo An Dang
The board told the workers the company, which is located at 196 Hoang Quoc Viet Street in Kien An District, the northern port city of Hai Phong, would be absorbed by H&S Co Ltd.
In a meeting with workers on Monday morning, Jenny Koo, chairwoman of H&S Co Ltd's board of directors, said she and her colleagues would try their best to pay half of the unpaid July wages within this week and pay the remainder next week, Vietnam News Agency reported.
Tran Minh Thi, a worker who is in her eighth month of pregnancy, said she had worked for the KaiYang Vietnam Co Ltd for 12 years.
Thi hoped the work situation would be stable from here on out and the company would provide her with the necessary insurance when she gives birth.
The company's director-general Huang Shang Chee and 17 experts and technicians left Vietnam on August 12 without an explanation, leaving the workers' wages unpaid. For the next few days, workers continued to show up at the factory hoping to receive information on their salaries and insurance payments, and a definite answer on whether the company would shut down so they could start looking for new jobs.
On August 15, chairman of the Hai Phong People's Committee Nguyen Van Tung had a phone call with the leaders of the company in Taiwan. Tung expressed his hope the company would continue its operations in Vietnam.
Chairwoman of the company's trade union Chu Thi Kim Oanh also tried to contact the main company in Taiwan and encouraged workers to keep calm and wait for a solution.
According to the city's General Confederation of Labour, KaiYang Vietnam Limited Company has 2,357 workers, including 85 pregnant women. The company is backed by investors from Taiwan and manufactures leather shoes for export.

Hai Phong authorities have contacted the leaders of Chinese Taiwan-invested footwear manufacturer KaiYang Vietnam Limited Company in their home country to secure support for the company's Vietnamese employees
VNS