The Overseas Labor Management Department, under the Ministry of Labor, Invalids and Social Affairs, has warned of risks for local laborers who illegally go abroad for work, especially in Japan, South Korea and Singapore.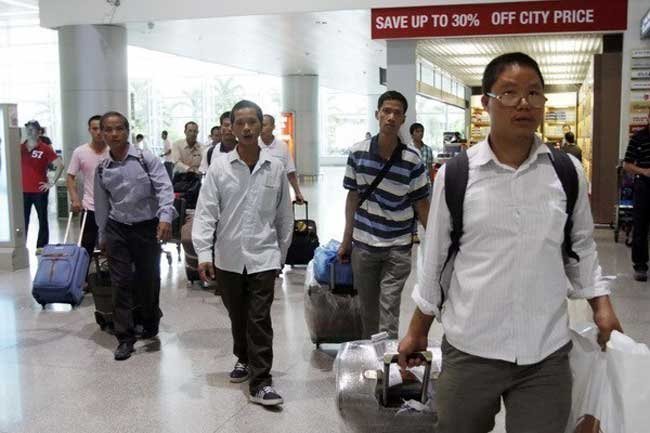 Vietnamese workers prepare to fly abroad for guest work
According to the department, those travelling abroad illegally will find it hard to get jobs. Those who do get jobs do not have legal employment contracts, so they are not entitled to insurance and are not protected by law, the local media reported.
In addition, they are not equipped with information on their employers, working conditions, working skills needed, the culture or the language of these countries and may become victims of human trafficking rings.
If they are caught as illegal immigrants, they will be arrested, fined and deported.
Without completing registration procedures through Vietnam's agencies, they cannot seek help from these agencies.
According to the Overseas Labor Management Department, some 300,000 Vietnamese are living, working and studying in Japan. Vietnam has taken the lead in the number of laborers and apprentices quitting their jobs in Japan.
Many Vietnamese students went to Japan for work, rather than an education.
Meanwhile, only engineers and laborers in highly specialized sectors and overseas students are allowed to live in Japan for the longest term of five years.
The Overseas Labor Management Department recommended laborers and students avoid using the services of unlicensed companies and going on study tours to earn money.
As for South Korea, where 46,000 Vietnamese are working, Vietnamese people can only go to South Korea for work or study through the employment permit system program, the E7 visa program for highly skilled workers and a program for fishermen.
In addition, the Singaporean Government only allows Vietnamese to enter with an S Pass (visas for mid-level skilled workers) or an E Pass (visas for foreign professionals, managers and executives).
To apply for these two kinds of visas, Vietnamese laborers must be guaranteed by their employers in Singapore to apply for the In Principal Approvals at the Singaporean Ministry of Manpower.
The Overseas Labor Management Department asked the Departments of Labor, Invalids and Social Affairs at localities to review the number of laborers going abroad for work.
Individuals and organizations that help laborers to illegally go abroad for work should be reported to the competent agencies and addressed in line with the law. SGT
 

The Ministry of Public Security has directed the Social Order-Related Crime Investigating Police Department to work with Ha Tinh and Nghe An to verify information of local residents who reportedly went missing while moving from France to the UK.

With a host of high-income nations opening their doors to Vietnamese guest workers in recent times, this marks a golden opportunity for local labourers to secure a quality job and enjoy attractive incomes.

An agreement to allow Vietnamese workers to work in Japan for five years was signed on Friday in Hanoi.