A lack of schools in big cities has been a serious issue for years.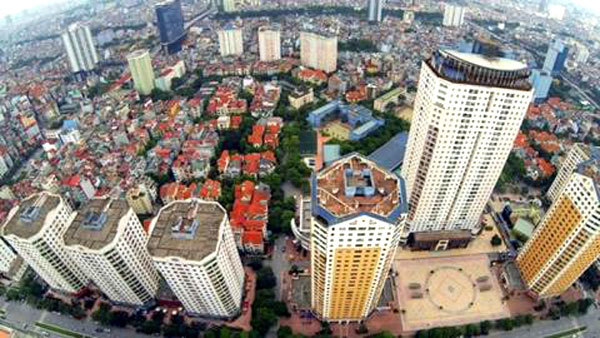 Many residential areas in Hanoi do not have schools. Photo baodatviet.vn
The Ministry of Construction recently admitted the situation was due to insufficient urban development planning.
The construction of apartment building complexes without schools or parks was the responsibility of urban development management agencies, the ministry said.
In Hanoi, the situation is not uncommon.
Many urban residential areas had been inhabited for 10-15 years, but schools remained in the planning stages.
When investors applied for licences to build apartment complexes, many submitted plans that included schools, but then ignored their responsibilities.
"In Hanoi and HCM City, there is not enough land for schools," Prof. Dang Hung Vo, former Minister of Natural Resources and Environment, said at a seminar organised by Giáo Dục Việt Nam (Vietnam's Education) e-newspaper.
"As regulated, a residential construction project must set aside a certain area for schools and parks. But in fact, investors sometimes cut or even leave out these areas," Vo said.
"Land prices in inner cities are expensive while schools and parks make less money for investors," he said.
The cases include Phung Khoang Urban Area in Ha Dong District, Me Tri Residential Area in Thanh Xuan District, and Dang Xa New Residential Area in Gia Lam District in Hanoi.
In addition, many projects to build schools in new urban areas, especially in inner-city districts, run slowly because investors transfer them to secondary investors.
For example, the Urban and Housing Development Corporation, an investor in the Viet Hung Project in Long Bien District, transferred land to build five schools to secondary investors. But only one school has been built while several apartment buildings and villas have already been completed.
Tay Nam New Urban Area in Hoang Mai District is in the same situation. There is only one school although the approved design had six.
The investors justify the delays due to obstacles in transferring to secondary investors and site clearance.
State management's responsibility
"We can't blame businesses because they always want higher profits," Nguyen Van Dinh, vice president of the Vietnam Real Estate Brokers' Association, told Đất Việt (Vietnam's Land) newspaper.
"Businesses do think about social issues but they are willing to share part of their profits which ensure their existence and development," Dinh said.
It was easy to understand why construction of schools and parks was always at slow pace because they were less profitable, he said.
According to the businessman, the key issue was State management and regulations.
Project investors were only licensed when they complied with planning regulations, so it was up to management agencies to supervise their performance, he said.
Those agencies must understand planning regulations to ensure a stable ecological system for residential areas, including infrastructure, population density, education facilities, trees, public recreation and services.
"This is the responsibility of State management agencies," Dinh said.
Linh Dam Urban Area in Hoang Mai District is another typical case.
Twelve 40-storey apartment buildings were constructed on an area of 3ha, and the area became overcrowded.
To handle the situation, Dinh suggested the Government should punish the managers.
On the other hand, project investors who deliberately violated planning should have to pay local Governments to build public works where they had failed to do so, he said.
Local governments had to accept a drop in revenue from using land for community projects as a way of handling the consequences of these wrongdoings, he added. VNS

Hanoi's outskirts districts have been blighted by rampant and disorganised construction in recent years, according to officials.

Property experts have urged HCM City to issue a special policy on new urban residential complexes to prevent the rampant and unsustainable development of residential projects.