Scattered, small-sized land lots hamper farmers and stop companies from investing and in agriculture, experts have warned.
VN seeks to accelerate agricultural restructuring
Agricultural restructure a success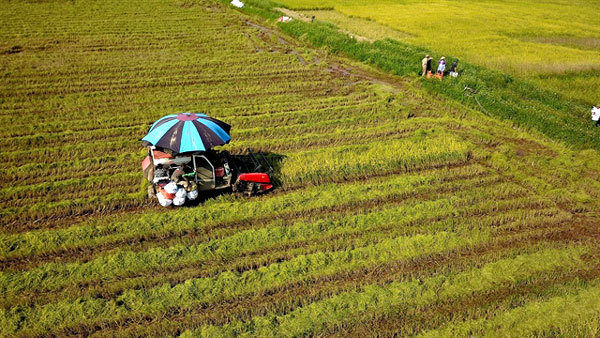 Farmers harvest rice in Gia Vien District, the northern province of Ninh Binh. Land accumulation has been expected to change the face Vietnam's agriculture yet showed several shortcomings in need of proper solutions. — VNA/VNS Photo Minh Duc
At the same time, barriers set by land accumulation policies also marginalise farmers and hinder the development of Vietnam's agriculture.
These warnings were voiced at Vietnam Autumn Agricultural Forum – the largest gathering of researchers and policy-makers to discuss the impact of land policies on agriculture hosted by Vietnam Institute for Economic and Policy Research (VEPR).
According to a report issued by VEPR, Vietnam is among the countries with the lowest farming area per capita.
The area of agricultural land per capita in Vietnam is 0.25 ha, below the world and regional averages of 0.52ha and 0.36ha, respectively.
The country's agriculture depends heavily on some ten million farming households with more than 76 million small land lots, hindering efforts to apply tech applications, collaborate with enterprises and establish concentrated production areas in the context of intensive global integration and rising climate change.
Land accumulation has been set to tackle these issues yet has fallen short of expectations due to inadequacies of current policies involving agricultural land.
Vu Trong Khai, former director of the Central Agricultural Cooperative Management School II, stressed upon the standardisation of terms and theoretical frameworks to evaluate policies and come up with development plans based on the market-driven economy.
"There is an inevitable trend to establish big farms specialising in fruit trees, forest trees or fish breeding to utilise advantages of the economies of scale and technologies," he said.
First and foremost, Khai stressed that agricultural land must be made available for long-term rental.
"Although many land lots are now being abandoned as rural people go to work in industrial zones, they are still considered as savings since turnover rates at factories are high. At 30, these workers are likely to lose their jobs and forced to come back to countrysides," he said.
Skilled labour force is the second essential factor to accelerate good farming practices and high-tech agriculture.
A strong legal framework is necessary to protect and encourage farmers and enterprises to invest in agriculture.
Tran Cong Thang, head of the Institute of Policy and Strategy for Agriculture and Rural Development (IPSARD), said fees and taxes applied to the transfer of agricultural land are the same as other real estates. Meanwhile, domestic private enterprises can only hire agricultural land because property rights to agricultural land are not guaranteed like other land types.
There is no official instruction on changing land use purposes from planting to animal farming as well as the Government's roles in assisting enterprises to hire land.
Thang recommended reinforcing monitoring on the minimum area of an agricultural land lot to avoid scattering fields, reduce taxes and fees related to transfer of agricultural land, encourage enterprises to invest into agricultural support services and develop an electronic land surveillance system to provide digitalised data on land use rights and transfers to ensure the market's transparency.
A survey conducted by Bui Hai Thiem, director of Research Project Management at the Institute for Legislative Studies, questioned 500 farming households.
Results revealed most expect the Government to pilot the removal or expansion of quota of agricultural land area owned by a household before official amending the Law on Land in 2020.
The majority of surveyed households applaud the open disclosure of land information on the internet and the replacement of land transfer rights with purchase rights.
Economist Nguyen Minh Phong from Nhân Dân (People) newspaper, questioned the removal of agricultural land quota.
"The change will pose high risks to farmers as enterprises may want to collect and merge as many land lots as possible," he said.
"Also, it is essential to have a well-laid plan on agricultural land use in response to climate change. Vietnam's largest rice production area Mekong Delta, for example, is predicted to lose two-thirds of its area in the next 60 years at the current speed of land subsidence," he added.
In 2018, agriculture contributed 14.7 per cent of Vietnam's GDP with the export value of US$40 billion.
The country has witnessed an upward trend in a number of enterprises participating in agricultural production. 90 per cent of them are small enterprises employing 10 to 50 workers with the average capital of VND1 billion to 5 billion ($43,000 to 215,000) and the annual income of VND3.6 billion ($154,800). VNS