The Ministry of Construction has requested the people's committees of provinces and cities make land use planning information available to the public through an online portal.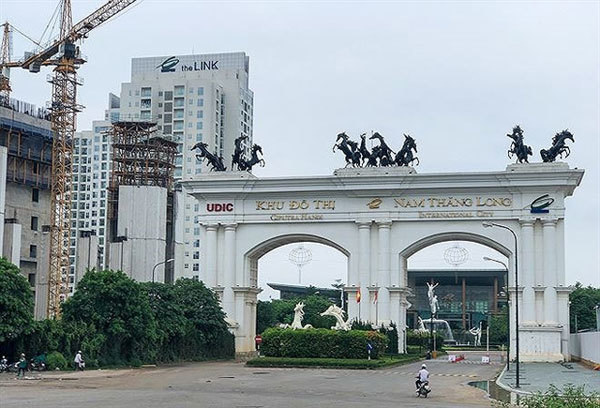 The entrance to Ciputra urban area in Hanoi's Bac Tu Liem District. Local residents said investors proposed increasing the construction density and number of floors of projects in the area without seeking their approval. — Photo tienphong.vn
General project plans and detailed land use plans under the authorisation of provincial-level authorities will be available at quyhoach.xaydung.gov.vn.
The portal includes such contents as approvals and decisions, land use plan maps and transportation maps.
According to Minister of Construction Pham Hong Ha, the establishment of the online portal will help people and businesses access information and monitor progress. It will also help prevent arbitrary changes to approved plans, he said.
The proposal to set up the portal was welcomed by Minister of Natural Resources and Environment Tran Hong Ha, whose ministry manages land.
The establishment of a portal and the publishing of all land transactions would help create average prices for land within five to 10 years, Ha said.
"Then, land evaluation will be more transparent and scientific," Ha was quoted by Vnexpress as saying at a National Assembly question and answer session in May.
The lack of transparency in land use planning has caused public concern.
Investors of many projects in Hanoi such as Linh Dam, Trung Hoa Nhan Chinh and Nam Thang Long (Ciputra urban area) proposed increasing the number of floors and occupation density without seeking approval from residents or informing the public.
Only when some of the projects were completed, did residents learn of the changes.
The Prime Minister's Directive No 05 pointed out many shortcomings in construction planning and urban development management including the poor quality of some plans and a lack of feasibility.
Adjustments of plans, especially those in crowded urban areas, were often arbitrary and tended to increase population density and the number of floors, overloading infrastructure. VNS

The Hanoi's People's Committee has rejected a proposal to adjust the land use rights of part of the Ciputra urban area in Bac Tu Liem District.

Prime Minister Nguyen Xuan Phuc has asked the Ministry of Natural Resources and Environment, people's committees at all levels and other relevant agencies to review their land use starting on August 1, 2019.