A Laotian citizen was arrested attempting to illegally transport drugs into Vietnam on May 28.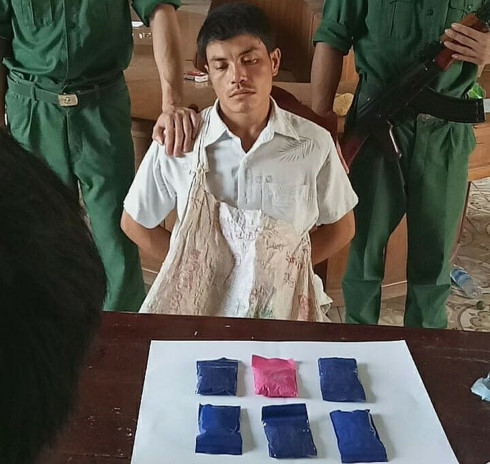 The Laotian drug trafficker. Photo: Hai Quan Newspaper
Border guards in the central province of Thanh Hoa caught the Laotian trafficker red-handed after co-operation with the Quang Chieu border guard station on May 28.
The suspect was found in possession of 1,200 pills labeled as "A" and was arrested at 13:30 close to the national border milestone numbered 299 in Lach village, Muong Chanh commune, Muong Lat district.
The trafficker was later identified as Kham Man, 31, of Vien Xay district in Houaphan province, Laos. 
The Laotian suspect confessed that he had illegally entered Vietnam with the intention of selling drugs.
Thanh Hoa's border guards are currently completing the necessary procedures in order to hand the suspect over to police forces in Laos.

Three Lao citizens were arrested on May 23 for trafficking meth pills into Vietnam.  

The Ministry of Public Security said it is considering listing recreational nitrous oxide balloons, popularly known as funky balls, as a regulated drug and precursor substance.

Around 1,000 drug addicts will be treated with Buprenorphine as the Vietnamese Ministry of Health and the Global Fund to fight HIV/AIDS have launched the drug addiction treatment program with Buprenorphine.