Ly Dinh Vu, one of three people involving in the oil dumping into the upper section of Da River, gave himself up to the police, the Vietnam News Agency reported on Sunday.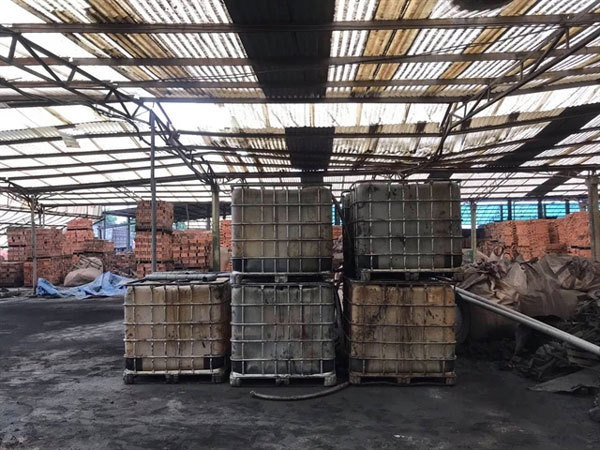 Tanks used to carry waste which was dumped into the river are seized by police. VNA/VNS Photo
Earlier, police said on Friday that the other two had been arrested.
According to police investigation, on October 6, Vu, 37 years old from northern province of Bac Ninh was alleged to have hired Nguyen Chuong Dai from Bac Ninh Province and Hoang Van Tham from Lang Son Province to drive a truck from Bac Ninh to Thanh Ha Porcelain and Ceramic Company in Phu Tho Town, northern Phu Tho Province.
There, they pumped waste into 10 containers with capacity of about 10cu.m and carried them to Chi Dai Commune, Van Lam District, Hung Yen Province.
On October 8, the three carried the waste on a four-seated car and a truck, allegedly dumping it to the area around Phuc Tien Ward, Ky Son District, Hoa Binh Province where Da River runs through, causing tap water supplied by Da Water Plant being polluted and leaving thousands of local people without clean water.
The Hoa Binh Province's police said they would look into the case as an environmental pollution crime and work with municipal authorities to identify violations of related individuals and organisations.
Safe water
Water samples taken from Da River and tap water supplied by the river have met safety standards, according to Hanoi Department of Health.
The test results were announced on Saturday, ten days since the water crisis began in southwestern districts of the capital city.
All samples meet styrene permissible level, according to result of the Institute of Environmental Technology under Vietnam Academy of Science and Technology.
The samples were taken from households using tap water supplied in a number of wards in Thanh Xuan, Hoang Mai, Cau Giay, Nam Tu Liem and Hoai Duc districts.
The health department said it would continue to order Hanoi's Disease Control Centre to work with the Institute of Environmental Technology and the National Institute of Occupational and Environmental Health to test tap water quality.
Tap water of some 700,000 households in Nam Tu Liem, Bac Tu Liem, Thanh Xuan, Hoang Mai, Ha Dong and Thanh Trì districts were found to have a strange, irritating smell like melted plastic or oil on October 9.
After cleaning water tanks and pipes, the Vietnam Clean Water Investment and Construction Corporation confirmed that water had been supplied back to residents.

The police in Hoa Binh Province have arrested two men for dumping waste oil near the Da River Water Plant, the water source for millions of people in Hanoi.

Authorities have been asked to find the truck that was used to pour engine oil into a spring near Song Da Water plant. The oil spill has been identified as the cause of the foul smell of the tap water used to supply residents of Hanoi.

The strange odour in domestic water detected by residents in some districts west of Hanoi was due to an increase of chloride used to disinfect source water from the Da River.
VNS