Vietnam sees no new COVID-19 cases on May 10 morning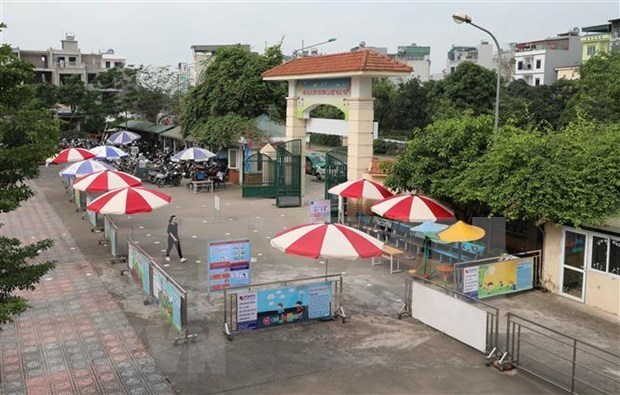 Plans to welcome students back to school are well prepared
Vietnam recorded no new COVID-19 cases on May 10 morning, marking the 24th consecutive day without infections in the community, according to the National Steering Committee for COVID-19 Prevention and Control.
Among the total 288 patients, 148 were imported and the remaining were infected with the coronavirus in the community.
So far, the country has reported no deaths from the disease.
As many as 241 patients or 84 percent were declared fully recovered. The remaining 47 cases are being treated at health facilities, of whom four tested negative for the novel coronavirus SARS-CoV-2 once and 13 negative at least twice.
In particular, patient No.91, the 43-year-old British pilot, is under treatment at the HCM City Hospital for Tropical Diseases in a very critical condition. A lung transplant has been considered for him as a final effort.
As many as 11,130 people who had close contact with confirmed patients or entered Vietnam from pandemic-hit regions are being quarantined, including 180 at hospitals, 6,146 at other establishments and 4,804 at home./.
Hospitals in Đồng Nai expand healthcare services amid COVID-19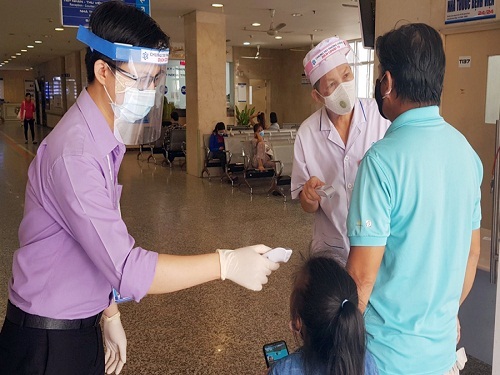 Health staff at a hospital in Đồng Nai Province check body temperatures and provide counselling about COVID-19 to patients and their parents. — Photo syt.dongnai.gov.vn
Hospitals in the southern province of Đồng Nai are providing more healthcare services such as tests and treatment for people at their home amid the COVID-19 pandemic.
According to Phan Văn Huyên, director of Long Khánh Regional General Hospital in the province's Long Khánh city, people can call the hospital hotline and the hospital will send health staff to provide counselling at their homes.
If they need tests, the health staff will take samples for testing at the hospital. The hospital will send the test results to patients' emails and then connect them to doctors for counselling.    
The cost for the healthcare service is VNĐ100,000 (US$4.2) more than a hospital visit.
The service is especially designed for seniors who have severe diseases and cannot go to the hospital, or for those who have illnesses but would prefer to not go to the hospital to avoid infections. 
The hospital has received up to nearly 100 calls each day to book these services.
Đồng Nai Children's Hospital has a customer service division that  calls parents to remind them of their children's follow-up exams and to ask about patients' health and provide counselling.
Nguyễn Thị Ly Ly, head of the cardiovascular diseases department at the hospital, said that Wednesdays and Thursdays are scheduled for patients who have follow-up exams.
However, because of the COVID-19 pandemic, many parents have not brought their children for follow-up exams.
Trương Thị Tình of the province's Long Thành District said she was reluctant to take her child to the hospital, so the hospital's health staff called and scheduled another appointment for his follow-up exam.
Doctors at Đồng Nai General Hospital and Long Thành Regional General Hospital are giving two months' worth of medicine instead of one week.
The provincial Department of Health has instructed private hospitals and health clinics to have plans to store medicine and medical materials. 
Laos issues temporary guideline on entry-exit
The Lao Foreign Ministry has recently issued the guideline No.1342 on entry-exit during the COVID-19 pandemic.
Accordingly, border gates via roads and airways will continue to be closed.
Those wishing to enter Laos must submit applications to the country's National Steering Committee for COVID-19 Prevention and Control. If allowed, they must file visa applications at Lao diplomatic agencies in the host countries.
They are also required to present medical certificates issued no later than 72 hours. Following arrivals, they will be tested for COVID-19 and subject to a 14-day quarantine at designated facilities.
Diplomatic agencies in Laos are suggested to send a list of those wishing to leave the country and necessary information to the Lao Foreign Ministry for consideration.
The guideline, valid till May 17, said those wishing to leave Laos must follow laws and regulations of destination countries.
The Lao Health Ministry announced at a press conference on May 8 that the country still recorded 19 COVID-19 cases, marking 27 consecutive days without new infections. Among the patients, 14 have fully recovered./.
Forest fires complicate COVID-19 fight in Indonesia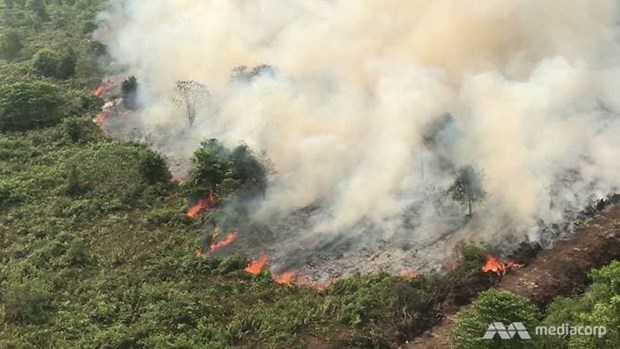 A forest fire in Indonesia (Source: https://www.channelnewsasia.com/)
Smog from forest fires in Indonesia could complicate the country's efforts to fight the COVID-19 pandemic, as its government has no contingency plan for additional respiratory diseases, local health experts warned on May 8.
Wiendra Waworuntu, director for communicable disease prevention and control at the Indonesian Ministry of Health, said that the symptoms of acute respiratory infection caused by smoke from the fires are similar to coronavirus symptoms.
A simultaneous surge in respiratory illness from the two causes can become a major headache for Indonesian health authorities, Waworuntu said, adding that research shows that there is a correlation between high mortality rate and high level of pollution in an area impacted by COVID-19.
Some experts fear the haze will hamper efforts to mitigate the COVID-19 pandemic that has infected 13,112 people and killed 943 in Indonesia as of May 8.
The situation may get worse due to a possible shortage of N95 face masks. Currently, the high-grade masks can only be used by medical workers, while members of the public have been instructed to wear normal surgical masks.
But Waworuntu said N95 masks are also needed for people affected by smoke from forest fires, because ordinary masks will not be effective to filter the smoke.
"There may be scarcity of N95 masks in June, July and August when dry season reaches its peak, while we have to compete with other countries to get them," she said.
Moreover, the Indonesian Government has not designed any contingency plan to deal with both acute respiratory infection caused by forest fires and COVID-19, while most human resources in health have been focused to deal with COVID-19, she added, noting the need for strategies to prevent a catastrophe.
Haze from forest and land fires caused by illegal slash-and-burn farming practices, mostly for palm oil plantations, occurs annually in Indonesia.
As of May 7, at least 765 hotspots have been detected in the country, although the number was lower than 1,222 a year earlier, according to local authorities.
In 2019, fires devastated more than 1.6 million hectares of land across the country, mostly on the islands of Borneo and Sumatra, up from about 630,000 hectares in the previous year./.
COVID-19 situation improves in Philippines, remains bad in Singapore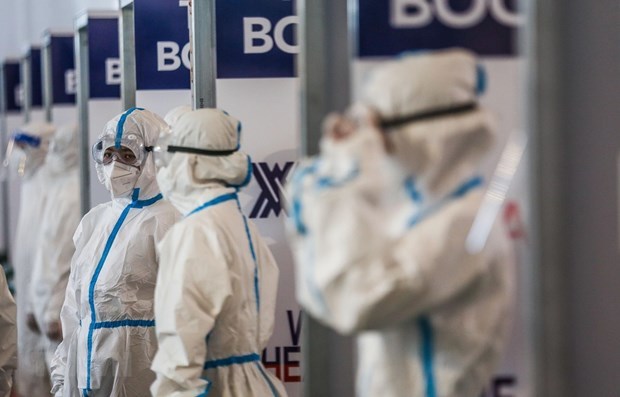 Health workers at a COVID-19 testing station in Manila
The Philippines confirmed 147 COVID-19 infections and eight more fatalities on May 9, raising the total to 10,610 and 704, respectively.
Of the total infections, 1,842 have given the all-clear, the Department of Health said.
The department added that it is seeing signs that the coronavirus curve in the country is flattening, adding the number of confirmed COVID-19 cases have started to slow down and that hospitals are not overwhelmed.
But the war is not over yet, Health Undersecretary Maria Rosario Vergeire said, adding that the need for people to continue to be vigilant especially when the lockdown is relaxed or lifted.
She urged them to continue observing the health protocols such as social distancing, frequent hand washing, cough etiquette and the like to break the infection chain.
The Philippine Presidential spokesperson Harry Roque said on May 9 that the lockdown restrictions in some cities such as Manila, where most of the country's coronavirus cases have been detected, will likely be relaxed on May 15.
Roque said Philippine President Rodrigo Duterte has yet to decide on whether or not to ease the lockdown in Manila and in other parts of the country that are under strict lockdown.
Meanwhile, the Civil Aviation Authority of the Philippines (CAAP) has decided to allow inbound international flights to land in the Ninoy Aquino International Airport (NAIA) in Manila from May 11 on assigned days.
Also on May 9, Singapore reported additional 753 infection cases, bringing the total to 22,640./.
Vietnam brings home 276 citizens from Canada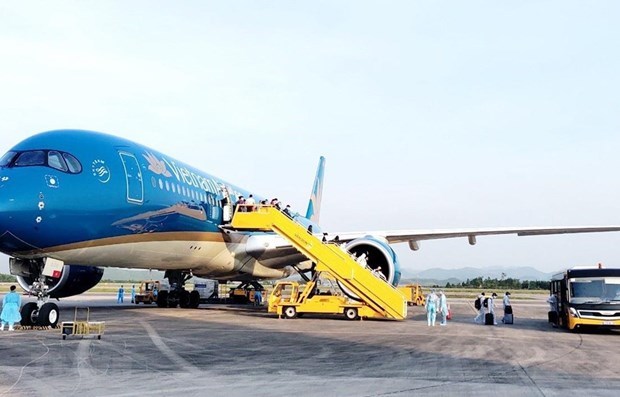 As many as 276 Vietnamese citizens were flown home from Vancouver, Canada, on May 8 and 9.
As many as 276 Vietnamese citizens were flown home from Vancouver, Canada, on May 8 and 9.
The passengers included those under 18 years old, elderly and sick people, stranded tourists and students who did not have accommodations due to dormitory closures.
This was a joint effort of Vietnamese competent agencies at home and representative agencies in Canada, national flag carrier Vietnam Airlines, and competent agencies of the host country.
The Vietnamese Consulate General in Vancouver sent officials to the airport to help the citizens with necessary procedures.
Upon their arrival at Van Don airport in the northern province of Quang Ninh, the passengers were kept under quarantine and had medical checks-up in line with regulations.

Earlier, Vietnamese competent agencies had coordinated with the Canadian Embassy in Vietnam to bring home a number of Canadian citizens.
In the coming days, more flights will be arranged to bring back Vietnamese citizens home from other countries depending on the pandemic's developments, quarantine capacity of Vietnamese localities, and demand of Vietnamese citizens living overseas./.
Vietnamese nationals in Cambodia receive gifts amidst COVID-19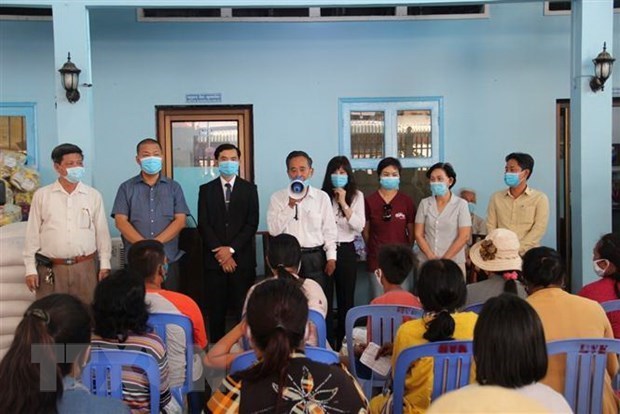 Vietnamese nationals in Cambodia receive gifts amidst COVID-19.
Some 430 gift packages were handed over on May 9 to households of Vietnamese nationals in Cambodia and Khmer people in the Cambodian capital city of Phnom Penh.
The activity formed part of a programme jointly launched by the Vietnamese Embassy and the Khmer-Vietnamese Association (KVA) in Cambodia that aims to help Vietnamese nationals in the country in the wake of the COVID-19 pandemic.
The KVA, the Vietnamese Embassy and Consulates General in Battambang and Preah Sihanouk presented gifts to about 3,000 families of Vietnamese nationals across Cambodia.
KVA President Sim Chy said no COVID-19 cases have been reported among Vietnamese nationals in Cambodia so far.
As of May 9, the number of COVID-19 cases in the country had stood still at 122, of whom 120 have recovered, according to the Cambodian Ministry of Health./.
Vietnamese supports Myanmar region in COVID-19 battle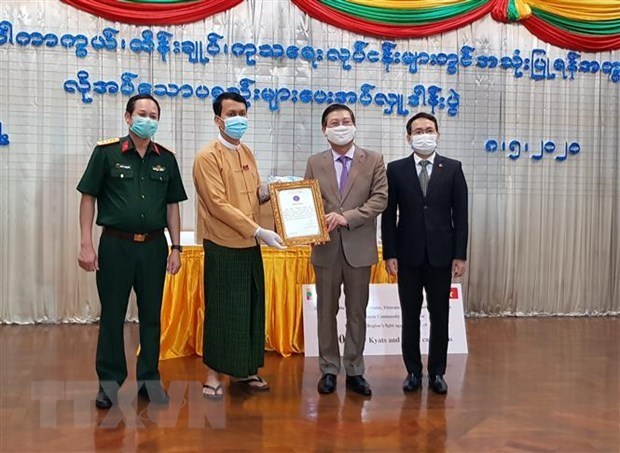 Vietnamese Embassy in Myanmar, Vietnamese entrepreneurs and people living in the country present 7.5 million Kyat and medical supplies to Yangon region
The Vietnamese Embassy in Myanmar, Vietnamese entrepreneurs and people living in the country have presented 7.5 million Kyat (5,380 USD) and medical supplies to Yangon region to support its fight against the COVID-19 pandemic.
Speaking at the handover ceremony on May 8, Vietnamese Ambassador to Myanmar Ly Quoc Tuan said that Vietnam is always willing to share difficulties with Myanmar in general and Yangon region in particular amid the COVID-19 outbreak.
Appreciating the local authorities' efforts in the fight, Tuan said that the gifts showed the solidarity between the Vietnamese and Myanmar people, thus helping to develop the two countries' friendship and cooperation.
Governor of Yangon region Phyo Min Thein thanked the Vietnamese Embassy, the Vietnam Business Club in Myanmar, and the Vietnamese community for their donations, adding that the gifts are practical when the region is striving to finish the construction of a 1,000-bed hospital in Yangon city.
The donation campaign was organised by the embassy and the club from April 23-30.
Talking to the Vietnam News Agency's reporter on May 8, Vietnamese Ambassador to New Zealand Ta Van Thong said that the embassy has popularised disease prevention measures as well as Vietnam's policies to the Vietnamese community in New Zealand.
The Vietnamese Embassy had held online meetings with the Ministry of Foreign Affairs on citizen protection measures and with the host country's Education Ministry on issues related to the learning and lives of Vietnamese students./.
COVID-19: Indonesia loosens ban on air travel
 
Quick COVID-19 testing in Jakarta, Indonesia
The Indonesian Ministry of Transport on May 8 announced its decision to resume air services, but at a limited level, after two weeks the country banned air and sea travel to curb the further spread of the COVID-19.
According to the ministry's spokesperson Adita Irawati, those who are working in the fields of security, defense and health service, or having urgent health reasons will be allowed to travel by air if they have a health certificate confirming negative for the novel corona virus SARS-CoV-2.
The day earlier, Garuda Indonesia Airlines resumed domestic flights, while other airlines such as Lion Air, Wings Air and Batik Air, planed to resume domestic flights from May 10.
Indonesia has so far recorded more than 13,000 COVID-19 cases./.