HCMC quarantines 303 people from Europe
 
Passengers from Europe arrive at Tan Son Nhat International Airport – PHOTO: HCMC CDC
The health authority of HCMC has sent 303 people arriving from Europe to the city's quarantine centers to prevent the spread of the new coronavirus, called SARS-CoV-2.
Among them, three people suffering from cancer and heart diseases were put in quarantine at a hospital.
All the passengers entered Vietnam through the Tan Son Nhat airport in HCMC on May 24, Nguyen Hong Tam, director of the HCMC Center for Disease Control and Prevention, confirmed on May 25.
One of them is a foreigner and the rest are Vietnamese citizens. They live in different European countries but flew to Vietnam from the Netherlands with a stopover in France.
According to new regulations in the city, all passengers arriving in HCMC will be tested four times during their 14-day mandatory quarantine period.
COVID-19: Vietnam reports no community transmission for 40 days 
No more new COVID-19 cases were reported in Vietnam in the past 12 hours from 18:00 on May 25 to 6:00 on May 26, making the tally remain at 326, according to the National Steering Committee for COVID-19 Prevention and Control.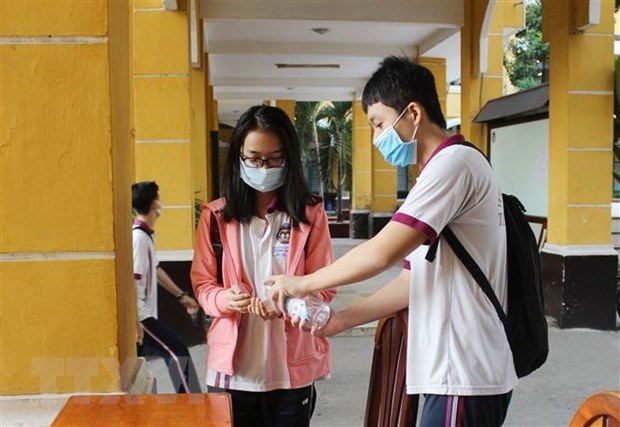 Students wash their hands with sanitizer 
May 26 also marked the 40th consecutive day Vietnam has gone through without community transmission.
Among the infections, 186 cases are imported and quarantined after entering the country, 272 have recovered fully and no death has been reported.
At present, 54 patients are being treated at centrally and locally run medical facilities, with seven testing negative for SARS-CoV-2 once, and four twice or more.
A total of 14,739 people having close contact with patients or entering Vietnam from pandemic-hit regions have been quarantined at hospitals, concentrated establishments, and home./.
Australian outlet notes prudent low-cost Vietnamese approach to combating COVID-19

The Conversation, a renowned Australian news website, published an article on May 25 outlining the prudent and low-cost approach taken by Vietnam to fight the novel coronavirus (COVID-19). 
The article states that a notable exception to all of the grim statistics regarding the pandemic globally in recent weeks has been Vietnam. At the time of publishing, the country only has 55 active COVID-19 cases with zero deaths. Indeed, for 21-day consecutive days between April 16 and May 7, there were no new cases reported in the nation. 
Moreover, it is worth taking into account that the country is one of the poorest in Southeast Asia, with a GDP per capita that barely reaches US$2,500, a figure 13 times less than Italy and 25 times less than that of the United States. In addition, it also shares a 1,444km-long border with China and is heavily reliant on Chinese imports and exports. Finally, the nation's population is roughly 100 million, making it one of the most densely populated places worldwide.
The article puts forward the case that wealth has not been a significant factor in the ability of a country to successfully combat the virus. Given the nation's precarious financial health, the Government has been keen to avoid jeopardising local health services by making sure that the disease never became too widespread to curb. As opposed to relying on recommendations made by the World Health Organization with its stage one to four model, the Vietnamese Government took swift action by taking the highly prudent approach of assuming the possibility of a full-blown pandemic.
The article details how Vietnam decided to seal its northern border when the number of COVID-19 cases in China sharply increased during the last week of January.
Indeed, January 28 saw major tourist destinations such as Da Nang and Nha Trang stop receiving Chinese tourists. In contrast, a similar ban was issued in the US on February 4, although plenty of exceptions and range of discretions were granted to airlines out of a fear of immediate and significant economic drawbacks.
By February 26, the country had limited the number of COVID-19 cases to 16, all of whom went on to make a successful recovery. Despite initial success, early March saw a mixture of tourists and Vietnamese nationals returning to the country bringing the virus with them, therefore initiating a second wave of infections.
This led to authorities imposing a 14-day quarantine on all foreign arrivals as of March 21, as well as on all establishments they visited. Local administrations meticulously traced every single person who may have possibly been affected, swiftly moving to quarantine entire streets as well as villages out of the fear of future outbreaks of the epidemic.
The article also lavished praise on the prudent Vietnamese approach to containing the epidemic following the decision to impose a quarantine at the end of March.
Restaurants, cafes, shops, and businesses catering to the public were quickly shut down and street vendors were told to remain at home. Although the initial decision was seen as heavy-handed, especially in cities and regions where there were no active cases, the move was ultimately an integral part of the successful Vietnamese strategy to take on the COVID-19.
Elsewhere, Vietnamese scientists were able to develop their own test for the COVID-19 as early as January, later improving it to be able to provide results within 80 minutes with a 90% accuracy rate. In March, there tests were being produced on a massive scale and were marketed abroad at a reasonable price.
Finally, the article notes the nation's practical activities to support those hardest hit by the pandemic. Some of the measures saw local authorities provide free face masks and rice to people via "rice ATMs" located in major cities. Moreover, the government began to offer monthly benefits to those with no unemployment insurance.
"While the future remains uncertain, the Vietnamese example reminds us that having extensive financial resources is neither necessary nor sufficient to successfully fight an epidemic", the article concluded.
Foreign experts quarantined and tested in Quang Ngai
Harmonia hotel staff are told how to prevent COVID-19. — Photo nld.com.vn
Fifteen foreign experts who came to work at Hòa Phát Steel Joint Stock Company (located in Dung Quất Economic Zone) were tested for the novel coronavirus as soon as they arrived at Đà Nẵng Airport on Sunday afternoon, Hồ Minh Nên, director of central Quảng Ngãi Province's Centre for Disease Control said.
On Sunday afternoon, the centre sent blood and throat samples of these foreign experts to Nha Trang Pasteur Institute to test for COVID-19.
Among them, 13 came from Croatia and two from Italy – both COVID-19-affected countries.
These experts were also moved to Harmonia Hotel in Bình Đông Commune, Bình Sơn District, Quảng Ngãi Province, for quarantine given by the local authority.
The hospital's quarantine area has been set up with three medical check stations at the entrance.
The provincial police in co-ordination with Bình Sơn District police supervised around the clock to ensure security and control the number of people entering and leaving the quarantine area.
At the hotel, disinfection and medical examinations were carried out at the entrance before experts had moved to the quarantine area.
As planned, from the end of May, Quảng Ngãi Province will receive foreign experts (expected to be over 1,000) from many countries.
They will come to participate in the overall maintenance of Dung Quất Oil Refinery (about 350 people) and support to complete the installation at Hòa Phát Steel Joint Stock Company (over 700 people).
All foreign experts must undergo medical checks according to current regulations and follow quarantine requirements given by the local authority. 
Vietnam reports one new imported COVID-19 infection
Vietnam reported one new imported COVID-19 case on May 25 evening, bringing the tally to 326, according to the National Steering Committee on COVID-19 Prevention and Control.
The 20-year-old female student who flew home from France on May 24, was being quarantined immediately after landing at Ho Chi Minh City's Tan Son Nhat Airport.
She is receiving treatment at the Cu Chi Hospital for COVID-19 in the city after testing positive for SARS-CoV-2.
Of the total 326 confirmed cases, 186 are imported ones who were quarantined right after entering the country. The country went through 39 consecutive days without community transmission.
Also on May 25, five patients were declared to have recovered from the disease.
Right now there are 15,412 people in quarantine across the country, including 58 at hospitals, 8,523 at others quarantine establishments and 6,831 at home./.
Vietnam named best COVID-19 fighter
The US news website Politico has ranked Vietnam the best performer worldwide in the fight against COVID-19. The ranking is based on the COVID-19 impacts on public health and economic outcomes.
Politico has mapped the performance of 30 leading countries by plotting their health and economic outcomes and grouping them based on whether they have instituted light, moderate or severe restrictions.
Vietnam is a frontrunner regarding both public health and economic outcomes.
Vietnam had recorded only approximately 300 cases out of a population of 95 million, without any deaths, Politico said.
The country's economy is predicted to grow by 2.7 percent in 2020, making it the overall best COVID-19 performer globally, it added.
Vietnam has so far confirmed 325 COVID-19 infections, including 185 imported cases. With no new cases reported on May 25 morning, the nation remained clear of transmissions of the disease for 39 consecutive days./.
272 COVID-19 patients given all-clear
Five more COVID-19 patients have been given the all-clear, the National Steering Committee for COVID-19 Prevention and Control reported on May 25.
Among them, four were passengers on a flight from Dubai that landed at Can Tho International Airport on May 3.
They are now in a stable condition and will continue to be quarantined for the next 14 days.
As of May 25, 272 of Vietnam's 325 COVID-19 patients had fully recovered. The remaining 53 are being treated at health facilities.
Thailand enters race for COVID-19 vaccine
Thailand is conducting tests on macaque monkeys as it races to produce a cheaper, alternative COVID-19 vaccine that it hopes will be ready by 2021, a top researcher said May 25.
Dr Suchinda Malaivitjitnond, Director of the National Primate Research Center of Thailand, said the testing phase on the macaque monkeys came after trials on mice were successful.
They are working in collaboration with the University of Pennsylvania in the US using a new technology based on mRNA, a type of genetic material never used before to make a vaccine.
Thailand was the first country outside China to detect an infection in mid-January. It has so far reported over 3,000 cases and 57 deaths.
Meanwhile, Malaysia reported 172 additional infections on May 25, rising nearly threefold compared to the previous day. It was the highest daily jump and the first day of three-digit increase of infections in the country in the last three weeks.
So far, the country reported a total 7,417 cases, with 115 fatalities. Some 5,979 patients have recovered, accounting for 80.6 percent./. 
Over 340 Vietnamese citizens return home from Japan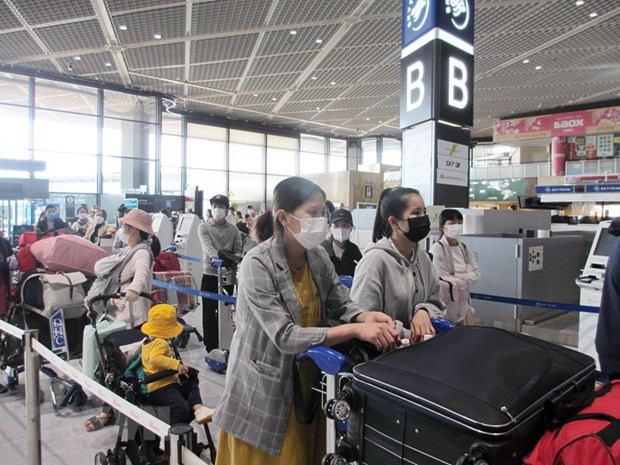 Vietnamese citizens at Narita airport
Over 340 Vietnamese citizens living in Japan were brought home safely on May 25.

The trip was arranged by Vietnamese and Japanese authorities, the Vietnamese Embassy in Japan, and national flag carrier Vietnam Airlines.
Passengers included children under 18, the elderly, the ill, pregnant women, workers whose visas and labour contracts had expired, and students. After landing at the Noi Bai International Airport, they underwent health check-ups and were then quarantined.
On the outbound flight, Vietnam Airlines carried a batch of medical masks from the Vietnamese Government for the Japanese people.
Depending on Vietnamese citizens' wishes, the quarantine capacity in localities, and the situation surrounding the pandemic, Vietnamese authorities, representative agencies overseas, and airlines will arrange more commercial flights to bring more Vietnamese home, in line with the Prime Minister's directions./.
Indonesia faces spike in births driven by COVID-19 lockdowns
Indonesia is facing a baby boom as lockdowns induced by COVID-19 cut access to birth control, said the national family planning agency (BKKBN).
By early next year, Indonesia - the world's fourth most populous country - could see 420,000 more babies born than would otherwise be expected, the agency estimated.
The figure is based on 10 percent of its 28 million member nationwide family planning practice having trouble getting birth control recorded in March. About 4.8 million babies are born annually in Indonesia, a country of nearly 270 million.
Many clinics have shut, while those that remain open have limited the number of people they serve, said the agency's chief Hasto Wardoyo.
The one-month decline in contraceptive use alone could push up pregnancies by 15 percent, or around 420,000 pregnancies, within a month to three months, according to BKKBN's estimate.
A further drop within three months will increase pregnancies by up to 30 percent, or above 800,000, within another few months.
The absence of contraception, Hasto noted, may cause unwanted pregnancies, which could take a psychological toll on women and have longer-term repercussions, such as stunted development in children of poor families that cannot afford proper nutrition.
The pandemic is "bad timing" for women to get pregnant, as many are unable to obtain proper health care services, Hasto said, urging couples to use contraceptive methods./.
Indonesia to apply "new normal" scenario
The Indonesian Government may soon ease restrictions on socioeconomic activities and prepare to carry out the next action plan given that COVID-19 is yet to be brought under control, including the application of a "new normal" scenario.
Secretary of Ministry of Administrative and Bureaucratic Reform Dwi Wahyu Atmaji said the government has thoroughly discussed the scenario and decided to initially apply it to the State civil apparatus (ASN).
He stressed that while the word is yet to find a vaccine for COVID-19, people must remain vigilant. Socioeconomic activities, however, should not remain stagnant for too long. The government and people need effective measures to cope with the pandemic while ensuring necessary activities continue.
There are three notable components in the "new normal" scenario, he said.
Firstly, a flexible working arrangement will be implemented, in which public employees can work from offices, homes, or elsewhere. Secondly, health protocols will be carried out, such as social distancing at work, wearing masks, and washing hands to prevent transmission. Thirdly, the application of information and communications technology will be improved.
He also noted that the application of the "new normal" scenario depends on directives from the country's COVID-19 taskforce./.
Indonesian Finance Minister: No trade-off between health and economy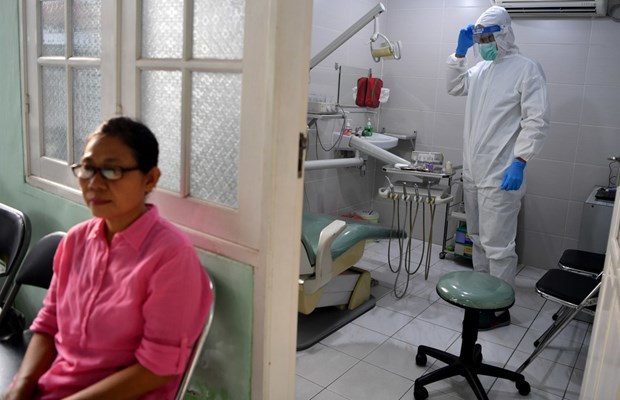 A dentist in Surabaya, East Java, wears complete personal protective equipment before examining a patient (Photo: Antara)


Indonesian Finance Minister Sri Mulyani Indrawati said on May 24 that Indonesia would not compromise on the health of its people to reboot the country's economy.
There is no trade-off between health and economy. Both are like conjoined twins which are not separated, Sri Mulyani said.
That was why the government's first step in COVID-19 mitigation was to earmark 75 trillion Rp (5 billion USD) specifically for health care, according to the minister.
Major aid packages sourced from the State budget are being used to purchase medical materials and equipment, and upgrade 132 hospitals for COVID-19 treatment.
The government has also decided to provide a 15 million Rp incentive to medical specialists, 10 million Rp to physicians and dentists, 7.5 million Rp to nurses, 5 million Rp to other medical staff members, and 300 million Rp in case of death of medical workers.
A total of 405.1 trillion Rp has been disbursed to the battle against COVID-19./.
Thai PM orders investigation into state quarantine kickbacks
The Prime Minister of Thailand has ordered an investigation into alleged state quarantine kickbacks in order to take further tough action against the wrongdoers.
Prime Minister and Defense Minister Gen Prayut Chan-o-cha has ordered an investigation into the hoteliers' claim that a group of people have demanded kickbacks from them if they want their facilities to be chosen as state quarantine centers according to the news report.
He vowed to take tough action against such wrongdoers who are taking advantage of business operators during this difficult time.
Dr Thaweesin Witsanuyothin, spokesman for the Center for COVID-19 Situation Administration, has confirmed that the center has never sent anyone to demand a kickback for turning a place into a state quarantine facility, to accommodate Thai people returning from abroad.
He urged any hotel operator with knowledge of the alleged practice to file a case against the people who demanded a kickback from them./.
Berlin Mayor appreciates Vietnamese expats' charity work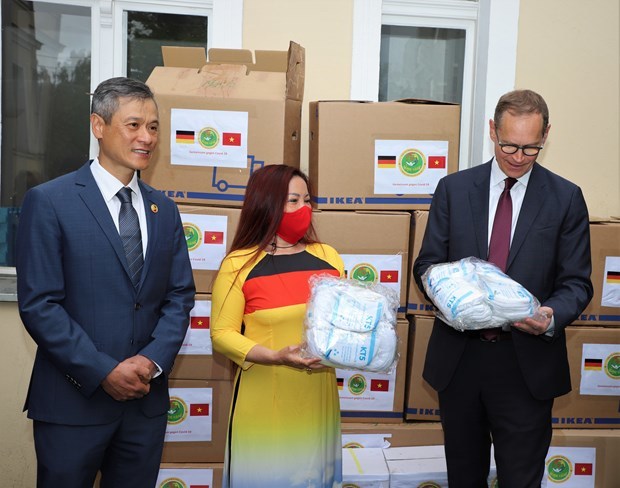 Duong Thi Bich Ngoc (centre), head of the Sen Vang charity organisation, presents the gifts to Governing Mayor of Berlin Michael Müller (R). Vietnamese Ambassador Nguyen Minh Vu stands on the left
Governing Mayor of Berlin Michael Müller lauded the Vietnamese community's charitable activities in Germany while receiving 10,000 face masks and 10,000 pairs of gloves from Sen Vang (Golden Lotus) charity organisation on May 25.
The event saw the attendance of Vietnamese Ambassador to Germany Nguyen Minh Vu and representatives of Berlin agencies.
At the event, Müller thanked the Vietnamese organisation, saying its donations are practical and meaningful gifts to Berlin and people particularly amid the ongoing COVID-19 pandemic.
For his part, Vu noted that the Vietnamese Government and localities have shown their solidarity with the German people by sending face masks and other medical supplies.
He said that despite facing difficulties caused by the disease, Vietnamese expatriates in Germany have not only supported each other but also initiated campaigns to join Germans in fighting the pandemic.
These campaigns have attracted the participation of Vietnamese nationals across Germany, with thousands of face masks, medical equipment, and food delivered to organisations, hospitals and rest homes in the European country, the ambassador said.
These activities demonstrate the community's sense of responsibility for their second home, he added.
According to statistics from the embassy, there are some 125,000 Vietnamese or Germans of Vietnamese descent living in Germany./.
Regional solidarity key to cope with COVID-19: experts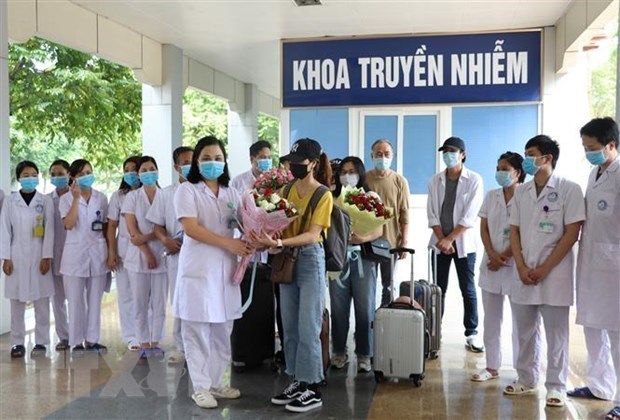 The article has praised Vietnam as a low-cost effective COVID-19 response.
Regional solidarity among ASEAN members is key to effective COVID-19 response, said Nehginpao Kipgen - Executive Director at the Centre for Southeast Asian Studies (CSEAS) - and Aakriti Bansal, a research assistant at the centre, in a recent article posted on Thailand's Bangkok Post.
The writers said the Association of Southeast Asian Nations (ASEAN) has not faced anything like COVID-19 in the recent past.
"The optimal way for ASEAN to deal with the pandemic is to stand united and come together as a region," they wrote.
The article highlighted the holding of a special ASEAN Plus Three Summit on April 14 as one great leap forward for the region, which included the 10 ASEAN members, China, Japan and the Republic of Korea.
Vietnam has since extended some support in the form of medical equipment, which included specialised protective clothing, medical masks, testing systems, and test kits worth 304,000 USD to Laos and Cambodia, the article said, praising Vietnam as a successful low-cost model for containing the outbreak.
The article went on that Vietnam's low-cost model focuses on selective but proactive prevention because of a lack of resources and has been largely effective thus far.
"Other ASEAN member states should attempt to implement this low-cost model, as the method has worked for Vietnam with a decline in the number of cases," it went on.
The article also suggested ASEAN conduct more tests and identify as many cases as they can within their borders, as well as respond collectively and proactively as a bloc through coordination, comprehensiveness, information sharing, and effective policy-making, while developing cost-effective models like making cheaper test kits to flatten the curve./.
Thailand prepares for next phase of lockdown easing
Thailand reported one more fatality of the COVID-19 on May 25, raising the total to 57.
On the day, the country confirmed two new infections, of them one had close contacts with a patient, and the other returned from Russia.
A total of 3,042 cases have been reported in Thailand so far, with 2,928 given the all-clear.
Although the COVID-19 situation in Thailand has shown positive developments, the Centre for Covid-19 Situation Administration (CCSA) on May 22 adopted the National Security Council's proposal of extending the state of emergency until June 30.
The proposal responds to developments of the global pandemic and allows time for the preparation of further lockdown easing at the start of next month.
Thailand has also taken one step forward towards developing a vaccine for the disease.
Director of the Chulalongkorn University's Centre of Excellence in Vaccine Research and Development, Dr Nakorn Premsri said that vaccine development involves the synthesising of messenger ribonucleic acid (mRNA) in monkeys, which began on May 23. The trial will last three months and is expected to finish in late August.
If the trial is successful, the research team will use the best viable antibodies from these primates to produce 10,000 doses of vaccine for human trials.
"That will kickstart the test in humans, which will see at least 5,000 volunteers receive two injections each," he said./.
Cambodian workers affected by COVID-19 to receive support
About 55,000 garment-textile workers and 4,300 others working in the tourism sector in Cambodia, who have become jobless by the COVID-19 pandemic, each will receive monthly financial support worth 40 USD through their Wing Specialised Bank accounts next week.
The Ministry of Labour's spokesperson Heng Sour said the government has already allocated its budget to 126 factories and 53 hotels that have registered for support to their workers, the Khmer Times reported.
According to the Ministry of Economy and Finance, approximately 300-350 million USD has been delivered to different economic sectors.
Meas Sok Sensan, spokesperson of the Ministry of Economy and Finance, said that this fund is not only for workers who have lost jobs but also for poor families affected by the economic downturn.
Figures unveiled by the Garment Manufacturers Association in Cambodia showed that 180 factories have suspended their operations and 60 others are also in the pipeline, affecting more than 150,000 workers./.