VN gains initial success in developing coronavirus vaccine
A potential coronavirus vaccine, Vietnamese scientists have tested on mice over last ten days, showed initial success.
Dr. Do Tuan Dat, President of the Company for Vaccine and Biological Production No.1 (VABIOTECH) in Ha Noi said that 50 tested mice were in healthy conditions, reflecting the safety of the vaccine.  
Scientists would collect mice blood samples after two weeks and 28 days in order to evaluate safety and effectiveness before a manufacturing process is embarked on.  
VABIOTECH is one of four Vietnamese participants in the race for coronavirus vaccine. The company is cooperating with the U.K.'s Bristol University.
According to the institute, it will take at least 12-18 months to develop Covid-19 vaccine that can work safely on human.
Earlier, VABIOTEC successfully manufactured Japanese encephalitis vaccine B(Jevax), hepatitis B vaccine and H5N1 vaccine.
There are about 70-80 vaccine makers testing potential Covid-19 vaccines on mice worldwide and eight companies are testing vaccines on mice and humans at the same time./.
Gov't chief allows resumption of non-essential services
Prime Minister Nguyen Xuan Phuc has decided to allow non-essential service establishments, except for clubs and karaoke parlors, to resume operations but they have to maintain preventive measures.
The decision was made the a meeting on COVID-19 prevention and control this morning after three weeks without new community transmission case of COVID-19.
The Government chief also decided mask wearing and social distancing are not mandatory for students in classrooms but students are advised to maintain personal hygiene and regularly wash hands with antibacterial soap or sanitizer.
Doors and windows should be opened at times to facilitate air circulation while classrooms must be clean, PM Phuc added.
He asked each citizen and business to get used to "new normal" in order to gradually restart socio-economic activities as usual.
As the COVID-19 pandemic still remains complicated across the world, Phuc tasked competent authorities to continue measures to prevent importation of new cases, including compulsory 14-day quarantine for incoming travellers.
Steering committees for COVID-19 prevention and control needs to continue maintain fast-response teams to timely trace, isolate and handle positive cases and those who have been in close contact with them, the PM said.
Mask wearing remains mandatory at public places and on crowded transport vehicles, Phuc ordered.
Regarding customs clearance, PM Phuc agreed to allow reopening of some minor border checkpoints and border crossings in Lang Son and Quang Ninh at the proposals of the two provinces that share borderline with China.
For other border provinces, the local authorities can decide themselves in a cautious and meticulous manner whether to reopen their minor border checkpoints and border crossings provided that measures and procedures for COVID-19 prevention and control are strictly observed.
Minor border checkpoints and border crossings are only reopened in case of huge volume of goods, especially agricultural and aquatic products and materials for domestic production./.
Hanoi considers allowing beauty care and barber shops to reopen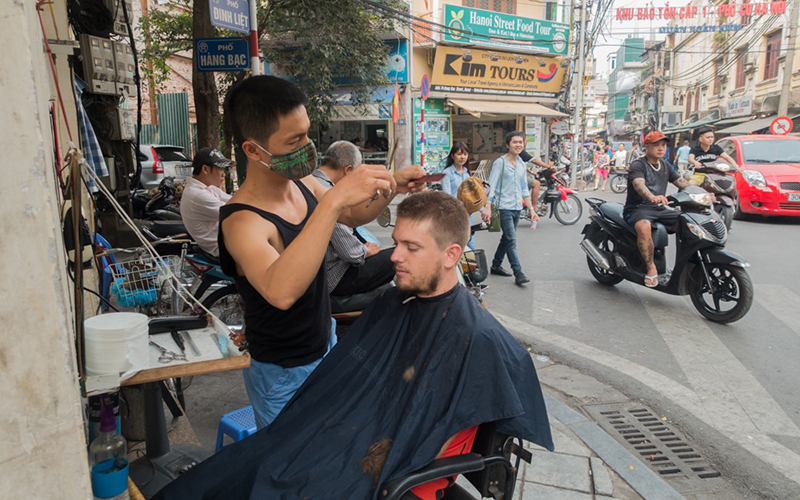 A sidewalk barber "shop" in Hanoi. Photo: wandering.world
The city's authorities will allow beauty care and barber shops to resume working provided that safety measures against Covid-19 are applied.
Chairman of the Hanoi People's Committee Nguyen Duc Chung has asked the relevant authorities to consider reopening of other non-essential services including beauty care and barber shops based on their assessment on the pandemic progression in the city.
At a regular briefing of the Hanoi People's Committee on May 6, the city's mayor requested concerned agencies to monitor the operating hours of non-essential stores to ensure that no one opens before 9:00 am and those breaching the order must be sanctioned, even their business license would be revoked.
He also said by asking non-essential businesses not to open before 9:00 am, the number of commuters on the roads would be reduced by 600 to 800 thousand in morning rush hours, contributing to reducing traffic congestion. The business opening hour restriction would run until December 31.
Mayor Chung also allowed the Department of Culture and Sports to organize cultural and sport activities but on a smaller scale to progressively relax the social distancing orders.
He noted that socio-economic development and epidemic prevention tasks in the first four months of 2020 have drastically implemented at all the levels from the city down to districts and town.
Vingroup to present 2,400 ventilators to Russia and Ukraine
Vietnamese conglomerate Vingroup will give 2,400 invasive ventilators to Russia and Ukraine to help treat COVID-19 cases in the two countries between May 15 to August 30.
The Embassies of Russia and Ukraine in Vietnam signed an agreement to receive the ventilators on May 6 in Hanoi.
Accordingly, Vingroup will present 1,000 VFS-410 ventilators and 500 VFS-510 ventilators to Russia, and 600 VFS-410 ventilators and 300 VFS-510 ventilators to Ukraine.
The invasive ventilators include Vsmart VFS-410 and VFS-510, the two "made in Vietnam" invasive ventilators which have been completed and manufactured entirely within the Vingroup ecosystem, with a localisation rate of up to 70 percent.
The ventilators are currently being assessed by quality management agencies and the Medical Council of Vietnam, ensuring compliance with quality standards for product circulation in Vietnam.
Nguyen Viet Quang, Vice Chairman and CEO of Vingroup said that: "By giving 2,400 invasive ventilators, Vingroup hopes to actively contribute to the effective treatment of medical forces in Russia and Ukraine for COVID-19 patients. This shows the group's gratitude to the two countries for supporting its start-up process."
At the same time, Vingroup is promoting the supply of ventilator models for Russia and Ukraine to carry out quality inspection procedures in accordance with their current regulations.
The group will officially hand over 2,400 ventilators after being granted product circulation licences by Russia and Ukraine.
Vingroup is one of the pioneering enterprises in Asia in sponsoring and supporting the fight against the COVID-19 pandemic with a total sponsorship fund of nearly 600 billion VND (25.7 million USD), excluding funding for investment in manufacturing ventilators./.
Thailand warns to re-apply COVID-19 restrictions, infections in Singapore could hit 40,000
Thailand's Prime Minister Prayut Chan-o-cha has announced that both public and private sectors should strictly apply social-distancing measures once the lockdown is lifted or restrictions will be applied again.
Thailand warns to re-apply COVID-19 restrictions, infections in Singapore could hit 40,000
Thailand's Prime Minister Prayut Chan-o-cha has announced that both public and private sectors should strictly apply social-distancing measures once the lockdown is lifted or restrictions will be applied again.
The statement was made after Thai people were seen crowding stores to purchase alcoholic beverages.
Now there are limitations on how many bottles of alcohol can be sold and during what hours, he said. The premier also warned that if people still crowd stores to purchase booze, the government would once again impose a ban.
The number of COVID-19 infections in Singapore could hit 30,000 – 40,000 this month, but containment measures will help to keep the situation from spiralling out of control, local medical experts said.
While the total counts have continued to rise, the numbers have recently started to stablise, said Assoc. Prof. Alex Cook from the National University of Singapore (NUS)'s Saw Swee Hock School of Public Health.
Dr Leong Hoe Nam, an infectious diseases expert at Singapore's Mount Elizabeth Novena Hospital, agreed that cases could cross 40,000 this month but said it is likely that Singapore has gone past the peak of daily confirmed cases.
Singapore has been hit the hardest by the coronavirus in Southeast Asia. The country reported 788 new cases on May 6, taking the total count to 20,198.
Meanwhile, Indonesia is set to revise its data on confirmed and possible COVID-19 cases across the country amid efforts to ramp up testing and to get a clearer view on the true scale of the outbreak.
Wiku Adisasmito, the head of the expert staff of the country's COVID-19 task force, said the central government planned to provide more accurate data on the coronavirus in Indonesia, including suspected cases and probable cases, in accordance with the World Health Organisation (WHO)'s reporting standards updated in early April.
In Cambodia, the Independence Teachers' Association (CITA) has asked the Education Ministry to consider reopening educational institutions as the country has found no new cases over the last three weeks.
Schools in the country has remained shutdown since March 16 to curb the spread of the COVID-19.
Cambodia has to date recorded 122 COVID-19 cases, with 120 having fully recovered./.
National Covid-19 committee proposes resuming nonessential services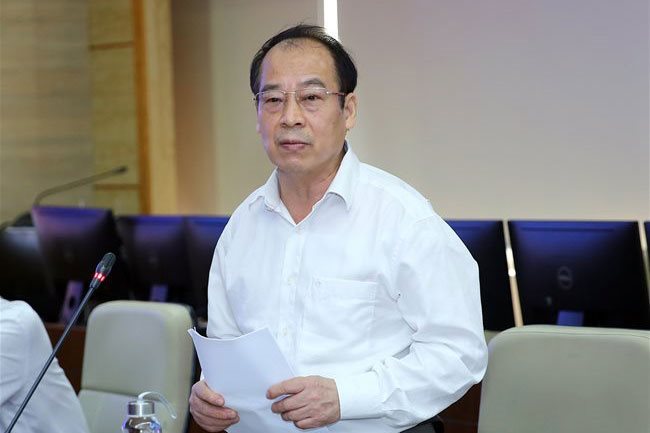 Associate Professor Dr Tran Dac Phu speaks at the meeting on Covid-19 - PHOTO: VGP
At a meeting chaired by Deputy Prime Minister Vu Duc Dam this morning, May 6, the national steering committee for Covid-19 infection prevention and control proposed resuming nonessential services as the pandemic is mostly contained.
However, the committee noted that dance clubs, bars and karaoke parlors need to remain closed. It also proposed permitting sporting events and removing social distancing on aircraft, buses and trains.
Addressing the meeting, Associate Professor Dr. Tran Dac Phu, former director of the Agency of Preventive Medicine, stated that Vietnam has effectively controlled the Covid-19 pandemic, and therefore production, trade and services should gradually return to normal.
However, the virus is still spreading rapidly elsewhere in the world, so Vietnam must maintain tight immigration rules and deny entry to international tourists for now. People holding diplomat passports and foreign experts will be put under a mandatory 14-day quarantine upon entry.
Covid-19 infection prevention and control measures have been eased, but citizens are encouraged to continue safety measures such as wearing face masks in public, washing their hands regularly and keeping their distance from others in public places.
All agencies and departments responsible for fighting Covid-19 should remain vigilant against new infections, so that new cases can be immediately detected, quarantined and treated. 
Crowded areas such as offices, factories, supermarkets, hospitals, markets and schools still have to comply with basic preventive measures.
HCMC extends isolation time of Covid-19 recovered patients
 
The Ho Chi Minh City (HCMC) Department of Health directed that all Covid-19 recovered patients released from hospital will have to spend the next 14 days at a healthcare unit for medical monitoring. In case patients wish to return home, local healthcare units in districts will be responsible for monitoring these people.

Seeing that certain Covid-19 recovered patients tested positive again after being discharged from hospital, some of whom for 30 days, the HCMC Health Department sent an urgent document to HCMC Center for Disease Control (HCDC), local healthcare units in all districts, the Hospital for Tropical Diseases, Cu Chi Hospital for Acute Respiratory Diseases, and other hospitals treating Covid-19 patients regarding health check and isolation process for recovered patients released from hospital.
Accordingly, all patients meeting requirements for discharge will follow an isolation time at a local healthcare unit for the next 14 days.
Any patients who have a stable accommodation in HCMC that satisfies requirements of the Health Ministry can self-isolate themselves there under the strict monitoring of district healthcare units after signing a commitment to observe all regulations. These medical organizations need to deliver full guidance for members of the household on how to live with and help these recovered patients while keeping themselves safe from potential infection.
If the accommodation cannot meet the requirements or patients do not comply with regulations, these people must continue their 14-day isolation period in a specialized quarantine place of the district.
HCMC residents who were successfully treated in other provinces will be the responsibility of HCDC upon their entering the city.
After the 14-day isolation time over, recovered patients are advised to limit going out unless necessary and follow all protection rules (wearing face masks, washing hand regularly, maintaining social distance in communication) while keeping close contact with local healthcare units for medical monitoring until after 30 days.
The HCMC Health Department implements health check for these patients for 30 days from the hospital release day. If tested positive, patients will be treated as a new Covid-19 case, with sufficient quarantine and health monitoring for those having close contact with them.
Among the 53 cases of recovered patients in HCMC, 13 came back from other provinces or nations. At the moment, 47 of them are self-isolating at home. 37 out of 53 are having blood test daily.
At the end of May 5, HCMC reported 55 Covid-19 cases, 43 of which were recovered and discharged from hospital. There are 102 new people quarantined in medical units and 103 at home.
Patient No.91, the British pilot being treated in HCMC Hospital for Tropical Diseases, has normal temperature and stable blood pressure now, but still in crisis, and being under ECMO intervention.
HCMC carried out medical declaration and temperature check for the crews and passengers of 3 international flights and 103 domestic ones. Passengers of 11 trains and 17 ships undergo the same procedure. Covid-19 detection tests were done on 56,572 samples.
From March 20 to May 5, the Vietnamese Fatherland Front – HCMC received in cash and goods worth more than VND176.7 billion (approx. US$7.54 million) from 6,778 individuals and organizations to support Covid-19 fight and farmers in areas enduring soil salinity.
Around VND47 billion ($2 million) was delivered to local residents in the 7 southern provinces of Soc Trang, Ca Mau, Kien Giang, Tra Vinh, Bac Lieu, Ben Tre, and Hau Giang.
The money sent to doctors, the medical staff, volunteers in Covid-19 fight as well as poor people financially affected by this pandemic was VND40 billion ($1.7 million).
British expert confirmed as latest Covid-19 case in Vietnam
The Ministry of Health yesterday announced that a 37-year-old British expert who entered Vietnam on April 28 has become the latest Covid-19 case in Vietnam taking the total cases to 271.  

The man who works for state-owned Vietnam Oil and Gas Group and 12 other experts were allowed to enter Vietnam through Tan Son Nhat International Airport in Ho Chi Minh City on flight AXY 2504 from the UK.
All were sent to a centralized quarantine center in Can Gio, an outlying district of Ho Chi Minh City, after lthe plane landed in the airport.
Thirteen people tested negative for SARS-CoV-2on their first day of arrival. Only the 37-year-old man's retesting result on May 2 came out positive for the virus.
He is being treated at the Covid-19 treatment hospital in Cu Chi, another outlying district of the city.
Hence, Vietnam's present tally stands at 271, with 131 having been isolated upon entry, and no fatality, according to the ministry's latest statistics.
30,530 people who come from Covid-19-hit areas or closely contacted with infected people have been kept in centralized quarantine wards while 246 others have been quarantined in hospitals and the remaining have been self-isolating at their houses and in hotels.
HCMC temporarily suspends operation of Covid-19 hospital in Can Gio
Ho Chi Minh City authorities decided to temporarily suspend operation of the Covid-19 Treatment Hospital in Can Gio District.
As Vietnam has closely monitored the novel coronavirus disease (Covid-19) and installed a series of proactive, comprehensive measures to combat the spread of the virus, the situation is stable in the country generally and Ho Chi Minh City particularly; therefore, managers of the city Department of Health agreed to halt operation of the infirmary in Can Gio.
The infirmary will re-operate only when the Tropical Disease Hospital, the infirmary in Cu Chi District and the city Children Hospital are overloaded with Covid-19 patients.
From May 4, the Can Gio infirmary's facilities will be sent back to Can Gio medical center and its second branch will become centralized isolation ward under the management of the city Center for Disease Control.
The medical center in Can Gio will resume activities of examination and treatment for locals at the facility in Luong Van Nho Street, ward Mieu 3, Can Thanh Town.
Moreover, the center would continue coordinating with Thu Duc Hospital and large hospitals to carry out projects of transferred techniques in a bid to improve treatment quality.
Additionally, the center must ensure personnel for operation of the centralized isolation ward in Can Gio and provide vehicles to transport patients from the isolation ward to hospitals for further treatment.
According to the city Department of Health, as of May 2, the city has 54 Covid-19 patients and 53 of them have recovered; however, six tested positive again and one patient has been in critical condition in the Tropical Disease Hospital.
Seventy three people are being isolated in the centralized quarantine wards in Nha Be, in Cu Chi, in Mangrove hotel in Can Gio and in a hospital in District 7 and four are in isolation wards in districts.
Eldest patient and 10 other coronavirus cases make full recovery
Eleven more patients being treated at the National Hospital of Tropical Diseases in Hanoi City have been declared free of Covid-19, including the 161st  case, an 88-year-old woman in Hung Yen Province who was one of the country's five critically ill cases placed on a ventilator.
Meanwhile, two cases, tagged as the 74th and 137th cases, who had tested positive for the virus again after being discharged from hospital, tested negative four times, the hospital stated on May 5.
The 147th, 163rd, 201st, 225th, 233rd, 245th, 255th and 267th cases were among the recoveries as well, the local media reported.
As of this morning, May 5, the country's total number of recovered coronavirus cases stood at 132, while Vietnam reported no new Covid-19 infections in the community for 19 consecutive days.
Number of quarantined people in Vietnam on down trend
By 7:00 on May 7, 20,942 people who have had close contact with Covid-19 patients or entered Vietnam from epidemic-hit area have been quarantined.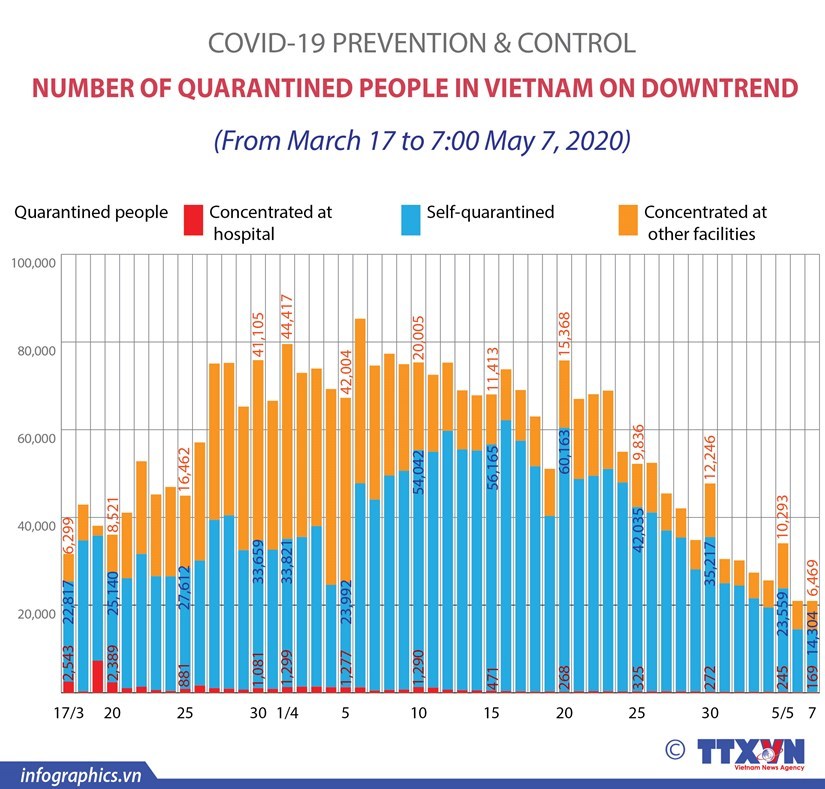 Latest Coronavirus News in Vietnam
Vietnam can offer world lessons in COVID-19 containment

The nationwide implementation of effective prevention measures has seen Vietnam become one of only five countries globally to successfully bring the novel coronavirus (COVID-19) under control.
Returning to school after COVID-19 restrictions are lifted, students are required to follow health recommendations, including washing their hands with disinfectant solution and having their body temperature checked before entering the classroom
This comes after Vietnam joins Greece, Slovenia, Jordan, and Iceland in being officially recognised internationally for both "flattening the curve" in terms of severely reducing COVID-19 cases, but also succeeding in treating patients, with the majority of cases enjoying a full recovery and successfully being reintegrated back into the community. This level of sustained success has enabled schools to reopen, businesses to resume operation, and people to go back to living their normal life. 
Due to the country's large population and long border with China, it was initially feared that Vietnam would be vulnerable to virus outbreaks in a similar manner to the northern neighbour which was badly ravaged by the world's first COVID-19 cases.
Showing great awareness of the danger posed by the spread of the infectious disease, the country moved to take decisive steps to combat the virus at the early stages of the outbreak. Indeed, its actions even took place before the World Health Organisation (WHO) declared the outbreak a Public Health Emergency of International Concern and ultimately have contributed to the country reporting no COVID-19 deaths.
Vox, a news and opinion website based in the United States, believes the Vietnamese success in containing the epidemic can largely be put down to three combined measures, including conducting mass testing, tracking down individuals who COVID-19 cases came into contact with, and moving quickly to isolate suspected cases.
The country began its testing campaign as soon as three people who had recently returned from Wuhan in China, the place of origin for the COVID-19, were confirmed to be carrying the deadly virus.
At present approximately 300,000 people have been tested. Despite the figure seeming small in comparison to the millions of people tested in the US, it is a major outlier in looking at how many people the government has tested per confirmed case.
Mass testing was first conducted for people arriving from areas hit by the COVID-19 and other epicenters, in addition to those who had contact with suspected cases, and those displaying symptoms of the virus.
The country has been carrying out mass testing in hotspots or high-risk areas, including dense markets in an effort to detect the early signs of the virus and nip in the bud possible sources of infection.
The government moved swiftly to suspend the majority of international flights coming to and from badly affected nations. Upon landing in the country, all passengers are now required to fill out a medical declaration form and have their body temperature checked. Suspected cases are then transferred to concentrated quarantine facilities for 14 days, whilst being provided with free accommodation and meals.
Moreover, the country has also launched numerous public communication campaigns which are aimed at encouraging citizens to strictly follow preventive measures, including the social distancing order, along with the health sector's recommendations.
With life starting to return to normal in Vietnam with the reopening of business and schools, Vox believes this indicates how successful an early and robust response against the virus can be. In containing the COVID-19, the nation didn't use advanced technology or new methods, rather, it simply did the ordinary things extraordinarily well. 
Friendship Association presents 80,000 face masks to Germany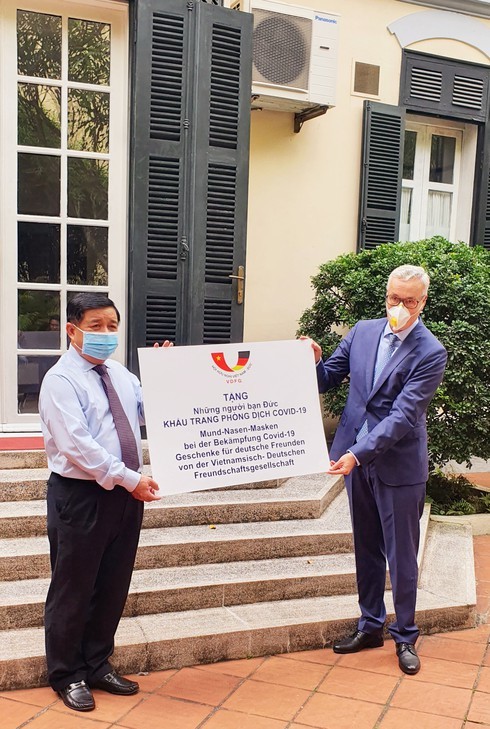 At the handover ceremony
The Vietnam-Germany Friendship Association donated over 80,000 face masks to Germany on May 6 as part of joint global efforts to combat the spread of the novel coronavirus (COVID-19).
The move comes as part of a fundraising campaign that was originally launched by the Vietnam-Germany Friendship Association to encourage its members to participate in joint efforts to fight the potential spread of the virus. 
Upon speaking during the handover ceremony, Minister of Planning and Investment and Chairman of the Vietnam-Germany Friendship Association Nguyen Chi Dung expressed his joy at the nation's ability to produce a sufficient number of face masks to support other countries slow the spread of the COVID-19. Minister Dung added that all countries globally should come together to make concerted efforts in a bid to overcome this challenging period.
In his address of thanks to the association, the German Ambassador to Vietnam Guido Hildner outlined how the gift is a representation of the close ties, solidarity, and friendship between the two nations, adding that face masks remain a scarce commodity in Germany.
Most notably, the Vietnam-Germany Friendship Association's campaign to donate face masks to the Central European country is just one of several initiatives launched by the Vietnamese government in the COVID-19 battle.
Airlines allowed to operate at full capacity, end seat distancing from 00:00 on May 7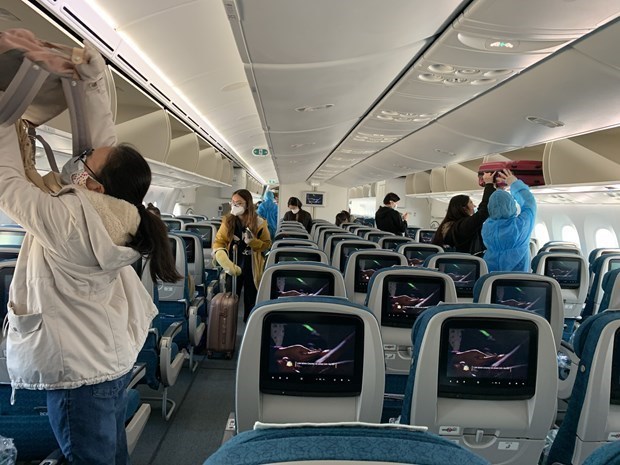 Restrictions on the number of flights between Hanoi, HCM City, and Da Nang will also be removed.
The Civil Aviation Administration of Vietnam (CAAV) has notified Vietnamese airlines that seat distancing and restrictions on passenger numbers are to be abolished from 00:00 on May 7.
Restrictions on the number of flights between Hanoi, HCM City, and Da Nang will also be removed.
The CAAV earlier proposed the Ministry of Transport increase the frequency of domestic flights from 00:00 on May 7, specifically 52 return flights on the Hanoi - HCM City route, 20 on the Hanoi - Da Nang route, and 20 on the HCM City - Da Nang route.
It also asked for the medical quarantining of flight crews on international flights./. 
Third field hospital for COVID-19 set up in Quang Ninh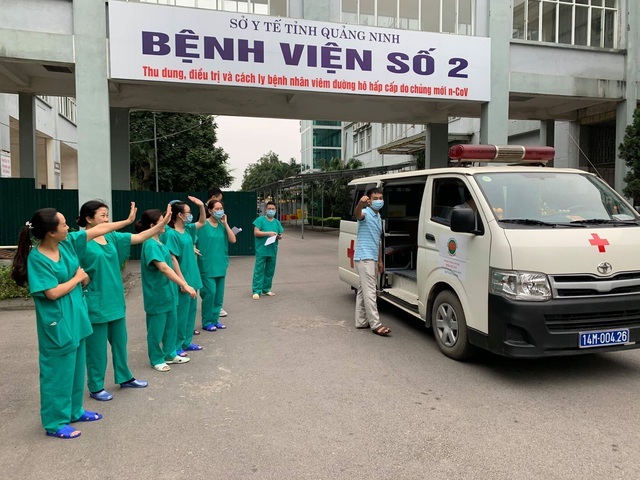 Field hospital No.2 in Quảng Ninh Province's Tuberculosis and Lung Hospital was set up amid the COVID-19 fight. — Photo dantri.com.vn  
The People's Committee of Quảng Ninh Province have decided to establish the third field hospital for treating COVID-19 patients to avoid overcrowding in existing health centres.
The committee announced on Thursday morning the new field hospital would be at Hạ Long General Hospital in Hoành Bồ Ward, Hạ Long City.
The field hospital will include four buildings and have a total of 350 patient beds.
The hospital includes all specialised departments, including examination facilities, treatment area, emergency department and rooms for surgical procedures, among others.
According to the provincial People's Committee, the field hospital No3 has the task of screening, quarantine, and treating suspected moderate or mild cases, and out-of-hospital quarantine cases (including Fl, F2 or F3) who have other underlying diseases.
It also transfers patients to higher-level hospitals for treatment and special medical care in case the patients' status exceeds its capacity.
The hospital must ensure the security, safety, allowances for patients, and doctors, medical staff.
To fight the COVID-19 pandemic, Quảng Ninh Province established two field hospitals, one in Móng Cái City's General Hospital and the other in the provincial Tuberculosis and Lung Hospital. 
Steering Committee: Vietnam on top of COVID-19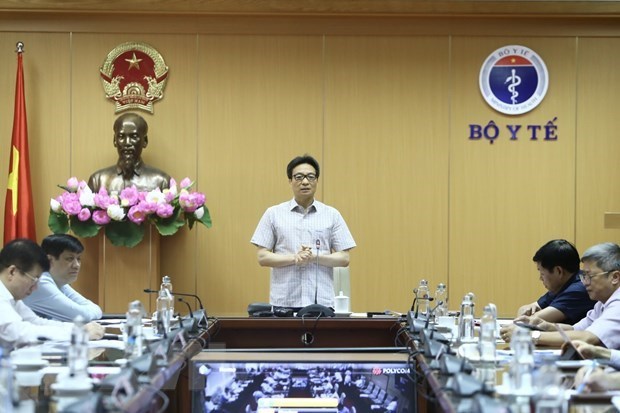 Deputy Prime Minister Vu Duc Dam speaks at meeting of National Steering Committee for COVID-19 Prevention and Control
Vietnam has basically brought the COVID-19 pandemic under control, with production, business, and daily activities now experiencing a "new normal", Deputy Prime Minister Vu Duc Dam told a meeting of the National Steering Committee for COVID-19 Prevention and Control on May 6.
The disease remains a complex matter outside of the country, however, with tens of thousands of new infections and thousands of fatalities each day, Dam noted.
He stressed the importance of maintaining close management over everyone entering the country, to contain the spread of the coronavirus.
The Steering Committee requested the military and public security and health sectors continue consolidating all mechanisms and tools, especially those in information technology, to immediately quarantine new cases in the community as soon as they are detected.
Disease prevention measures should be loosened based on scientific grounds, such as the mode of transmission of the virus and the probabilities of pathogens in the community.
According to health experts, while it cannot be claimed that there are no pathogens in Vietnam at this time, the probability of their existence is very low. Those who test positive again cannot transmit it to others.
The Steering Committee therefore asked the health sector to continue caring for and monitoring patients as well as those given the all-clear, to ensure community safety.
People must continue to wear face masks in public, maintain a distance from others of at least one metre, and regularly wash their hands with antibacterial soap or sanitiser.
According to the committee, students are not required to wear face masks in classrooms but are advised to wear them during breaks and to avoid contact with friends in other classes. Air conditioners can be used in classrooms but doors and windows should be opened at certain times to facilitate air circulation.
The Steering Committee also requested that offices, factories, supermarkets, markets, hospitals, and restaurants maintain prevention measures.
Non-essential services can resume, except for clubs and karaoke bars, if social distancing measures can be ensured.
Meanwhile, the committee said social distancing measures can be eased for public passenger transport, including aviation, while other prevention measures must be maintained.
Vietnam has reported no new COVID-19 infections within the community for 20 days in a row to the morning of May 6, the Steering Committee reported.
The national count still stands at 271 cases, of which 131 were imported and quarantined upon arrival.
A total of 232 patients have recovered or been discharged from hospital, while the remainder are being treated at centrally-run and provincial medical facilities. Most are in a stable condition./.
Health Ministry, UNICEF launch campaign on spreading kindness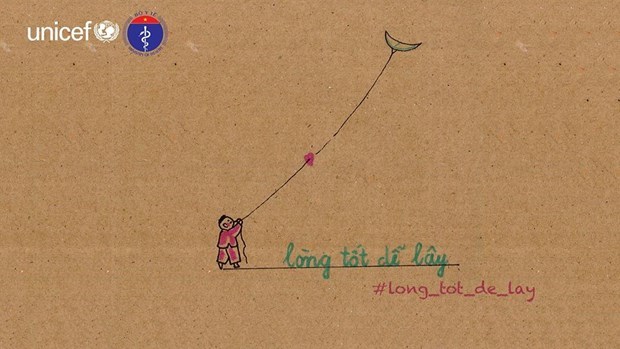 The Ministry of Health (MoH) and UNICEF Vietnam launch a media campaign entitled "Kindness is Contagious" (Photo: Facebook of the campaign)
The Ministry of Health (MoH) and UNICEF Vietnam launched a media campaign entitled "Kindness is Contagious" on May 6, to build solidarity and spread kindness among young Vietnamese during and after the COVID-19 pandemic.
The month-long campaign will encourage people to share their artwork and videos and voice their ideas on social media platforms. One of the main activities will be discussions between policy makers, social media influencers, and young people.
Head of the Department of Communication and Emulation, Commendation at MoH, Nguyen Dinh Anh, said that through the campaign young people can play a key role in battling COVID-19 and help kindness spread faster and further.
The World Health Organisation, UNESCO, TikTok Vietnam, and young artists such as singer Min, the Ngot Band, rapper Suboi, illustrator Tamypu, fashionista Chau Bui, actress Ninh Duong Lan Ngoc, and the Nha Nam Publishing House will also join the campaign./.
Over 10 billion VND mobilised for COVID-19 fight in Facebook campaign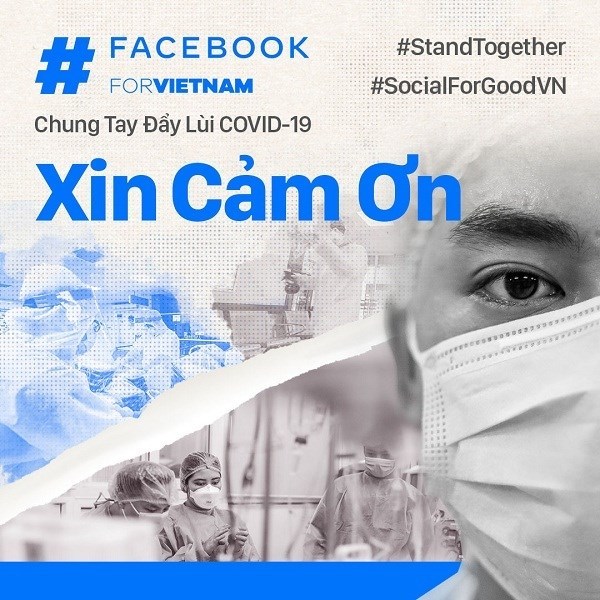 More than 10 billion VND (nearly 427,000 USD) in cash and in kind was mobilised within two weeks in support of medical workers, COVID-19 patients and people in quarantine under the #SocialForGoodVN campaign.
More than 10 billion VND (nearly 427,000 USD) in cash and in kind was mobilised within two weeks in support of medical workers, COVID-19 patients and people in quarantine under the #SocialForGoodVN campaign, organisers said on May 6.
Carried out by Facebook, the Vietnam Red Cross Society (VRC), Vietnamese artists, partners and businesses, the #SocialForGoodVN livestream lasted for one hour on Facebook on April 17, with over 15 million post reaches, some 5.4 million views and more than 700 shares.
As part of the programme, the campaign #ỞNhàLàNhất that aims to encourage people to stay at home and share tips on household chores has also received an active response from artists and Facebook users.
VRC Central Committee President Nguyen Thi Xuan Thu thanked Facebook, artists, businesses and the public for their efforts in the fight against the COVID-19 pandemic, saying their contributions will not only support medical workers but also help to promote disease prevention and control activities, especially communication efforts./.
Three weeks pass without new COVID-19 infections in community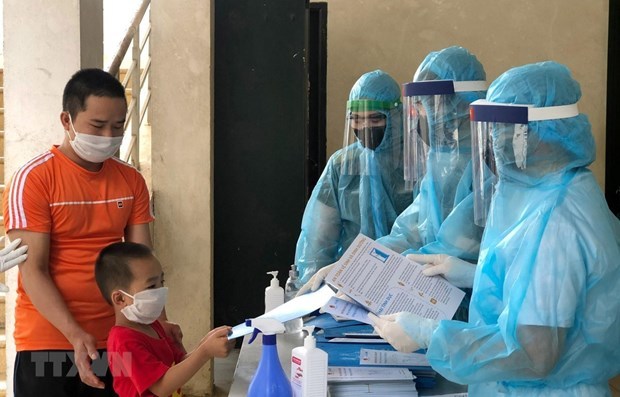 Leaflets with COVID-19 information are distributed to people quarantined at a facility of the Vietnam National University, Hanoi, in Thach That district
Vietnam hasn't recorded any new COVID-19 infections in the community for 21 straight days, and the number of cases still stands at 271, the National Steering Committee for COVID-19 Prevention and Control said on May 7 morning.
Among the total, 131 are imported cases, and they were put in quarantine upon their arrival in the country.
So far, 232 patients or 86 percent have recovered from the coronavirus disease.
The 39 remainders are currently under treatment at central and provincial-level health care establishments, and most of them are in stable condition. Sixteen have tested negative for the novel coronavirus SARS-CoV-2 once, and six others negative at least twice.
Meanwhile, there are 20,942 people kept in quarantine at present, including 169 at hospitals, 6,469 at other quarantine facilities, and 14,304 at home./.
Vietnam among most successful nations in curbing COVID-19: RoK newspaper
A man is seen cheering happily after lockdown was lifted in Ha Loi village on the outskirts of Hanoi on May 6.
ChosunBiz, a newspaper in the Republic of Korea, on May 6 run a story highlighting Vietnam's successes in containing the COVID-19 pandemic.
Vietnam Television reported on April 29 that Prime Minister Nguyen Xuan Phuc declared Vietnam has basically put the COVID-19 outbreak under control, the first country ever to do so in the world, the newspaper said.
The statement was made about three months after the first positive case was confirmed (January 22), marking a turning point in the global fight against the pandemic, it said.
Vietnam is among the most successful countries in curbing the disease, it wrote. The country's population is close to 100 million but it only reported 270 infections, including imported cases, and zero deaths.
The Vietnamese government's determination to combat the COVID-19 has early earned strong trust from global investors, it said. Samsung Electronics had to suspend operation in many of its factories around the world but production has still remained in Vietnam./.
Thailand sees progress in COVID-19 fight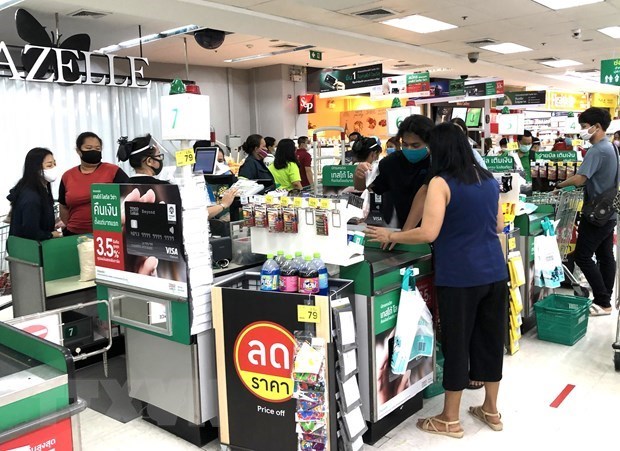 Thai people go shopping at supermarket
Thailand sees positive progress in its fight against the COVID-19 as it recorded only one new case in the two consecutive days on May 5 and 6 – the lowest number since March 9.
At the end of May 6, the country confirmed 2,989 infections, including 55 fatalities. Of the total, 2,761 patients have fully recovered.
Thai Prime Minister Prayut Chan-o-cha said that his country is considering the next step to loosen lockdown restrictions imposed to curb the spread of the SARS-CoV-2. The first step has been applied since May 3.
However, he mentioned the possibility to limit the number of people entering commercial centres at a certain time, and allow them to shop within 2 hours.
As the COVID-19 situation in the country appears to have been brought under control now, the Office of Basic Education Commission (OBEC) has decided to let each school decide whether they should reopen on July 1 or opt to use distance-learning television and online learning.
Schools wishing to open must first seek permission from their provincial governors. If the risk of COVID-19 is very low in their area, normal classes may be possible.
According to Education Minister Nataphol Teepsuwan, some outdoor and extracurricular activities will also be temporarily banned to eliminate the chance of viral transmission./.
New COVID-19 cases rising in Southeast Asia, Singapore hardest-hit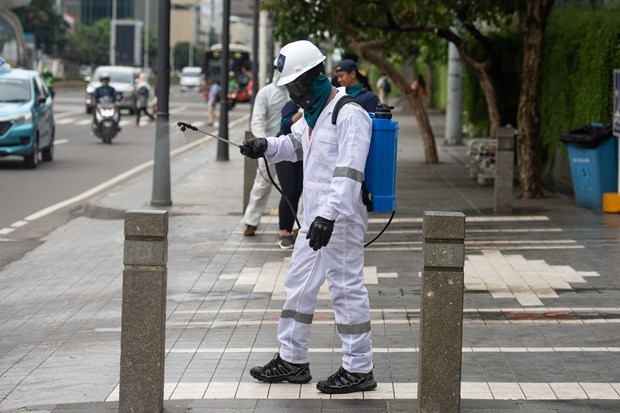 A worker fumigates the pavement in Jakarta, Indonesia, on March 19 in a bid to prevent the spread of the novel coronavirus
Singapore's Ministry of Health has confirmed 788 new COVID-19 infections in the country as of May 6, taking the total count to 20,198, the highest in Southeast Asia.
Among the new cases are 11 Singaporeans and permanent residents, while migrant workers living in dormitories form the majority of the remaining cases.
From the first positive case on January 23, Singapore took about 13 weeks to cross the 10,000 mark on April 22. But it took only two weeks for this figure to double.
The novel coronavirus cases in the Philippines have breached 10,000, as its Department of Health reports 320 new cases on May 6. The total number of cases is now at 10,004.
The department also reported 21 new deaths, raising the toll to 658.
Malaysia reported 45 more COVID-19 cases the same day, putting the tally of infections at 6,428. The death toll is now at 107.
Meanwhile, Indonesia confirmed 367 new cases, bringing the number of positive ones to 12,438. A total of 895 COVID-19 patients have died so far.
Cambodia has found no new case of the disease for 24 days in a row, according to the country's Health Ministry. The total number of positive cases thus remains at 122, with 120 recoveries.
The Cambodian General Department of Customs and Excise has lifted the ban and requirement for permission from the Ministry of Health to export all types of masks, Phnom Penh Post reported.
The government had stocked enough masks to be used for the pandemic in Cambodia, it said. Some companies had produced masks for export to the US and the EU, and lifting of the ban would help them, director Kun Nhem said./.
Czech newspaper: Let's be inspired by Vietnam in coronavirus battle
Czech newspaper Halo Noviny on May 6 posted an article highlighting Vietnam's efforts and attainments in the fight against COVID-19.
The newspaper citied Vojtěch Filip, First Vice President of the Czech Republic's Chamber of Deputies and President of the Communist Party of Bohemia and Moravia (KSČM) as saying that Let's be inspired by Vietnam, which has successfully defeated coronavirus.
The Southeast Asian country announced that it has successfully curbed the pandemic with no more new community cases in recent weeks and no deaths. As a result, the Vietnamese government has begun to ease its emergency measures, he said.
With more than 96 million people and a long border with China, Vietnam quickly responded by implemmenting preventive measures such as suspending international flights, applying 14-day quarantine for all entries, and keeping schools, restaurants and hotels closed.
Additionally, the Vietnamese government has regularly updated its people regarding the situation, Filip said, adding thatthese drastic measures could be valuable lessons for the Czech Republic.
He noted that the Vietnamese community in his country is playing an exemplary role in the fight against COVID-19./.
VOV/VNA/VNS/VNN /SGGP/SGT