Doctors at the Vietnam-Germany Hospital have successfully transplanted a liver and kidney for a Laotian man.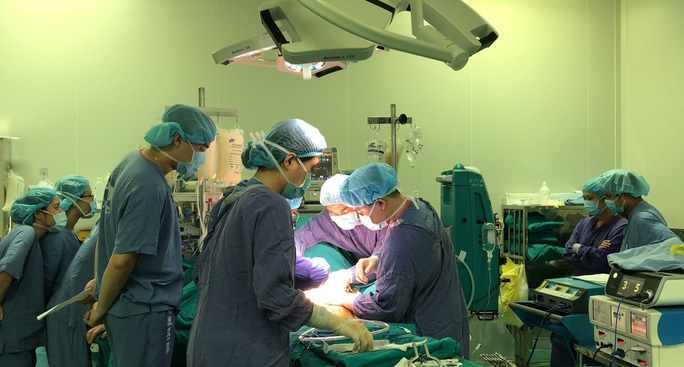 Doctors at the Vietnam-Germany Hospital successfully transplanted a liver and kidney at the same time on December 17
This is the first case in which two transplants were carried out at the same time in Vietnam.
Nguyen Quang Nghia, director of the Human Organ Transplantation Centre at the Hanoi-based hospital announced on December 25 that the 59-year-old patient who had kidney and liver failure luckily received two organs donated by a 19-year-old brain dead man.
"The patient was in the final stage of kidney and liver failure," the doctor said. "He also had diabetes and high blood pressure for many years."
After considering his condition, the doctors decided to perform the two transplants at the same time. The operation was carried out in 12 hours on December 17 by nearly 100 doctors and experts. The transplants were successful and the patient is recovering well, he said.
Thanks to the donation from the brain dead man, doctors have also successfully transplanted a lung for a 30-year-old man who has heart defects. This was also the first such operation done in Vietnam.
Director of Vietnam-Germany Hospital, Tran Dinh Giang, said that the success of the lung transplant gives hopes to many young patients in Vietnam.
"We have many young people having congenital heart diseases who can only be cured by lung transplants due to late diagnose," he said.
Nguoilaodong/Dtinews

Vietnam successfully performed over 4,200 organ transplants as of August 31, 2019, while the total number for this year so far being 521 cases.

Vietnam's first lung transplant patient has recovered and was discharged from the Viet Duc Hospital in Hanoi on October 4, after 1.5 months since undergoing the first lung transplant in Vietnam donated from a brain-dead donor.