The COVID-19 pandemic has changed everyone's way of life and many people have adjusted their and their families' habits to adapt to the "new normal".
For some, the pandemic has brought an opportunity to slow life down and connect more with their family.
Le Hoa Binh, who runs a shop selling electronic devices in downtown Hanoi, has had more free time than before the pandemic as he has closed the shop for half a month.
"There have been very few customers, so I closed the shop to spend more time with our children," Binh said.
Before, they had little time for their daughters. They rarely ate together as a family and Binh just saw his daughters early in the morning before they went to school.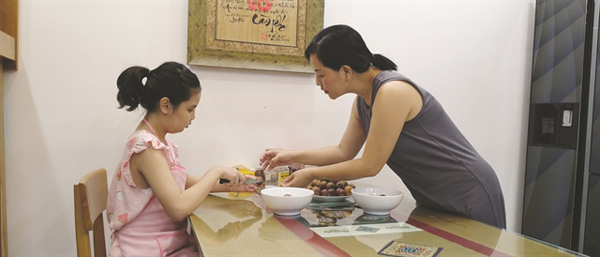 Many mothers have more time to play with and teach their children. 
"Now, both of us stay at home most of the day," Binh said. "My wife plays more with the children while I sometimes cook delicacies for the whole family, which I never had enough time to do before."
His wife Nguyen Minh Thu, who works as an accountant, said though the pandemic has harmed all aspects of social life including her family's income, it has created more time for people like her for their families.
"I feel happier as we stay home together for so long," she said. "My children are more excited as they have more time to play together besides online classes."  
To Kim Hien, a woman in the northern city of Ninh Binh, said she has had time to teach her children how to cook, wash clothes and clean the house.
"I planted some vegetables up on the rooftop to teach my children to take care of the vegetables," she said. "I think we haven't wasted a single hour during social distancing periods."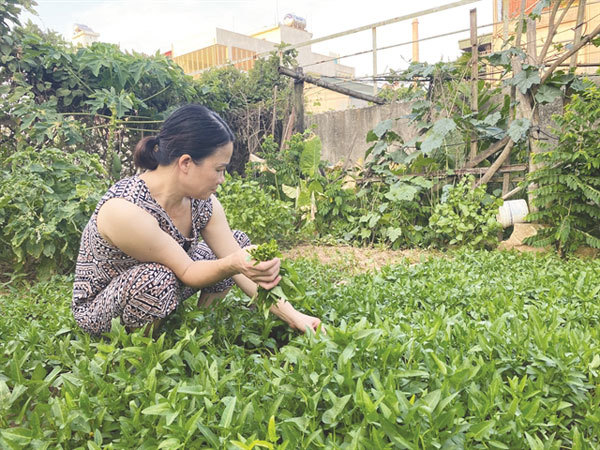 Hien has more time to care for her vegetable garden. VNS Photo Tan Nghia
Nguyen Phi Long, who works for a trading company in Hanoi after returning from the UK where he earned his MA degree two years ago, said the pandemic has offered him a chance to live slowly and spend more time with his parents, who now live in his homeland Thai Binh Province.
He has decided to stay off from work and return home to live with his parents.
"Staying with my parents and relatives, I feel as if I were small again and feel life is more meaningful," the 30-something man said. "Before the pandemic, I worked very hard and saved as much money as I could to send to my parents. But now, I realise that besides money and work, I still have parents, who are getting older every day. My parents do not need much money but lots of care and love."
According to psychologist Duong Thu Ngan, such anecdotes are great examples of family healing amid the pandemic.
"It helps balance the stress that the pandemic may cause for many people," she said.
"Working from home may make many people feel they are busier than working in the office as they work online, take care of children, do housework," she added.
"Yet this circumstance makes family members closer to one another. Children understand more about parents' work while husbands and wives sympathise more with one another and share much more. Each person seems to have more responsibilities to their family."
Ha said the pandemic, from this perspective, offers a chance for many people to strengthen family bonds, a simple yet "luxurious" change from their busy working routines before the pandemic. 
Optimistic spirit
Many people have taken up new hobbies like reading, cooking, raising plants, and keeping pets to enjoy their time at home during the pandemic.
HCM City-based second-year student Mai Hong Khuyen took some time to get used to social distancing.
In previous social distancing periods, she felt bored and stuck at home as she likes hanging out with friends at cafes.
Yet in the past few weeks, she has found herself busy after online classes.
Before she often ate out as she was too lazy to cook for herself.
Now, she cooks three meals per day and even follows complex recipes from YouTube.
"I even try making desserts like cheesecake and panna cotta," she said. "I failed initially, but then I succeeded."
To cheer herself up, Khuyen has spent lots of time decorating the apartment that she shares with a friend. She changed the window curtain and bedding and turned many corners into studios to take photos.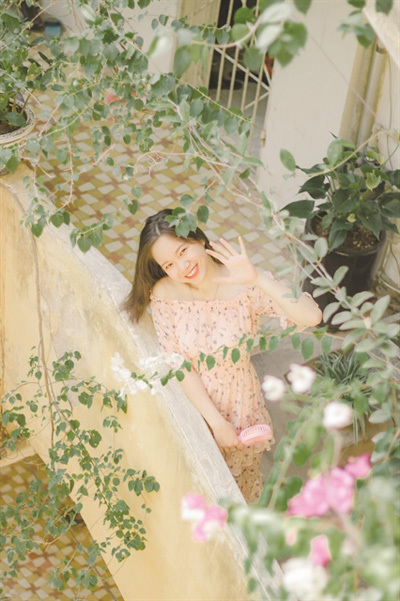 A student takes a photo in her apartment to post on social networks for fun. VNS Photo Bich Ngoc
She and her friend has taken a lot of photos and posted them on social networks to cheer themselves up.
Sometimes, they take photos in bed, sometimes by the window, other times by the balcony.
Le Ngoc Hai, another student in Hanoi, bought a new cat to entertain himself during the pandemic.
"I have a small fish tank and a new cat," he said. "Home is now no longer boring."
University lecturer Tran Hoang in Hanoi loves planting orchids. He now has more free time for his small garden.
He has bought more other kinds of plants like quỳnh (night cactus), cẩm cù (hoya) and ngọc lan (white champaca) as well as various kinds of orchids.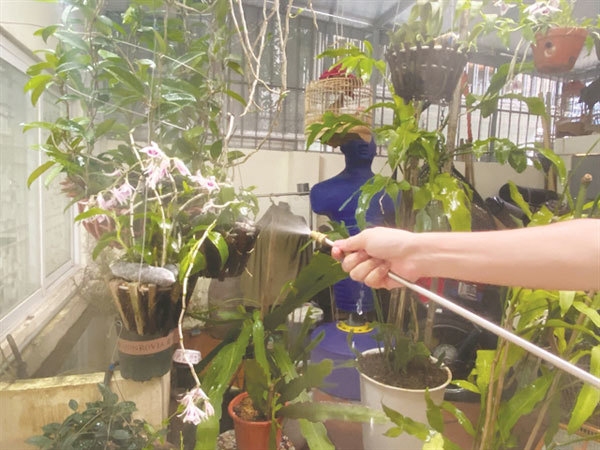 Lecturer Hoang enjoys his hobby: planting bonsai in his free time. VNS Photo Le Huong
"Each plant has its own features, which I should study in order to take care of them better," he said.
He now teaches online and for the rest of the day, he studies plants online.
"I follow livestreams by farmers and order plants from other provinces," he said. "I think it's a good way to support farmers during the pandemic."
He said he finds lots of surprises in his garden every day.
"New blooming flowers entertain my wife as she likes taking photos of and with the flowers to post on her Facebook," he said.
"We have found joys at home that way," he said. "I hope the optimistic spirit can give us more energy to stay healthy from the virus."
VNS

"Life has turned completely upside down!" is the expression I have been hearing the most during the COVID-19 outbreak.

It is necessary to have new approaches in fighting Covid-19 as per the PM's direction – being more proactive, switching from defense to attack, applying technology, and applying rapid and proactive testing and vaccinations at lightning speed.