A mobile air-conditioned COVID-19 testing booth has been set up and put into use in the current COVID-19 hotspot of Bac Giang Province 
as part of efforts to help local healthcare workers deal with the impact of the recent heat wave during their work to fight the pandemic.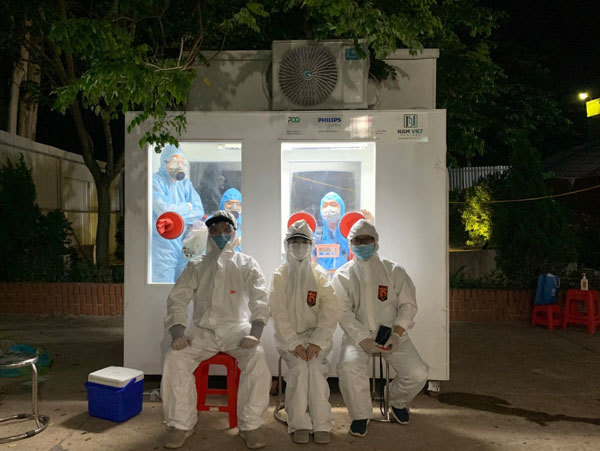 A mobile air-conditioned COVID-19 testing booth has been put into use in Bac Giang Province, Vietnam's largest coronavirus hotspot.
The booth was created following work by Nam Viet Design, PAM Air, and Signify over the course of four consecutive days in Hanoi.
Engineer Khieu Huu Nghia, 32, stated that the creation of the booth originates from several heartfelt images taken of healthcare workers as they work hard to take samples for COVID-19 testing amid extreme heat.
The booth is measured at 2.4x1.2x2.65 metres and can fit four healthcare workers simultaneously. Indeed, it weighs approximately 270kg and has six wheels which are used to make it more accessible, serving in the country's fight against the COVID-19 pandemic.
Most notably, the booth has been equipped with an air conditioner, air purifier, and disinfection system, thereby ensuring safety for healthcare workers whilst easing challenges for them as they take samples for COVID-19 tests.
The booth was initially transported to a healthcare centre in Tan Yen District of Bac Giang Province on June 5, and it has now been put into full operation.
VOV

Ngo Van Minh, a teacher at Archimedes Academy, a secndary school in Hanoi, has raised VND230 million from selling maize and running an online class to buy medical equipment for use in Bac Giang, the current Covid epicenter.

A little girl burst into tears as she was missing her mum who was working in an epidemic hotspot.