Do Anh Hieu, chairman of Hung My Commune is known as a dynamic leader who has brought positive changes to the locality.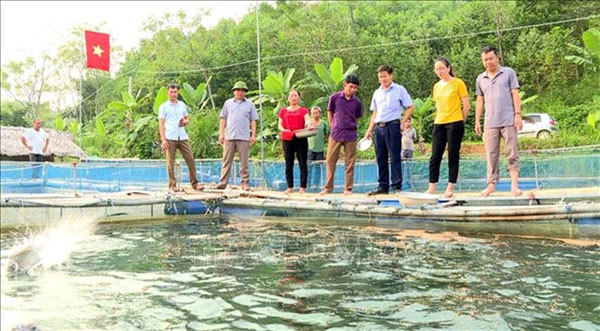 Do Anh Hieu, chairman of Hung My Commune ( first right) examines a fish cage farming model of local residents. VNA/VNS Vu Quang
Hieu is admired by local people for his enthusiasm and wholehearted attitude towards the people. Thanks to his dedication, the rate of poor households in the commune has decreased sharply from 40 per cent in 2017 to 15 per cent. The income per capita has reached VND32 million (US$1,380) per person, up VND15 million compared to 2017's figure.
Hung My is the only commune in Chiem Hoa district where 100 per cent of households have hygienic latrines and are recognised by the district to have achieved Open Defecation Free (ODF) status.
Hung My is an extremely disadvantaged commune in the northern province of Tuyen Quang's Chiem Hoa District, so Hieu has put a lot of efforts into helping people become better off since he was appointed as chairman of the commune three years ago.
He determined that forestry development, cattle husbandry and aquaculture are the strengths of the locality.
Taking advantage of his relationships since he was an official of Chiem Hoa District, Hieu has managed to bring local people to visit outstanding economic development models in several provinces so they can expand their knowledge and choose one that suits them.
Hieu has mobilised people to shift from raising buffalos and cows in free-range farming to keeping them in barns. He suggested the establishment of a collective group for breeding buffaloes and cows and called on people to grow elephant grass which brings high nutritious value to cattle.
Hung My is the first commune of the district to associate with Tien Thanh High-Tech Agricultural Cooperative in breeding and consuming buffaloes and cows for locals. Nowadays, husbandry is thriving in the commune. Many households have escaped poverty and become better off thanks to cattle breeding.
The family of Luong Hai Tuyen is an example.
His family has raised cattle since the end of 2017. Three months later, they got nearly VND20 million of profit after selling five buffaloes.
Inspired by high income from buffalo farming, Tuyen has expanded the family's production scale.
Each year his family sells from 15-20 buffaloes, earning a profit of about VND80 million per year.
He attributed the family's success to Hieu who dares to think, dares to do and calls on people to work together.
Tuyen, director of Thanh Cong Agro-Forestry and Service Cooperative, said the co-operative had 30 members who together own about 200 buffalo and cows.
In addition to mobilising people to engage in breeding cattle, Hieu has also advised them to raise aquatic products.
He organised a symposium on fisheries development, bringing households to tour effective aquaculture models in the province. Then, he guided the establishment of three collective groups to raise fish in cages and ponds.
Hieu also contacted the Fisheries Centre and salespeople in the province to get assistance in the supply of baby fish and the sale of the products.
Dozens of households have had support from aquaculture development with funding from Government Programme 135 which was launched by in 1999 to improve living conditions for rural residents with a particular focus on ethnic minority communities.
Hung My Commune now has 70 cages for fish farming and more than 50ha of surface water for pond fish farming.
Local authorities are working with the Provincial Fisheries Department to complete the procedures for the issuance of geographical indications and fish products to be recognised as meeting VietGap standards.
Ma Thi Dieu, a local fish breeder, said in the past she couldn't earn a stable income due to the impact of diseases.
After getting advice from Hieu, she started raising fish in cages and used science and technology to improve the quality of the products.
Each year, her family has an income of VND20 to 30 million from breeding tilapia, a solid extra income stream to support her children's schooling.
To create jobs and increase incomes for residents, Hieu collaborated with the district's Centre for Vocational Education and Training to invite craftsmen from Hanoi's Chuong My District to train bamboo and rattan knitting to locals.
Hung My Commune was once a hot spot for deforestation and illegal logging as the allocation of forest protection to the people was ineffective. Therefore, he tightened the allocation along with improving productivity of the planted forest.
Hieu also worked with Woodsland Tuyen Quang Joint Stock Company to tell people about the efficiency and value of afforestation according to Forest Stewardship Council (FSC) standards.
Locals are advised on afforestation in accordance with the FSC process. Currently, the commune has 150 hectares of forest of 40 households that have been granted FSC certificates.
"An official must always listen to the people's thoughts and aspiration and must have a specific plan. We can overcome all difficulties when gaining the consensus from people," he said.
With his devotion, Hieu was awarded a certificate of merit by the People's Committee of Tuyen Quang Province for his achievements in the patriotic emulation movement in 2016 – 2020.
When asked about Hieu, Le Ngoc Son, Secretary of the Party Committee of Hung My Commune praised him as an enthusiastic, dynamic, creative and responsible official.
"Over the past three years, he always completed all assigned tasks well. He has a lot of contributions to the development and positive changes of Hung My Commune today," Son said.  VNS 

Government policies and programmes on poverty reduction have changed the lives of ethnic minority people in the northern border provinces.

Looking at his house that was built a year ago, Tran Van Phuoc smiles happily. He had never dreamed of owning a house as nice as this one.