Loudspeakers, text messages, public notices and elevator screens are being used in Hanoi and other provinces to keep people updated about the prevention of COVID-19.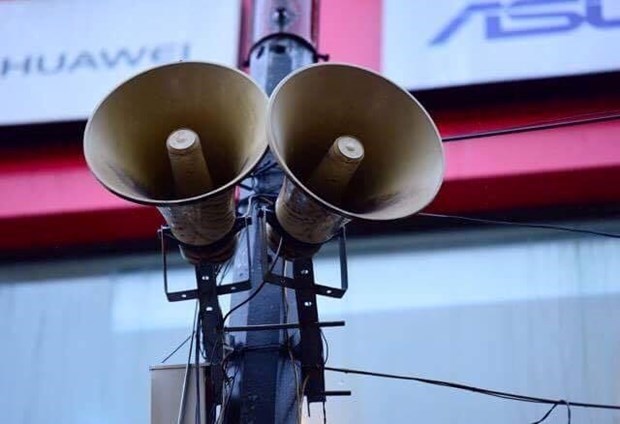 Loudspeakers have been providing information about how to prevent COVID-19 from spreading.
Phan Thanh Hoà from Xuân La Ward in Hà Nội's Tây Hồ District said she and her family often heard updates about COVID-19 via the ward's loudspeakers.
"All information related to COVID-19 is broadcast through the loudspeakers," she said.
We heard about SARS-CoV-2, the symptoms of COVID-19 and how to wash your hands and wear a mask correctly, as well as what to do if we displayed any symptoms, she added.
Nguyễn Quốc Huy from Phúc Đồng Ward in Long Biên District said he and his family had learnt how to protect themselves since the outbreak thanks to the regular announcements.
"We cook at home more often instead of eating out at restaurants, cleaned our houses, and wear masks when we are out, and most importantly, we are washing our hands correctly, he said.
Nguyễn Thu Trang from Yên Sở Ward in Hoàng Mai District said digital screens in the elevators in his building had been displaying information about COVID-19 since early last month.
The screens, which were usually used to broadcast advertisements, now display demonstrations of how to wear a mask and how to wash your hands correctly, he said.
It also showed instructions in Vietnamese, English and Chinese on how to inform authorised agencies when one showed symptoms of COVID-19, he added.
Nguyễn Thuý Nga, a worker at a bank in Hoàn Kiếm District, said she had received a lot of messages from the Ministry of Health to instruct her how to prevent the virus from spreading.
In Vĩnh Phúc Province, which recorded 11 of the 16 COVID-19 cases in Việt Nam, Nghiêm Xuân Khôi, secretary of the Party Committee of Hồ Xuân Hương Ward, Vĩnh Tường Town, said since the COVID-19 outbreak, instructions on how to wash hands and wear a mask correctly and other information related to COVID-19 were being broadcast five times daily.
Effectiveness
Hoà said the information from the loudspeakers was useful.
"It tells me exactly I have to do," she added.
Trang said not everyone knew how to wear a mask and or wash their hands correctly to prevent the spread of COVID-19.
In the meantime, Nga said at first she was very surprised by the detailed instructions from the health ministry, but really appreciated them.
According to the Ministry of Information and Communications, the dissemination activities had been effective in preventing the spread of COVID-19. — VNS

Many shops and restaurants in Hanoi and HCM City have closed or are looking for new owners due to Covid-19 fears.

Since Vietnam reported its 17th COVID-19 case on Friday night in a woman who returned from a trip to Europe, fake news and rumours have spread like wildfire on social media.