Nguyen Minh Luong, a 71-year-old man living in Long Xuyen City in the Mekong Delta province of An Giang, is often away from home all day to help the poor.
Students build bridges in rural areas with love
Man builds safe bridges for poor communities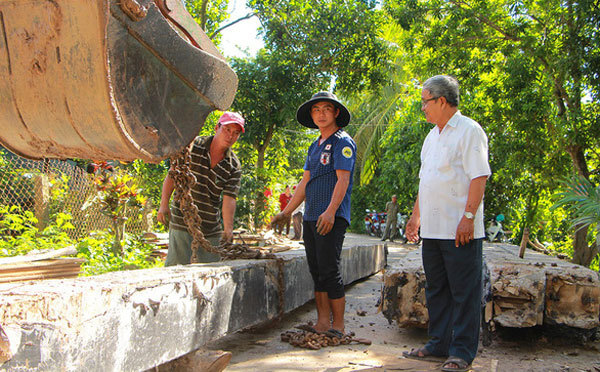 Ut Oi (right) with other workers building Kenh Dao Brigde in Long Xuyen City, An Giang Province. -- Photo tuoitre.vn
"I go everywhere in my hometown to share love with them. There, people are poor and I recognise my life in them," he told Tuổi Trẻ (The Youth) newspaper.
Remembering his poverty in the past, Luong who is often called Ut Oi, said after the war ended in 1975, people around the country faced difficulties and had to start building a new life.
"I had to try to grow rice, corn and potatoes to escape poverty," he said.
He worked very hard and had to do different jobs to earn a living, so he understands the suffering of the poor.
Gradually, his life improved. He saved money to buy more land to grow rice.
His family now owns about 7ha of land, generating about 120 tonnes of unhusked rice each year.
"When my family life improves, I see many people still hungry. I realised that I have to share and find ways to help them," he said.
At that time, rice was the only thing his family had. Initially, he gave a few kilograms of rice to each family, gradually increasing his donation to 20kg per family.
At the end of the year and during the Tet (Lunar New Year) festival, he gave more than four tonnes of rice to local poor people.
Sometimes, he could not sleep, thinking "Is rice really enough to help people overcome poverty?"
In 1990, he went into business. He opened a sugar processing and carpentry workshop. At that time, he was able to increase his charity work.
"I can't remember how many houses I built for the poor. At that time I earned a lot of money from carpentry and I used surplus wood to build houses for people."
"Everyone here knows Ut Oi. He gives rice and builds houses for the poor. He also builds bridges to help people travel easily. Everyone loves him and calls him the person for the poor," Au Cuong Loi, a local resident said.
Located near the centre of Long Xuyen City, thousands of people in My Quy Ward still face many difficulties.
Local people mainly grow rice, fruit trees and vegetables, and raise fish. But their daily travel is not easy due to the canal system.
In early 2000, he discussed with local authorities and spent about VND600 million (US$25,700) to build the first bridge in the locality.
Nga Kenh Bridge is 20m long and 3m wide and people are happy with it.
"I want to build more bridges. But the biggest hurdle is the capital because it costs a lot of money to build a bridge. And I had to mortgage my land."
Every time he plans to build a bridge, he has to carefully calculate the design and costs.
In order to reduce the cost of hiring an engineer, he tries to learn from engineers.
He gradually became an expert, helping save VND50-100 million in the construction of each bridge.
Over the past 15 years, Ut Oi built 16 bridges, worth VND10 billion.
Two more bridges will be opened to traffic in the next two years, helping people travel around for work and children go to school.
At the age of 71, he still wishes to build a school.
"I am ready to grant over 1ha of land to build a school in the locality and hope that the local government will agree to my proposal," he said.
"I had to quit school early due to my family's difficulties. But I know that only learning will help people escape poverty." VNS