Tran Hoang Minh is unmarried and has fathered no children, but he has become a father figure for dozens of kids.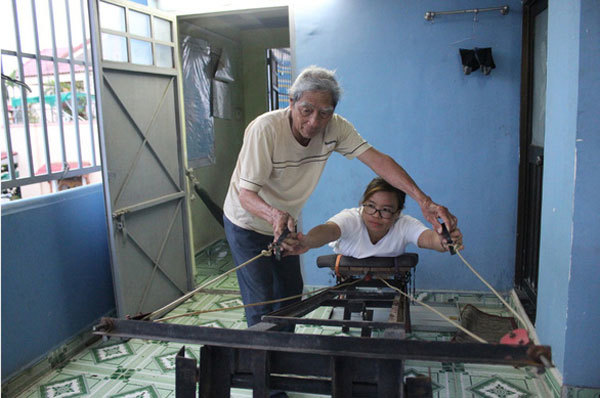 Tran Hoang Minh has made a machine to help Vi Thi Hang practise her arms at his house in HCM City's Truong Chinh Road. Photo tuoitre.vn
That's because Minh has spent the last 20 years helping children with disabilities.
The 77-year-old lives in a house down a small alley in Truong Chinh Road in HCM City and he offers accommodation, training and job-seeking support for the disabled kids.
Minh was born in Hanoi and moved to HCM City as a young boy, eventually renting his own house.
In 1999, two of his nieces came to the city to study and asked if he could help their paraplegic friend who wanted to study silk painting.
Minh agreed immediately. He went to her house in Tien Giang Province, which was 190km away from HCM City, to meet the girl and decided to take her to HCM City.
Nguyen Thi Minh Ly came to live with him since then. Minh has spared a room and found a class of silk painting for her.
Ly was very good at silk painting. She could earn VND1 million (US$43.3) from selling the painting after several months of study. Ly is still living with him.
After Ly, more people with disabilities came to him for help from various provinces.
Minh found vocational training classes in embroidery, sewing, knitting, beaded and twisted paper paintings for the children.
After they completed the classes, Minh would ask handicraft businesses if they had any jobs for the kids.
To cover the cost of renting, electricity and water bills and food for the children, Minh has done many different jobs to earn money.
Minh told Tuổi Trẻ (Youth) newspaper that he has helped as many as 200 people with disabilities in the past 20 years. The house is always open for disadvantaged people.
Currently, he is living with seven disabled children. About 50 children are regular visitors to the house.
For them, Minh's house is like a home, and he is like a father.
Vi Thi Hang is among the children living with Minh. Hang is from the Central Highlands province of Dak Nong and has got help from Minh for seven years.
Thanks to Minh's support, Hang has become an athlete for the national disabled swimming team. She is now being trained for the 2020 Tokyo Paralympic Games in Japan and the 2019 Para Games in the Philippines.
"I have received a lot of support from dad. He took me to the sport centre and paid for the entrance ticket every day," Hang recalled.
"Dad has made a machine that helped us practise at home instead of going to the gym. He takes care of us when we are ill. He always picks us up when we travel back from abroad after the competitions, no matter how late it is," she said.
Explaining why he encouraged the children to swim, Minh said many of the kids were in poor physical condition. A sport would help improving them, and make them happier.
Hang said Minh always sacrificed himself for others and was happy to take care of others.
He has spent his whole life in rented houses and rarely bought new clothes, but has never said no to those who in need.
Hang said she and the other six children tease him by calling him the attic prince as he sleeps in the small attic room of the house, leaving the rest for the children so they can move around easily.
There is only basic furniture inside the room. A bed, some clothes, personal papers of the children and a tea pot.
"He has nothing valuable. Some relatives and friends send him money, and he uses that to help other people," she said.
Hang said she wants to stay in the house even though she could move out.
She and some other people have shared the rental price of the house, so they can take care of Minh, so he can go on helping others.
VNS