The People's Court in southern Binh Duong Province on Tuesday handed down a death sentence to a man convicted of murder and appropriation of property at the first instance trial.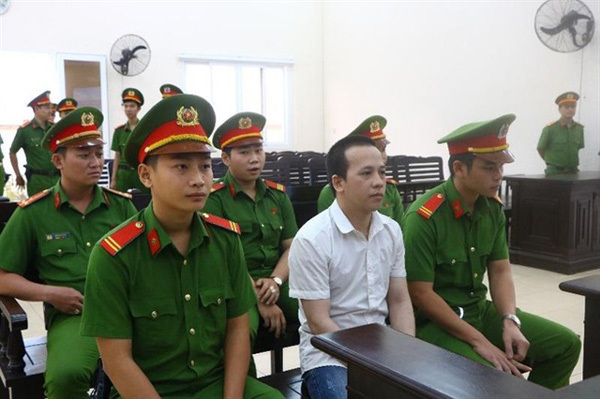 Tran Trong Luan at the first instance trial in Binh Duong Province on Tuesday. — Photo plo.vn
Tran Trong Luan, 34, a resident from Tan Uyen Town, was accused of killing three family members including a grandmother, daughter and grandchild.
The convict also had to pay VND400 million (US$17,200) in compensation to the victims' family.
The Jury Board said due to a gambling addiction, Luan had decided to steal others' property, resulting in the massacre. His behaviour is dangerous to society and caused anxiety among the public, so he must be isolated from society.
After losing a lot of money gambling, on April 24, Luan broke into the house of Dao Thi Thu Cuc, which is 50m from his house. He was attempting to enter through the roof when Cuc found him. He then slashed her with a machete before going on to murder Tran Thi Quynh Nhi, Cuc's daughter and her niece, 8-year-old Nguyen Thi Bao Tran.
After killing the three people, Luan searched for money but only found some small notes with a total value of VND199,000 ($8.6), so he did not take the cash but fled. Back home, Luan attempted suicide by ingesting 40 pills of Panadol, a medicine used to relieve pain and fever.
The alarm was raised at 7am the next day when Tran Thi Minh Phuong, Cuc's daughter and also Tran's mother, visted Cuc's house. She immediately reported the incident to local police.
Luan plead guilty at the trial.

The People's Court of Ho Chi Minh City on November 11 handed down imprisonment sentences ranging from three to 12 years to members of the "Viet Tan" terrorist organisation.

The High-level People's Court in Hanoi on October 10 started hearing appeals of defendants in the case related to "abusing position and power to appropriate assets" at the State-run Vietnam Shipbuilding Industry Group (Vinashin).
VNS